By Philip J. Potter
Pen & Sword, 2017, ISBN 978-1-52672-053-5, UK £25.00 / US $34.95
The fastest means of traveling from point A to point B is a straight line. In this case, point A is Europe and point B, the Middle East, India, and China. The overland route is arduous, long, and relatively straight. The only other option is to sail south along the west coast of Africa, around the Cape of Good Hope, and across the Indian Ocean to points east. Or so the majority of Europeans believe. After all, sailing west across the Atlantic Ocean means eventually the ship will fall off the world. What if that belief is false? What if the world is round and, by sailing west, the ship reaches Asia faster than the known routes?
In the latter half of the fifteenth century, this idea is relatively untried and quite a risk. (The Norse sagas claim that Bjarni Herolfsson did it in 985 and, far in the future, evidence will show that Leif Eriksson reached Newfoundland less than two decades later.) One intrepid seaman is convinced that this novel idea is doable and, after convincing the monarchs of Spain to fund the attempt, Christopher Columbus sails west and discovers the New World – although he believes he has reached the edge of Asia. Thus begins the Age of Discovery (also known as the Age of Exploration), which will span over three centuries.
Within the pages of this book, Potter introduces readers to fourteen explorers, beginning with Christopher Columbus and ending with Meriwether Lewis, who with his friend William Clark, will travel overland to explore and map the United States' recent purchase of the Louisiana Territory in 1804. In between, readers meet the following men, many of whom are well-known and a few who are lesser known, to learn why they are remembered today:
John Cabot – First European to Reach and Explore the North American Mainland


Hernan Cortes – Conqueror of Mexico


Jacques Cartier – Founder of New France




Hernando de Soto – Explorer of American South-east and Discoverer of the Mississippi River




Francisco Coronado – Laid the Foundation for the Spanish Colonization of the American South-west




Samuel de Champlain – Father of French Canada




Captain John Smith – Mercenary Soldier, Governor of Jamestown Colony and Explorer of the American Coastline




Henry Hudson – Explorer of the Hudson River Valley and Canadian Arctic




Robert Cavelier de La Salle – Explorer of the Great Lakes and Mississippi Valley




Vitus Bering – Discoverer and Explorer of the Coastline of Alaska




Daniel Boone – Frontiersman and Pioneer of the Ohio Valley




Sir Alexander Mackenzie – Pathfinder of Western Canada



This book includes maps and illustrations, while each chapter lists the author and title of selected books about each man. There is a bibliography, but it is just one compilation of all the recommended sources. There are no notes or an index, which means there is no way to interconnect individuals or accomplishments without reading specific chapters. While the narrative mentions some of the books that individual explorers wrote, these are not included in either the selected sources or the bibliography even though some of them are still available today.
Explorers and Their Quest for North America
is by no means an inclusive list of explorers. While each makes a significant contribution to the subject this book explores, Potter doesn't explain why he chose these particular men or left out others. What this book does best is serve as an engaging refresher for readers about people they first met in history classes as youngsters. In so doing, Potter presents each man with warts and all, making it clear that each was a product of his time and that not all of his accomplishments fall under the "good" category.


Mutiny on the
Rising Sun

Mutiny on the Rising Sun: A Tragic Tale of Slavery, Smuggling, and Chocolate
By Jared Ross Hardesty
New York University, 2021, ISBN 978-1-4798-1248-6, US $25.00
Also available in other formats

The Rising Sun peacefully navigated Caribbean waters in June 1743. "Murder! Murder!" The sudden cries rent the air as three mutineers carried out their bloody work. At least seven people died that night. Two survived because of the knowledge they possessed. And chained in the hold, bearing witness to the bloody deeds, were thirteen children and two young men, all enslaved and bound for the slave market in Barbados.
This is far more than a simple trade venture gone awry. As Hardesty recounts the events of that gruesome night – providing insight into what is known and can be hypothesized about the mutineers, the victims, and the witnesses – he reveals details of the smuggling cartel behind the voyage, the miseries of human trafficking, and an insatiable craving for wealth, power, and chocolate. How the mutineers were caught and what happened afterward brings the story to a conclusion.
Newark Jackson, a respected sea captain in Boston, had no idea this would be his final voyage aboard the schooner. Many knew that he owned a store that sold chocolate and that he owned slaves who turned the cacao beans into the popular commodity that people enjoyed; what was less known was that he also smuggled contraband into seaports.
Ferdinand da Costa, Joseph Pereira, and Thomas Lucas carried out the foul deeds. Ship's mate William Blake and bosun John Shaw survived because of their training and experience, both of which aided them in thwarting the mutineers and bringing them to justice – a justice that was as brutal and horrific as the mutiny itself.
Two appendices cover circumstantial evidence, newspaper reports, and witness testimonies.
Maps, advertisements, artwork, ship drawings, and photographs are also included. End notes and an index round out the book.
In his introduction, Hardesty describes this book as a
"human history of smuggling." (4) He deftly shows how and why illicit trade played a role in the lives of all those involved, either firsthand or peripherally. What happened aboard the
Rising Sun
allows him to show us what drove these colonists to participate in the buying and selling of contraband, and how smuggling could result in the consequences that occurred.
The Mutiny of the
Rising Sun is an eye-opening examination of capitalism, exploitation, and racism during colonial times that still has repercussions for us today.
Review Copyright ©2022 Cindy Vallar
The Truth About the Mutiny on HMAV
Bounty


The Truth About the Mutiny on HMAV Bounty and the Fate of Fletcher Christian
By Glynn Christian
Pen & Sword, 2021, ISBN 978-1-39901-418-2, US $36.95 / UK £19.99

reviewed by Irwin Bryan

This latest version of the
Bounty
mutiny is billed as "the truth" and claims to be based on details that come from the author's exhaustive research into every aspect of the story. Newly-discovered details and contradictions of the known story are used to present this revised history.
What follows are the details about Captain William Bligh and Fletcher Christian, beginning with their first merchant voyage together and incorporating their subsequent naval voyages too. Bligh had the higher rank and was Christian's commander for years prior to the
Bounty
voyage. This was lorded over him often.
When some thinkers of the Royal Society considered ways to improve the diet and nourishment of Caribbean slaves, the botanists touted the breadfruit plants found in Polynesia. King George III was asked to send an expedition to get the plants. The small merchant ship
Bethia
was converted to house the plants for the voyage to the Caribbean, and re-christened as His Majesty's Armed Vessel
Bounty
. Bligh and Christian were captain and lieutenant. A couple of midshipmen joined the crew, which included a master, carpenter, boatswain, cooper, and botanist, but no marines for keeping watches and defending the officers from harm.
The preparations for departure took too long and
Bounty
left late in the season, with winter storms and heavy seas expected off Cape Horn. After weeks of horrible weather, Bligh gave up and took the opposite course, heading east to the Indian Ocean. One midshipman, Peter Heyward, wrote an account of their battle with the storms in a letter sent from Cape Town. Despite the fact that his story was previously published and parts of his writings appear in other books or documents, including Frank Snyder's
Life Under Sail
(1964), the author of The Truth about the Mutiny claims he discovered this "new account."
The months between the
Bounty's
departure from England, until the breadfruit plants are loaded for the voyage to the Caribbean, are discussed in detail. Also covered is Bligh's treatment of the men, including how he micro-managed them, the lack of a fresh diet aboard
Bounty
while surrounded by fruits and animals on Tahiti, and his restrictions on the men's lust for the Polynesian women.
Once the ship sailed, there is clear evidence of Bligh's harassment of Fletcher Christian. The author highlights several ways this animosity kept increasing and how most of the crew witnessed its impact on Christian. He knew the voyage would take many months before he saw England again, and that he could not survive under Bligh and his ways. He considered taking one of the boats to escape, but decided it would be better to make Bligh leave and install himself as the captain to lead and care for the crew.
The book's author includes a chapter entitled "Mad to do it – or Mad?" in which he discusses the question of Fletcher Christian's health and sanity. Here again, the author touts his research for uncovering this "new" suggestion. But this issue of Christian's mental state appears in earlier published accounts about the mutiny, including Sir John Barrow's
Eventful History of the Mutiny and Piratical Seizure of H.M.S. Bounty: Its Cause and Consequences
(1831), which quotes Fletcher Christian's statement, "That, — Captain Bligh, — that is the thing; — I am in hell! — I am in hell!" This statement clearly indicates Christian feels pressure from Bligh's treatment and explains why he removed Bligh.
The mutiny is told in great detail, followed by a chapter about Bligh's open boat voyage and an account of
Bounty
as a storeship travelling through Polynesia in search of a home. The author also talks about a second breadfruit expedition; HMS
Pandora's
search for the mutineers; and their subsequent capture and courts-martial. There is an inset of black-and-white photos, a short list of sources, and an index to provide more details to readers.
In addition, this book covers life on Pitcairn Island. It includes a step-by-step recounting of Massacre Day when male natives killed several white men and took their women, as well as Bounty's post-mutiny wandering through Polynesia. This new information comes from Jenny, the only native woman to leave the island. She told the stories to a sea captain in 1817. More than a century later, the incidents and places she described were mapped out to show
Bounty's
many wanderings.
Written by the great-great-great-great grandson of Fletcher Christian and his Tahitian consort, Mauatua, this book is an enjoyable retelling of the
Bounty
mutiny and its aftermath with some new material added. Royal Navy fans and folks interested in examples of the life of a sailor, or law students interested in following every detail of the courts-martial and punishments will benefit from reading this new entry on the subject.
Review Copyright ©2021 by Irwin Bryan


Nelson's Navy in 100 Objects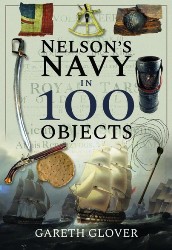 Nelson's Navy in 100 Objects
By Gareth Glover
Frontline, 2021, ISBN 978-1-52673-132-6 US $49.95 / UK £25.00

reviewed by Irwin Bryan

Frontline, an imprint of Pen & Sword, has commissioned over two dozen coffee-table books of 100 Objects. While I am not familiar with any of the other books, I was certainly interested in this title and was curious to see which items would be presented and those that were omitted.
The result is a truly wonderful volume of naval history with gorgeous, mostly color, photographs. The author provides short essays regarding each chosen item to explain its significance. Some essays closely follow the objects shown while others are only casually related to the object.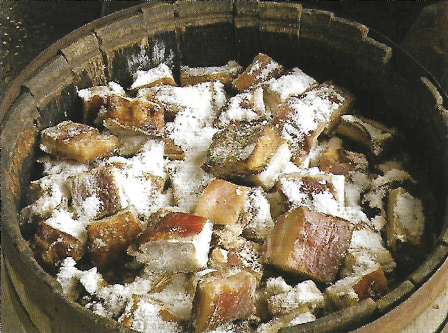 Left: #68. Barrel of Salt Pork -- the weekly ration was 2 pounds (907 grams) per man
Right: #96. Lloyd's Patriotic Fund £100 Sword awarded for demonstrations of great valor

(Source:
Nelson's Navy in 100 Objects
, used with permission from publisher)
There is no information about the selection policy of the objects or even who selected them. A former Royal Navy officer, Glover is a historian whose expertise on the Royal Navy and Napoleonic wars makes him a perfect choice to author this book. There is no apparent significance in being numbered object one or 100. After the first few items introduce organizations that controlled the Royal Navy, such as the Admiralty, Navy Board, and Transport Board, the remaining objects seem to be randomly distributed.
With 100 objects to evaluate, there are a few questionable items presented. I expected everything chosen would have been familiar to Admiral Nelson and pertain to the Royal Navy. Some objects do not meet that criterion. This includes a whaleship, a French explorer's chronometer, and slave shackles. Then there are three items about HMS
Trincomalee
, a frigate not launched until 1817, twelve years after Nelson died. Two of these use the same photograph of the ship – one in color and one in black-and-white.
Some essays and pictures are also mismatches. The brig HMS
Pickle
has three pictures of three-masted vessels instead of two-masted brigs. The essay for the painting of the Battle of Basque Roads in 1809 tells all about fireships. Although fireships were used in the battle, the selected painting does not show any. One object is a captured water cask, but the essay is about fleet actions. "Contemporary View of the Naval Base at Halifax, Nova Scotia, in 1804" begins with the actual picture and a paragraph about the Halifax Station. The rest of the entry, however, concerns Bermuda and its base.
That said, many objects and their essays include information one might not expect or realize. An early example concerns the Royal Ordnance, which provided weapons to both the Army and Navy. The essay explains how foundry skills and technical expertise made cannons better and safer, but this also meant the Navy had no control over the weapons for the fleet.
The Gunpowder Magazine has a very detailed write-up that includes information about how much powder different barrels held and how much was needed for the various sized guns. Having a photo of the inside of this space provides an intimate view of a generally hidden place.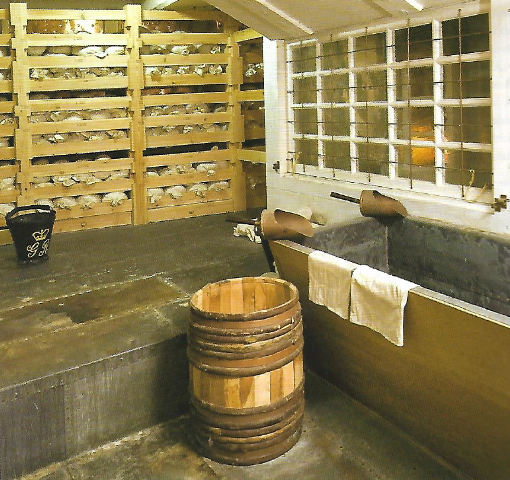 #18. HMS Victory's Gunpowder Magazine & Filling Room

(Source:
Nelson's Navy in 100 Objects
, used with permission from publisher)
I expected to see some items that are not included. Although different cannons are shown, none of the implements used in loading and firing them are mentioned. The many ropes aboard ship need pulley blocks, belaying pins, and fife rails to manage these lines and control the sails. But these were also not chosen. At least, the inclusion of the Rope Walk at Chatham Dockyard explains how ropes were manufactured.
Most people who are interested in the Royal Navy and Age of Sail will find
Nelson's Navy in 100 Objects
a great introduction to many aspects of this time. There are objects from shipbuilding and the Royal Dockyards to feeding the crews and the provisions taken aboard each ship, as well as various armaments and weapons for boarding actions or repelling boarders. Whether someone comes across this book out on display or chooses to purchase it, they will enjoy the many photos and learning much about Nelson's sailing navy.
Meet the author
Who was Nelson?
Review Copyrighted © 2021 Irwin Bryan

Jean Laffite Revealed: Unraveling One of America's Longest-running Mysteries
by Ashley Oliphant and Beth Yarbrough
University of Louisiana at Lafayette Press, 2020, ISBN 978-1-946160-72-0, $20.00
Jean Laffite was a master of deception. He muddied the water to such an extent that separating truth from fiction is a monumental undertaking – one that often leads to disagreement among historians as to which "truth" is real. His time in New Orleans and Galveston is well documented, but even 200 years later some mysteries remain, especially as regards his life once he departed Texas. The authors of Jean Laffite Revealed believe that they have unearthed the truth about this period and it is up to readers to read and weigh the evidence in order to determine whether their hypothesis is correct.
Their search for Jean Laffite actually sprang not from an interest in this "gentleman pirate," but from tales of another man, Lorenzo Ferrer, who lived in Lincolnton, North Carolina, from 1839 until his death in 1875 at the age of 96. Supposedly, this man was really Laffite. This book is a culmination of their research, detailing how they backtracked his true identity and what documentary evidence they uncovered to support their suppositions.
To conduct their research, they followed the protocol of any scholarly research, but they chose to write in the vernacular of a wider audience. As they pen in their preface, "Prepare yourself for one of the most unbelievable yet verifiably true stories you can imagine, a tale complete with international Freemason plots, double agents, explorers charging into open frontier, jail breaks, miraculous rescues, faked deaths, shady financial scams, and murder – all of it hinging upon control of the Gulf of Mexico and the sustainability of one of the most effective black market operations the United States has ever known. Parts of our hypothesis contradict commonly accepted Laffite historical chronology and challenge long-held beliefs about what ultimately happened to him. . . . Hang on to your hat because this is not our mama's sleepy history book." (xii)
Their investigation is divided into three parts. Part I summarizes the known facts about Laffite during his years as a pirate/privateer. They sift through two centuries of the best published resources to recount his life in Louisiana, Texas, and the Gulf of Mexico. Part II concerns when Ferrer first appears in Mississippi, since before then they find no documentary evidence to prove his existence. This section also discusses connections he made that eventually bring him to North Carolina, which is the subject of Part III. Here is where they delve into their theory and demonstrate that contemporaries of Ferrer's began speculating about his true identity in the nineteenth century.
In addition to the narrative, the authors include a sampling of the documents they collected during their search. Unfortunately, the poor quality of some of these copies makes it difficult to see what they saw. Several appendices and endnotes are included, as is a list of the works they cite. The preface does include a cast of characters. What is missing is an index, which would make it easier for other researchers to find information.
This book requires readers to make a leap of faith, yet there is one segment for which there is no documentation in support of their hypothesis. It is this gap that is the most telling. Whether Laffite died at sea following a battle or he survived and lived a long life remains a matter of debate and conjecture. Since they have been unable to find any proof of Ferrer's existence prior to his arrival in Mississippi, they believe he is Laffite. Yet there is no definitive evidence to prove this. They do point out similarities between these two men, who may well have known some of the same people. They did turn up an interesting clue in one letter that could be a code name for Laffite.
Jean Laffite Revealed
is an interesting addition to Laffite history. Each reader must decide the veracity of what is proposed. The strengths of this book are the depth of research that the authors conducted and that they recognize this as a starting point for other seekers who wish to prove their hypothesis. This is also a great resource for those seeking information on North Carolina history and genealogy.
Review Copyrighted © 2021 Cindy Vallar

Elizabeth's Sea Dogs and Their War Against Spain
By Brian Best
Frontline, 2021, ISBN 978-1-52678-285-4, US $34.95 / UK £19.99
reviewed by Irwin Bryan
This new book is the latest in centuries of works about the English Sea Dogs who preyed on the wealth of Spain, including John Hawkins, Francis Drake, Thomas Cavendish, and Martin Frobisher. Drake was a memorable figure in his own lifetime. He was known to his Spanish enemies as
El Draco
, "the Dragon." The English came to know him as a stalwart defender of Queen Elizabeth's realm.
Other leading men in England also took to the sea against Spanish ships and lands. For the most part, their stories are presented in chronological order starting with Hawkins and his young nephew, Drake. With so much treasure being produced in the Americas, there were several ways and varied locations to strike a blow and become rich in the process. Along the coasts they plundered unprotected merchant ships, headed into the jungle to ambush a silver mule train, or confronted a treasure galleon at sea with broadsides and boarders.
Drake's own rise to shipowner and captain of his own vessel shows how he prepared to lead an expedition into the South Seas. He was only the second person to oversee a circumnavigation of the the world, and the first leader to complete the trip. Unlike the explorer Ferdinand Magellan, who died during his attempt, Drake's primary focus was to capture a Manila galleon. He returned to England a hero.
With knowledge of the Spanish intentions to send an armada against England, a preemptive strike on Cadiz was planned. Under Drake, a small fleet of ships carrying troops and supplies attacked and caused great damage and destruction to the vessels already gathered at the Spanish port. Coastal shipping was plundered and destroyed, including a full cargo of the staves and wood for building barrels. This critical loss helped postpone the Great Armada until the spring of 1588.
The author relates the actions against Spain and aftermath of the armada in a clear and complete manner. Other Englishmen who campaigned on land or sea have their own stories told, but only Hawkins, Drake, and Thomas Cavendish get their own chapters. The deaths of Hawkins and Drake are presented and the death of their queen in 1603 ends the story.
Black-and-white pictures depict the people and places mentioned in the text. Some maps and illustrations are also included. There is a brief bibliography and index.

This appears to be a well-researched tale, but without any notes or cited sources there is no way to know if what is presented is truth or conjecture. There are some statements in the text that I was not familiar with. These include that Drake's first ship was seized and destroyed by the Spanish, and that San Domingo in the "Dominican Republic . . . was the seat of government for the Spanish Main." (20) (I have since verified the latter.)
As sea stories go, there is enough that occurs on a ship or during a voyage for this qualify as one. This book is ideal for someone unfamiliar with the history of these times or the ways of the sea. Much of England's post-medieval history is clearly told, such as the court intrigue and different people trying to ascend to the English throne. Anyone interested in this era or the early Age of Sail should consider this the perfect introduction to read before England's enemies shift to the Dutch and French.

From Captives to Consuls: Three Sailors in Barbary and Their Self-Making Across the Early American Republic, 1770-1840
By Brett Goodin
Johns Hopkins University, 2020, ISBN 978-1-4214-3897-9, US $49.00
The early days of a fledgling nation are a time of birth and rebirth, a time to establish both the identity of one's nation and an individual. Such was the case when the United States shed its colonial yoke and emerged into a world where national character and liberty were relatively new concepts. It was also a time when the definition of manliness and intrusions into society's hierarchical elite began to evolve. Freedom, however, came with consequences, one of which involved the hazards of maritime trade. Before the revolution, American sailors were protected by British treaties. After the war, seamen found themselves fair game for the corsairs who prowled the Mediterranean in search of slaves because the United States hadn't paid annual tributes to safeguard their citizens. Three such Americans were Richard O'Brien (1758-1824), James Cathcart (1767-1843), and James Riley (1777-1840), who found themselves in this predicament. During their servitude, they had to learn to adapt and redefine themselves in order to survive. Each was eventually ransomed and published a narrative about his time and suffering in Algiers. From Captives to Consuls examines their experiences and writings to showcase how adaptation and reanalysis allowed them to weather captivity, as well as to subsist once they returned home to a country where nationhood, masculinity, and liberty continued to change.
From Captives to Consuls
, the most recent title in the Studies in Early American Economics and Society series, is divided into six chapters that explore these men's ability to adapt during the evolution of these three key concepts.
Introduction: Victims of American Independence




1. Farmers, Privateers, and Prisoners of the Revolution




2. Diaries of Barbary Orientalism and American Masculinity in Algiers




3. Captivity in Correspondence




4. From Captives to Consuls and Coup-Makers




5. Accidentally Useful and Interesting to the World




6. Sailing the Inland Sea




Conclusion: Opportunities of Empire



Goodin examines their lives before, during, and after captivity, as well as their narratives. He shares snippets from their correspondence, diaries, and government reports, and, when history is scarce, he supplements these with examples from other captivity narratives. He also incorporates maps and pictures into the text and includes an Essay on Sources, endnotes, and an index.
This is not an exploration of maritime history or piracy; rather, it is an insightful and scholarly analysis of what it meant to be a self-made American at a time when the nation and its place in the world were being defined. These three sailors who sold into slavery serve as the anchor that allows Goodin to accomplish this. O'Brien and Cathcart were taken when their ships were captured, but Riley became a slave after the ship he commanded wrecked on the African coast. After their releases, they became authors, diplomats, and politicians. Goodin deftly demonstrates how these men, time and again, overcame adversity to their benefit, showing others that it was possible to better themselves contrary to the prior belief that they must remain in the station of life into which they were born.


Review Copyrighted ©2021 Cindy Vallar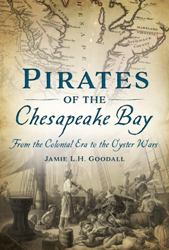 Pirates of the Chesapeake Bay: From the Colonial Era to the Oyster Wars
By Jamie L. H. Goodall
History Press, 2020, ISBN 978-1-4671-4116-1, US $23.99
Also available in e-book formats
Sometimes people turn to piracy strictly because they want easy money. Other times they are driven to piracy. The latter is what happened to the first documented pirate of the Chesapeake Bay, a man named William Claiborne. His felonious activities occurred during the 1630s and are discussed in the introduction to Pirates of the Chesapeake Bay. Contrary to what this title suggests, Goodall describes her book as "a collection of stories that follow some of the Chesapeake's most notorious pirates and valiant privateers and the local residents, merchants and government officials who aided, abetted and sometimes captured them." (23) Her goals in bringing these individuals together in a single volume are to (a) identify who took part in these piratical acts and what role did they play; (b) locate where the nefarious exploits occurred; (c) explain why the Chesapeake Bay was both a haven and a target of piracy; and (d) identify what caused the depredations in this 200-mile region that extends from Havre de Grace, Maryland to Virginia Beach, Virginia to be suppressed. Of course, this supposes that all the depredations described within are acts of piracy. In actuality, they are not.
To achieve these objectives, she divides the book into five time periods: colonial (1630-1750), the Revolutionary War (1754-1783), the War of 1812 (1805-1815), the Civil War (1860-1865), and the Oyster Wars (1865-1959). (The latter is really about poaching, rather than piracy, although contemporary newspapers referred to those involved as "pirates.") The majority of people mentioned will be unknown to most readers: Richard Ingle, Joseph Wheland Jr., George Little, John Yates Beall, and William Frank Whitehouse, among many others. A few – Lionel Delawafer (better known as Lionel Wafer, the pirate surgeon), William Kidd, Sam Bellamy, and Thomas Boyle, for example – are often discussed in books about pirates and privateers. Readers will also find a timeline of major conflicts, maps, pictures, glossary, notes, bibliography, and index.
This is an interesting summary of piratical and privateering activity in a vital, but often overlooked, region that introduces readers to individuals rarely discussed in other maritime history books. That said, some missteps call into question this historian's research. For example, on page 36, the vivid description of a body gibbeted in May 1699 in the Thames River is identified as being that of Captain Kidd. Four pages later, the text reads, "On May 23, 1701, Kidd ultimately met his fate at the end of the hangman's noose." (In 1699, Kidd was in American colonial waters trying to clear his name after sailing the Quedah Merchant to the West Indies.) On page 45, Sam Bellamy's first victim is identified as the Whidah. He had already captured at least two vessels the previous year after going on the account. In fact, when he captured the Whidah, he was aboard the Sultana, which he had taken in December 1716. Nor did the pirates run Whidah aground, as stated on page 47. A severe nor'easter drove her ashore. The final paragraph states: "Sam Bellamy and his few surviving crewmembers were imprisoned, condemned and executed for piracy. They met their makers at the end of the hangman's noose." While several members of Bellamy's crew were hanged, Bellamy was not one of them and they weren't aboard Whidah at the time that she sank. He died in the shipwreck. Only two men survived Whidah's sinking; Thomas Davis was acquitted while John Julian was sold into slavery.


Review Copyrighted ©2021 Cindy Vallar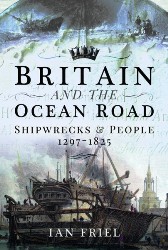 Britain and the Ocean Road: Shipwrecks and People, 1297-1825
By Ian Friel
Pen & Sword, 2020, ISBN 978-1-52673-836-3, UK £25.00 / US $49.95
Also available in e-book formats
If you seek information about shipwrecks, this book isn't for you. If your interest lies in the victims and survivors of such wrecks, you're likely to find more information in other volumes. If, however, you want a fascinating and outside-the-norm presentation of British maritime history, Britain and the Ocean Road may prove the perfect cup of tea. Presented in a chronological sequence, beginning in 1297 and ending in 1825, this first in a two-volume set explores that history using a particular shipwreck of a specific period as a facet of the development of the country's dominance of the sea. Yet it's not just a tale about ships and oceans; it's also the story of England through the centuries, as well as her place on the world stage. Nor does it omit the people who played various roles in that history. During the voyage, readers discover tidbits about the oceans, weather, trade, naval warfare, and merchant shipping.
The first chapter, "Wine, Herrings and Blood," discusses medieval seafaring, which was a combination of naval, merchant, and piratical shipping. It explores the rise of the Cinque ports, as well as the Anglo-French war during King Edward I's reign that culminated in the destruction of the St Cross and twenty-two vessels from Great Yarmouth in 1297.
"Flimsy Cells" examines ships and pilgrims making their way to and from the Holy Land in 1446. Little is known about the men who died or the Cog Anne, one of the few ships to sail directly to the Mediterranean, and her final voyage. This necessitates the use of other firsthand accounts to recount what pilgrims endured on their inbound and outbound journeys during the Middle Ages.
The story of Henry VII's royal warship Regent and the origins of the Royal Navy are the focus of chapter three, "Like a Volcano." She was one of the earliest vessels built specifically to wage war at sea, and her size necessitated a new shipyard that eventually became the Portsmouth Naval Base. The chapter is principally about the development and technological advancements during a period when sailors, soldiers, and gunners comprised the crew of a warship. Life at sea, conditions aboard ship, and wages earned are also discussed, as is the Regent's demise during the Battle of St. Mathieu in 1512.
"Trade, Not War" tells the story of the expansion of British commercial shipping beyond the Atlantic. The pride of the infant East India Company (EIC), Trade's Increase, was the largest merchantman when she was launched in 1609. Five years later, she was gone, but it was merely the last in a series of stumbles that began on that day. Her birth and loss serve as the backdrop for exploring the rise of London as the dominant port in foreign trade, the origins and early years of various trade companies, and what it was like to be a sailor serving aboard an EIC ship.
The latter half of the seventeenth century is the age of buccaneers and chapter five uses "The Pirates of the Resolutions" to delve into piracy in the Atlantic and Caribbean.
"Line of Battle" is the focus of chapter six, which uses the 74-gun Berwick to discuss the similarities and differences between the Royal Navy and France's Revolutionary navy between 1795 and 1805. The reason this particular ship stands out is because she began life as a British warship, but was captured in 1795 and taken into the French navy, only to be retaken at Trafalgar a decade later.
Chapter seven relates the story of "The Middle Passage" through the last voyage of the slave ship Eliza in 1806. With her colonies, England was a significant player in the selling of slaves, but Friel also shows that some Africans played complicit roles in these transactions. This chapter covers the voyages between Africa and the Caribbean, Liverpool's rise as a center for the trade, conditions aboard the ships, Olaudah Equiano and John Newton, the abolition of the slave trade, and the Royal Navy's role in suppressing slavery.
The final chapter, "'In the very silence there is a deadness'," recounts the story of HMS Fury. The difference between her voyage, which takes place in 1825, and the better-known Franklin Expedition two decades later, is that Captain William Parry and all but two of his men made it home. History has forgotten both him and the Fury while remembering the disappearance of Franklin's, even though both dared to explore the Arctic's unforgiving conditions in an attempt to find the Northwest Passage.
Throughout the book, Friel provides "see" references so readers know where certain information is discussed in greater detail or where pictures can be found. He includes maps, engravings, artwork, photographs, and diagrams. Nautical terms are described within the text, allowing readers to understand without having to search for a glossary. Also provided are endnotes, an index, and a bibliography.
The author's purpose in writing this book is to introduce lay readers to England, the British, and the maritime world in which they played significant roles over the course of centuries. This volume covers the Middle Ages through Britain's climb to the pinnacle of maritime dominance. The second volume, slated for release in May 2021 and entitled Breaking Seas, Broken Ships, will cover the years 1854 through 2007. It will examine not only the decline of Britain's control of the seas, but also how humans have impacted that environment.
While Friel uses shipwrecks as the focal point of each chapter, readers need to understand three things about the use of this word. Here, "shipwreck" simply means a ship that is lost. Second, the known information about the individual vessels may be scant. Third, few people will be familiar with these ships. While each chapter teaches facets of Britain's maritime history, often including tidbits rarely addressed in more thorough accounts of the subject, the author succeeds to greater and lesser extents in providing a riveting maritime history while teaching readers about the people, ships, dangers, and environment in which this history has evolved. For example, chapter two suffers from an excess of repetition and, while the discussion on pilgrims and pilgrimages is interesting, it's not until the final paragraph that readers understand the true significance of the topic's inclusion in this book: "English ships would not transport large numbers of passengers again until the seventeenth century, with the exception of soldiers carried for military campaigns." (39) Chapter three provides the best demonstration of how shipwrecks serve as a device to discuss a grander topic under a unifying theme. Of all the chapters, seven provides the most information about the ship highlighted in the chapter title, although modern thoughts and opinions infiltrate the historical recounting. Chapter eight focuses specifically on the ship and the expedition, yet digresses into a discussion on the contact with and treatment of the Inuits.
Of the eight chapters included in the book, chapter five is perhaps the weakest. Much of the information provided here comes from the testimonies of seven pirates. Assumptions more than historical facts are provided to readers, and not all of the assumptions are correct. The reason that the captured pirates were transported to London in 1684 had nothing to do with authorities feeling that that city was the better place to hold their trial. The law said that all pirates had to be transported to London to face an admiralty court, and admiralty courts weren't established in the colonies until 1701. Nor was it surprising for pirates to elude the hangman's noose; in fact, prior to Henry Every's capture of the Gang-i-Saway in 1695, captured pirates were rarely executed. The pirates in this chapter seem to acquire items through purchase rather than pillaging, and while pirates found that slave ships made tempting targets, they were more inclined to convert them into pirate ships than sail in consort with slavers. This chapter, by recounting the tale of three ships named Resolution and her four captains and their crews, supposedly reflects common piracy during the seventeenth and eighteenth century. This may be true during the 1600s, but there are many other pirates and their ships, some of which became shipwrecks, that would be more reflective of the golden age. Also, there were decided differences between the buccaneers of the seventeenth century and the pirates of the eighteenth. As for the inclusion of information about modern-day pirates, that information belongs in the second volume rather than being included in this chapter.
Those readers who venture within the pages of this book will find it readable and, at times, engrossing. No prior knowledge of maritime history is needed, because Friel does a commendable job entwining the necessary background information with the maritime history. Britain and the Ocean Road is perfect for anyone seeking information on English history from less common perspectives. Along the way, don't be surprised if you discover answers to questions that you've not uncovered solutions to in reading other maritime texts.
Review Copyrighted ©2021 Cindy Vallar

Pirates of the North Atlantic
By William S. Crooker
Nimbus, 2019, ISBN 978-1-4930-5136-6, US $18.95 / UK £14.95
e-book ISBN 978-1-4930-5156-4, US $18.00 / UK £13.95
Many accounts of piracy focus on the period in which these sea marauders were the most prolific (1650 to 1730) and in the region where they were most prevalent (the Caribbean). Crooker shows that this was neither their only hunting ground nor the only time when they prowled. They also plied their "trade" in the North Atlantic along America's eastern seaboard. He introduces readers to pirates of the seventeenth, eighteenth, and nineteenth centuries who left indelible footprint on history, with particular emphasis on those whose attacks took place in Canadian waters.
Some of the pirates included in this volume are well-known: Edward Low, Blackbeard, William Kidd, and Bartholomew Roberts. Others are lesser-known, but still conspicuous for one reason or another: John Phillips, Edward and Margaret Jordan, Samuel Hall, Thomas Pound, and Peter Easton and Henry Mainwaring. A trio of incidents are remembered for what occurred on ships – Saladin, Mary Celeste, and Zero – rather than for the pirates themselves. A fourth chapter involves a piratical mystery on Canada's Isle Haute and the maritime historian and pirate raconteur, Edward Rowe Snow.
This is the second edition of the book, which was originally published in 2004, and includes a glossary, occasional illustrations, and a bibliography, but no index. As the back cover claims, this is "a thrilling collection of stories," yet it is not without a few imperfections. Crooker presents the myth of Blackbeard having thirteen wives as fact. He states that the Royal Navy's encounter with Bartholomew Roberts took place in the West Indies; in reality, it occurred off the west coast of Africa. The chapter on Thomas Pound, who pretended to be a pirate to free an imprisoned governor and ended up becoming an actual pirate, is a bit confusing to follow. While the mystery of the Mary Celeste still fascinates readers, this chapter provides no evidence of piracy; one sentence near the end merely mentions that rumors and suspicions existed.
Even so, Pirates of the North Atlantic is one of the rare accounts of piracy in northern waters available today. It also provides information on the gruesome deeds of Canadian pirates, who are mostly ignored by other authors. Crooker entertains and informs readers with accounts of greed, mutiny, murder, barbarity, and a touch of romance.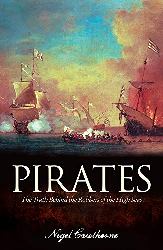 Pirates: The Truth Behind the Robberies of the High Seas
By Nigel Cawthorne
Arcturus, 2019, ISBN 978-1-78950-844-4, US $9.99 / UK £7.90
Also available in e-book formats
Since the first trading boats traveled by sea, piracy has plagued mankind. As early as 694 BC an Assyrian king attempts to suppress the marauding, but still it continues. More than one man, including Miguel de Cervantes, suffers because of pirates. Whether in the past or today, these sea rogues endanger passengers and seamen alike, yet of all the various time periods in which it has been rife, piracy reached its zenith from the west coast of Africa to the Spanish Main, from Canadian waters to the South Seas during the seventeenth and eighteenth centuries. This historical period, often referred to as the "golden age," is the focus of this book.
Unlike many volumes on these pirates, this one opens with the victims. It includes some firsthand accounts, such as those experienced by victims of George Lowther or Aaron Smith – a man who tangled with pirates twice, was forced to accompany one group, and was tried three times for piracy.
From there, the book delves into privateering and the buccaneers. This period begins with Jean Fleury's astounding capture of Spain's treasure-laden ships – an event that confirmed rumors of fantastic wealth and spurred other countries to explore for these riches. According to the subheading within privateering, those of England are featured. Yet half the chapter focuses on the French Huguenots, while the remainder concentrates on the exploits of Sir Francis Drake, concluding with a snippet about the Dutch, especially Piet Heyn.
Other chapters examine Port Royal, the weapons and ships of the pirates, what life was like for one of these marauders, the lure of oriental riches, tactics, and attempts to stop piratical depredations. The usual suspects can be found within these pages – Bartholomew Roberts, William Kidd, and Blackbeard to name a few – as well as lesser-known ones, such as Charles Gibbs, Robert Waal, and François le Clerc (better known as Pie de Palo or Peg Leg). Mention is also made of two primary sources: Captain Johnson's A General History of the Robberies and Murders of the Most Notorious Pirates and Alexandre Exquemelin's Bucaniers of America.
This is a highly readable introduction to piracy. The majority of the presented information is factual, although source citations are omitted for the most part. Readers should be aware, however, that there are occasional statements that aren't true or supported by facts. For example, not everyone believes that Daniel Defoe and Captain Johnson are one and the same; in fact, there is supporting evidence to suggest someone else as the author. Or that Blackbeard frequently strangled and tossed his female victims overboard; in reality, there is little historical evidence to support such violence, although he was a master of intimidation. A third example is the blanket statement that the majority of pirates were homosexuals without any supporting documentation to back up this claim.
In spite of these caveats, Pirates is an entertaining and informative romp through the golden age of piracy. Additional kudos to the author for giving victims first priority in this account, when many volumes often give them secondary or even lesser attention. Combined with a list of titles for further reading, an index, and occasional pictures, Pirates is also a good jumping off point for readers who want to dip their toes into the history of sea marauders before diving deeper.
Meet the author
Review Copyrighted ©2020 Cindy Vallar

Catastrophe at Spithead: The Sinking of the Royal George
By Hilary L. Rubinstein
Seaforth, 2020, ISBN 978-1-5267-6499-7, $32.00 /
£25.00

reviewed by Irwin Bryan

This new book looks at a tragic incident that befell a Royal Navy ship of the line in August 1782. The heavy loss of life included the families of crewmen and members of the public, who were visiting the ship at its home port.
The Royal George was Admiral Richard Kempenfelt's flagship, and sadly, he was also lost. His career included several naval battles, and he was an innovator whose improvements to flag signals greatly expanded the words and phrases which could be sent between ships.
The opening chapter details the design and construction of the Royal George and how she was armed with 100 guns. The loss of the ship is described along with some eyewitness reports of the tragedy. But it is the loss of Kempenfelt that is chiefly lamented here.
Admiral Kempenfelt's life and service history are detailed in the next three chapters. (Although his future flagship is present at some of his battles, it is only the Admiral's story that is told.) On 7 April 1782, his flag was hoisted on Royal George. After a few months off Brest, an outbreak of illness caused his fleet to return to England. On 14 August, they arrived at Spithead, the fleet anchorage. Fifteen days later, the ship was lost.
Only after this eighty-page biography does the author go into greater detail regarding the ship's demise. Why and how she sank is explained, and many survivors' stories are shared. These tell what those final seconds aboard were like for those who survived. There was a frenzied attempt to launch boats by the other ships in the fleet in an effort to save lives; most individuals who escaped the wreck drowned because they could not swim. The eyewitness accounts identify where each was at the time of the sinking, what they were doing, and how they came to be rescued. These survivors were from the Royal George's crew and officers; family and visitors belowdecks had no chance to escape the tragedy.
Whenever a naval vessel was lost, a court-martial was held to investigate what happened and determine who and/or what were responsible for the loss. At the court-martial delving into the loss of the Royal George, Waghorn, the ship's captain, gave a prepared statement describing the circumstances that led to the loss. He claimed neither negligence nor impropriety led to the sinking. (His entire statement is included in the text.) Acting Lieutenant Durham, as officer of the watch, also testified at the court-martial. The proceedings, as well as the court's judgement, are discussed in the book's next chapter.
There is also a more detailed and scientific look into the catastrophe. This includes what the nearby ships' logs say about the sea and wind conditions at the time, whether there were possible defects known about the vessel – other than that which was being addressed when the tragedy occurred – and what it might have taken to cause or prevent what happened.
Rubinstein shares poems written, and memorials erected to honor and remember the ship, her admiral, and her crew. Although there were many plans and attempts to raise the ship over the years, none came to fruition; only some of her cannons were ever brought to the surface.
Along with the text, a color plate section includes diagrams and illustrations of the ship's plans and construction, the Royal George in action and the day she was lost, and portraits of the admiral and Acting Lieutenant Durham. A section of notes and an extensive bibliography are followed by the index.
Here is a book with a lot of appeal for those interested in the Royal Navy, the Age of Sail, and shipwrecks. I would have preferred to learn more about the ship's history and less about the admiral's career. Events are described clearly and without technical jargon. Anyone fortunate enough to read this book will gain a complete understanding of this historical event and the tragedy that ensued.



The War for Muddy Waters


The War for Muddy Waters: Pirates, Terrorists, Traffickers, and Maritime Insecurity
By Joshua Tallis
Naval Institute Press, 2019, ISBN 978-1-68247-420-4, US $34.95
To truly understand this book's content, it is essential to understand three points. First, the term "maritime security" lacks a definitive meaning; it connotes one thing to some, another thing to others, depending on who is explaining what it encompasses. Second, the word "littoral" once referred to the water surrounding a nation's coast. At one time this extended three miles from the shore; later that distance was extended to twelve. But it encompasses more than just the water, coming to incorporate a portion of the land, people, and economy near the water. For example, if a littoral extends 200 miles inland, this means that "75 percent of the world's population, 80 percent of capital cities, and practically 'all major centres of international trade and military power'" lay within this littoral, which turns this area into a more inviting target for terrorists and other criminals. (3)
Third, "broken windows theory" is a way of explaining the connection between the growth of crime in and the decay of urban neighborhoods. For example, if the window of an establishment is broken and then repaired, those who live there take pride in their community and flourish. If, however, the broken window is not repaired, it can lead to other windows being broken, a lack of caring, a growth of fear in the inhabitants, and a rise in crime because those breaking the law know there is little or no policing. What the author attempts to do in this book is to apply broken windows theory to littoral regions of the world to show that this criminological principle can be effectively applied to maritime security and thus, provide those tasked with maritime security, such as the United States Navy, with an out-of-the-box method of addressing a danger that all nations already do or will face in the future.
In the past, the navy's traditional role has been to safeguard its nation's interests at sea and far from land. This is no longer the case, since nowadays the highest threats impacting nations can be found much closer to home. For example, Tallis recounts the November 2008 attack on Mumbai, India when Pakistani terrorists hijacked a fishing trawler, killed the captain, and successfully infiltrated the city and killed 100 people and wounded many more.
But applying a theory originally deemed as an appropriate means of policing crime, doesn't automatically make it applicable to addressing issues of maritime security. This is what Tallis sets out to do in this book. He shows how this theory can be and has been applied to trafficking crimes, as well as how it can impact other types of crimes, such as money laundering and corruption, that are integral to successful criminal enterprises. Then he tests his hypothesis by showing how it can be applied to two regions where maritime piracy threatens maritime security. To achieve his goals of showing that broken windows theory is applicable and to spark new conversations in strengthening maritime security, he begins by exploring the current literature on maritime security and the challenges strategists face. Then he focuses on the theory itself and elucidates the key themes of the book.
The second part of the book focuses on the Caribbean and the trafficking of cocaine and crimes tangentially connected to drug smuggling. By the conclusion of these three chapters he successfully provides readers with the necessary foundation to test his conclusions in part three, where he integrates piracy into the broken windows theory. This section is divided into two chapters, one that examines West African piracy – a relatively new region for this crime – and then moves to Southeast Asia, which has been combatting piracy with varying degrees of success for centuries.
Tallis readily admits that his book isn't geared toward the general lay reader. He identifies his audience as being either researchers or naval strategists. This doesn't make the material less interesting to other readers, but it is written in a more academic style than a down-to-earth book on modern maritime piracy, such as John Burnett's Dangerous Waters or Jay Badahur's The Pirates of Somalia. What makes The War for Muddy Waters an invaluable addition to collections on modern piracy is that Tallis uses a different approach to examine and address dangers that navies and nations face today and in the future. Since pirates and terrorists have access to modern technologies and tend to think outside normal parameters to achieve their goals, it makes sense that those who study maritime security issues and devise strategies to address these issues should do so as well.
Review Copyrighted ©2020 by Cindy Vallar
The Gulf of Mexico
The Gulf of Mexico: A Maritime History
By John S. Sledge
South Carolina Press, 2019, ISBN 978-1-64336-014-0, US $29.99
Since 1550 this body of water, which contains over 600 quadrillion gallons and ranks tenth in size worldwide, has been known as el Golfo de Mexico or the Gulf of Mexico. It began to form when the supercontinent Pangaea broke apart approximately 200,000,000 years ago, but the oval-like shape we recognize formed far more recently (5,000 to 10,000 years). Today, it covers 600,000 square miles and its shores include numerous lesser bodies of water (such as bays and lakes, as well as rivers that feed into it) and land (such as shorelines, deltas, and barrier islands). Elizabeth Custer likened the Gulf to
"almost always a tempest in a teapot" when she accompanied her husband, Captain George Armstrong Custer, to his new assignment in New Orleans. (7)
Others have written about the Gulf of Mexico, but Sledge offers a history that is geared toward the general reader and encompasses far more than the narrow focus of the water itself. He includes information on the people whose livelihoods and existence depend on it, as well as the various boats and ships that have plied the water since the days when Mayans, Seminoles, Calusa, and other Native Americans lived near and relied on the fruits of the Gulf to survive. He discusses European explorers, pirates and smugglers, fishermen, loggers, and many others. Among those of particular note are William Dampier, William Bartram,
Juan Ponce de Leon, René Robert Cavalier, Laurens de Graff, the Laffite Brothers, and Commodore David Porter.
Also incorporated into the narrative are details on the flora and fauna, cultures, conflicts, memories (personal and firsthand), and historical events. Examples of the last topic cover conflicts – Seven Years' War, Pastry War, Mexican War, and American Civil War to name a few – and natural disasters, such as Hurricane Katrina and the Deepwater Horizon oil spill.
The book is divided into eight chapters that present the history of the Gulf in a chronological sequence. These are comprised of Indian Shore, Spanish Sea, Colonial Crossroads, Pirates' Haunts, King Cotton's Pond, Violent Sea, American Sea, and Blowout! Maps, illustrations, and two sections of color plates enhance the reading experience. Notes, a bibliography, and an index provide readers with sources consulted and where to find additional information.
Readers seeking an all-encompassing, entertaining introduction to the Gulf of Mexico will enjoy Sledge's book. No matter how much or how little you know, you will come away from the experience having learned something new about the United States, Mexico, and Cuba, and gaining a new appreciation for a body of water that "
is by turns beautiful, bountiful, frightening, and destructive." (8)
Review Copyrighted ©2020 by Cindy Vallar

Smugglers, Pirates, and Patriots
Smugglers, Pirates, and Patriots: Free Trade in the Age of Revolution
By Tyson Reeder
University of Pennsylvania, 2019, ISBN 978-0-8122-5138-8, US $45.00 / UK £39.00
Also available in ebook formats
The War for Independence in the American colonies during the second half of the eighteenth century issued in a new age, one that has become known as the Age of Revolution. That conflict inspired other nations to seek freedom from tyranny as well, and in the first decades of the following century, republicans in the United States felt that one way to fight against monarchies and their empires was through free trade. This is the focus of this book, which shows the interconnections between smugglers, pirates, and patriots, especially as it relates to the way Brazil gained its independence from Portugal in the nineteenth century.
The book is divided into four parts:
Negotiating Empire, Regulation and Revolution, A Liberty of Trade, and "Connexions of Commerce and Liberation." What soon becomes clear is that those who advocated free trade did so not just to help others achieve independence but to also influence the growth of commerce in ways that were to their best advantage. Americans believed their model was the right one, but not everyone agreed, and this is best shown in the struggle between Brazil and Portugal, especially since during part of the nineteenth century, the Portuguese monarch resided in Brazil and, in the end, the Brazilians chose a monarch over a president.
These struggles focus on both commercial changes and networks, as well as politics. Empires instituted a number of laws and edicts to limit trade, which then resulted in the growth of smuggling contraband. When the monarchy chose to lift some, if not all, of these restrictions, free trade prospered and smuggling died. This plays a crucial role in why history unfolds as it did in Brazil, as Reeder aptly demonstrates. He provides numerous examples of commodities, both illicit and legal, such as
wine, sugar, gold, flour, and slaves. Aside from smugglers, pirates and privateers are also discussed, in particular those who sailed under letters of marque from the revolutionary leader José Gervasio Artigas. Since his government never acquired recognition from other nations, these men plied their trade in the murkiness of legal privateer or illegal pirate.
Scattered throughout the book are maps, graphs, tables, and illustrations to show points Reeder makes in the narrative. The Notes section provides citations for sources consulted or quoted, as well as additional information on particular topics mentioned in the main text. The extensive bibliography lists manuscript collections in Brazil, Portugal, the United Kingdom, and the United States; newspapers and periodicals; primary sources; and published works. There is also an index.
Readers with a special interest in Brazil and its relationships with the early United States, as well as those seeking information on maritime commerce, will find this book particularly interesting. Those seeking a rousing account of maritime piracy and privateering may want to look elsewhere. Reeder does discuss both throughout the narrative, especially in chapter eight, and does mention North African corsairs (91) and the suppression of piracy in the 1820s (211), but his primary focus is on trade, traders, and trade networks and their effects on the shaping of Brazil as it strove toward independence. He does an excellent job of providing readers with a good understanding of the Monroe Doctrine and how it evolved.
Review Copyright ©2020 by Cindy Vallar

The
Whydah
Pirates Speak
Reviewed by Irwin Bryan


The Whydah Pirates Speak Volume Two
By Laura Nelson
Independently published, 2019, ISBN 978-1096132448, $9.95
Also available in e-book format

This book is a collection of articles originally appearing on the Pirates and Privateers website (
www.cindyvallar.com
). All of the material deals with men who were part of pirate Samuel Bellamy's crew, including two men that survived the Whydah's destruction and several others that also wrecked in a captured prize.


As this book is the second volume in a series about the Whydah pirates, you would hope to see all new material. Unfortunately, there's a limited amount of new information presented and much of it deals with the pirate Oliver Levasseur and his career after parting with Bellamy. Although the chapters are new, many cover the same stories that appeared in Laura's first book. Once again, the details of John Julian and John King becoming pirates are given, as is the entire testimony of the pirates' trials.
There are also repetitions of the text within this book. Thomas South was a carpenter forced to join Bellamy's crew. In trying to have him released, South's captain was told the pirates "would shoot him before they would let him go." (33) The same quote is also found in a new chapter just three pages later.
Another example occurs in the chapter on Levasseur when describing his trial in 1730, thirteen years after the Whydah sank. His punishment included having him "make amends in front of the main door of the church of this parish, naked in a shirt, a rope around his neck and holding in his hand a burning torch . . . and there to declare with loud and intelligible voice, that maliciously and recklessly he made for several years the job of piracy of which he repents." This lengthy quote is found on page 111 and again in the next paragraph on page 112.
Shortly after being chosen as pirate captain, Bellamy and crew went to La Blanquilla, a small island north of Venezuela. When they were ready to leave, Nelson says, Bellamy and Williams decided to "head back towards the Leeward Islands and the Windward Passage." (37) This is confusing. Being close to Venezuela means the entire Caribbean Sea is to the north. The Windward Islands are close by to the east; the Leeward Islands are north of the Windward Islands. But the "Windward Passage" is between Cuba and Hispaniola, over 800 miles from the nearest Leeward Island.
As it turned out, they stopped in Spanish Town, on Virgin Gorda, and took shelter from a storm at St. Croix. After this, they did head to the Windward Passage and capture the Whydah, in February 1717.
Some tales offer contradictory versions of the same subject. Bellamy joined Paulsgrave Williams to search for wrecked Spanish treasure. On page 43 it says, "Historians agree that it was probably Williams who had the money to finance the trip." But on page 65 it says Bellamy "managed to persuade . . . Williams . . . to join him."
There are even differences in the stories of the wreck. In the first version, after capturing the Whydah, the pirates head north to America and are caught in a storm off Cape Cod. But another story about Bellamy says they first sailed to Maine, where they performed maintenance and built a fort, before sailing south from Maine and wrecking in the storm.
Supporting the text are footnotes, a bibliography, and an index. The last is useful for searching for people and vessels, but no geographic locations are included.
If you missed Nelson's first volume or are interested in learning about Sam Bellamy, the Whydah, or Barry Clifford's recovery of pirate treasure, you are encouraged to read this book as an introduction to the full tale and the treasure still waiting to be recovered. More information can be found by reading Barry Clifford's Expedition Whydah: The Story of the World's First Excavation of a Pirate Treasure Ship and the Man Who Found Her or A.T. Vanderbilt's Treasure Wreck: The Fortunes and Fate of the Pirate Ship Whydah.


Convicts in the Colonies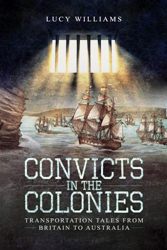 Convicts in the Colonies: Transportation Tales from Britain to Australia
By Lucy Williams
Pen & Sword, 2018, ISBN 978-1-52671-837-2, $39.95 / £19.99

Here is a book that looks deeply into the lives of some of the convicts who were sentenced in court to be transported to Botany Bay, the first colony established in New South Wales, Australia. Through their lives we learn about criminal justice and punishment in Great Britain. We delve into the places where convicts were kept, conditions on the ships that transported them across the oceans, and the dangers they faced along the way. Readers are told about life in the different colonies that were eventually formed and how free convicts lived out their years as members of a developing country.
Our guide is an author who works on a major project to create individual histories for as many as possible of the 168,000 people transported to Australia between 1787 and 1868. In a lengthy introduction she explains her background as "a social historian of women, crime, and deviance," (xii) and that stories of female convicts are used wherever possible. An added caution reminds readers that any implied compassion expressed for these convicts does not mean the victims of their crimes should be forgotten.
The opening chapter takes a close look at the criminal justice system. This includes information about trials, sentencing, and waiting for years before being shipped out of the country. Male criminals, including juveniles, were mostly kept in hulks, old wooden warships that had the masts and cannons removed and were modified to house prisoners in one room below the upper deck. The longer a prisoner was kept on a hulk the more their health deteriorated before the long voyage to Australia. Women were mostly kept in the same gaol they were in before trial and transported with other women on ships just for women convicts.
Next, the dangers faced on the voyage are explored. These include rampant disease and death from the conditions onboard and a diet that didn't include fresh food or vegetables for a prolonged time. Convicts were lost in several shipwrecks and even a mutiny.
The stories of three convict women are told. One involves a lucky escape with several male convicts in an open boat. The second woman became a wealthy businesswoman. The third had twenty-one children and thousands of descendants who helped to populate the country.
There were three different colonies where convicts were shipped: Botany Bay (relocated to Sydney), Van Diemen's Land (now Tasmania), and Western Australia (Freemantle). A chapter is devoted to each colony.
Conclusions are then presented by the author. These include the costs and benefits Australia experienced during the eighty years of transportation and for at least another seventy years when the last convict passed away.
One appendix features the texts of quoted letters showing the original spelling and lack of punctuation. Another appendix lists many resources that can be used to trace transported convicts and their stories.
There is a section for suggested reading and an index as well. The inset has twenty-four, mostly color, images of the places convicts were housed and some of the convicts mentioned in this book.
Anyone with an interest in the development of Australia or the transportation of convicts can learn from this text and enjoy the up-close look at the individuals whose own words are used to describe what they saw and experienced.
Review Copyrighted ©2019 Irwin Bryan

The War of the Spanish Succession 1701-1714
By James Falkner
Pen & Sword, 2018, ISBN 978-1-78159-031-7, UK £25.00 / US $49.95
Also available in ebook formats

One of the most compelling questions on every monarch's mind in the last decade of the seventeenth century was: Who will succeed King Carlos II of Spain? His empire stretched from the Iberian Peninsula to the Americas and included lands in the Low Countries (Netherlands, Belgium, and Luxembourg today), North Africa, and the Philippines. To rule these required a firm hand, yet he had neither offspring nor siblings to ascend the throne.
Although lesser claimants existed, two men from two different countries could make strong cases as to why they should be the next king of Spain. One was Philippe, Duc d'Anjou and grandson of King Louis XIV of France. The other was Archduke Charles of Austria. At the time, no one wanted to go to war and eventually, many ruling monarchs agreed that Philippe would become the next king of Spain. But succession questions where no direct heirs exist were never an easy thing to resolve, especially when the contenders and neighboring countries had their own goals and desires.
Then Louis, who rarely made unwise choices, sent soldiers into the Spanish Netherlands in February 1701. The move was supposedly to protect his grandson, who was now Philip V of Spain, but the Dutch were highly incensed over this move. In early September, England, Holland, and Austria joined together to form the Grand Alliance; soon after Denmark and the German states agreed to assist them. Two additional moves on Louis's part tipped the scale on the side of war. He refused to allow English manufactured goods to be imported to France, and he recognized the Catholic son of the deposed James II as the rightful ruler of England and Scotland. The Grand Alliance declared war in May 1702.
What became known as the War of the Spanish Succession was a conflict that encompassed much of Europe, the West Indies, and even Canada. While most of the war occurred on land, the navies engaged in sea battles and privateering played a significant role. Although peace negotiations began early, nothing was resolved until 1713, 1714, and 1715, years in which the various parties eventually signed treaties. During more than ten years of fighting, numerous elements impacted its outcome: issues of who would command the armies, harmony amongst allies and commanders, conditions of the troops, court rivalries, and distractions at home (such as insurrection in southern France and the bitterly cold winter of 1709). In the end, all parties got what they initially wished and the Spanish people, who never had a voice in the matter, gained a king worthy of their respect and trust.
James Falkner, who specializes in this time period and this conflict, covers all this and more in a volume that presents an unbiased overview of the diplomacy, politics, and military initiatives that took place during the War of the Spanish Succession. He includes numerous maps, illustrations, and a chronological time line to assist readers. There are three appendices. The first two provide the main terms of the 1702 Treaty of Grand Alliance and the Treaties of Utrecht, Baden and Rastadt, and Madrid (1713-1715). The third appendix provides brief biographies of Key Military Figures, their careers, and what became of them. Among those included are James FitzJames, Duke of Berwick; Prince Eugene de Savoy-Carignan; Prince George of Hesse-Darmstadt; John Churchill, 1st Duke of Marlborough; Camille d'Houston, Duc de Tallard, Marshal of France; Louis-Joseph de Bourbon, Duc de Vendôme; Claude-Louise-Hector de Villars, Marshal of France; and François de Neufville, Duc de Villeroi, Marshal of France. The book concludes with end notes, a bibliography, and an index.
Falkner provides a good grounding for readers about how the question of succession becomes an issue, who the principal claimants are, and why their claims are the strongest. Those seeking detailed analysis of the various battles and sieges, however, need to look elsewhere, for The War of the Spanish Succession merely summarizes these actions. Also missing are events that take place outside of Europe and the Mediterranean. Privateers garner only a scant mention, yet the plethora of these men will have a major impact on history once the war ends. Although the text is highly readable, it doesn't always hold the reader's interest and lay readers may become easily confused as to who's who and for which side they fight. Readers with a particular interest in this war and military history during the eighteenth century, however, will delight in this one-volume overview.