By Hilary L. Rubinstein
This new book looks at a tragic incident that befell a Royal Navy ship of the line in August 1782. The heavy loss of life included the families of crewmen and members of the public, who were visiting the ship at its home port.
The Royal George was Admiral Richard Kempenfelt's flagship, and sadly, he was also lost. His career included several naval battles, and he was an innovator whose improvements to flag signals greatly expanded the words and phrases which could be sent between ships.
The opening chapter details the design and construction of the Royal George and how she was armed with 100 guns. The loss of the ship is described along with some eyewitness reports of the tragedy. But it is the loss of Kempenfelt that is chiefly lamented here.
Admiral Kempenfelt's life and service history are detailed in the next three chapters. (Although his future flagship is present at some of his battles, it is only the Admiral's story that is told.) On 7 April 1782, his flag was hoisted on Royal George. After a few months off Brest, an outbreak of illness caused his fleet to return to England. On 14 August, they arrived at Spithead, the fleet anchorage. Fifteen days later, the ship was lost.
Only after this eighty-page biography does the author go into greater detail regarding the ship's demise. Why and how she sank is explained, and many survivors' stories are shared. These tell what those final seconds aboard were like for those who survived. There was a frenzied attempt to launch boats by the other ships in the fleet in an effort to save lives; most individuals who escaped the wreck drowned because they could not swim. The eyewitness accounts identify where each was at the time of the sinking, what they were doing, and how they came to be rescued. These survivors were from the Royal George's crew and officers; family and visitors belowdecks had no chance to escape the tragedy.
Whenever a naval vessel was lost, a court-martial was held to investigate what happened and determine who and/or what were responsible for the loss. At the court-martial delving into the loss of the Royal George, Waghorn, the ship's captain, gave a prepared statement describing the circumstances that led to the loss. He claimed neither negligence nor impropriety led to the sinking. (His entire statement is included in the text.) Acting Lieutenant Durham, as officer of the watch, also testified at the court-martial. The proceedings, as well as the court's judgement, are discussed in the book's next chapter.
There is also a more detailed and scientific look into the catastrophe. This includes what the nearby ships' logs say about the sea and wind conditions at the time, whether there were possible defects known about the vessel – other than that which was being addressed when the tragedy occurred – and what it might have taken to cause or prevent what happened.
Rubinstein shares poems written, and memorials erected to honor and remember the ship, her admiral, and her crew. Although there were many plans and attempts to raise the ship over the years, none came to fruition; only some of her cannons were ever brought to the surface.
Along with the text, a color plate section includes diagrams and illustrations of the ship's plans and construction, the Royal George in action and the day she was lost, and portraits of the admiral and Acting Lieutenant Durham. A section of notes and an extensive bibliography are followed by the index.
Here is a book with a lot of appeal for those interested in the Royal Navy, the Age of Sail, and shipwrecks. I would have preferred to learn more about the ship's history and less about the admiral's career. Events are described clearly and without technical jargon. Anyone fortunate enough to read this book will gain a complete understanding of this historical event and the tragedy that ensued.



The War for Muddy Waters


The War for Muddy Waters: Pirates, Terrorists, Traffickers, and Maritime Insecurity
By Joshua Tallis
Naval Institute Press, 2019, ISBN 978-1-68247-420-4, US $34.95
To truly understand this book's content, it is essential to understand three points. First, the term "maritime security" lacks a definitive meaning; it connotes one thing to some, another thing to others, depending on who is explaining what it encompasses. Second, the word "littoral" once referred to the water surrounding a nation's coast. At one time this extended three miles from the shore; later that distance was extended to twelve. But it encompasses more than just the water, coming to incorporate a portion of the land, people, and economy near the water. For example, if a littoral extends 200 miles inland, this means that "75 percent of the world's population, 80 percent of capital cities, and practically 'all major centres of international trade and military power'" lay within this littoral, which turns this area into a more inviting target for terrorists and other criminals. (3)
Third, "broken windows theory" is a way of explaining the connection between the growth of crime in and the decay of urban neighborhoods. For example, if the window of an establishment is broken and then repaired, those who live there take pride in their community and flourish. If, however, the broken window is not repaired, it can lead to other windows being broken, a lack of caring, a growth of fear in the inhabitants, and a rise in crime because those breaking the law know there is little or no policing. What the author attempts to do in this book is to apply broken windows theory to littoral regions of the world to show that this criminological principle can be effectively applied to maritime security and thus, provide those tasked with maritime security, such as the United States Navy, with an out-of-the-box method of addressing a danger that all nations already do or will face in the future.
In the past, the navy's traditional role has been to safeguard its nation's interests at sea and far from land. This is no longer the case, since nowadays the highest threats impacting nations can be found much closer to home. For example, Tallis recounts the November 2008 attack on Mumbai, India when Pakistani terrorists hijacked a fishing trawler, killed the captain, and successfully infiltrated the city and killed 100 people and wounded many more.
But applying a theory originally deemed as an appropriate means of policing crime, doesn't automatically make it applicable to addressing issues of maritime security. This is what Tallis sets out to do in this book. He shows how this theory can be and has been applied to trafficking crimes, as well as how it can impact other types of crimes, such as money laundering and corruption, that are integral to successful criminal enterprises. Then he tests his hypothesis by showing how it can be applied to two regions where maritime piracy threatens maritime security. To achieve his goals of showing that broken windows theory is applicable and to spark new conversations in strengthening maritime security, he begins by exploring the current literature on maritime security and the challenges strategists face. Then he focuses on the theory itself and elucidates the key themes of the book.
The second part of the book focuses on the Caribbean and the trafficking of cocaine and crimes tangentially connected to drug smuggling. By the conclusion of these three chapters he successfully provides readers with the necessary foundation to test his conclusions in part three, where he integrates piracy into the broken windows theory. This section is divided into two chapters, one that examines West African piracy – a relatively new region for this crime – and then moves to Southeast Asia, which has been combatting piracy with varying degrees of success for centuries.
Tallis readily admits that his book isn't geared toward the general lay reader. He identifies his audience as being either researchers or naval strategists. This doesn't make the material less interesting to other readers, but it is written in a more academic style than a down-to-earth book on modern maritime piracy, such as John Burnett's Dangerous Waters or Jay Badahur's The Pirates of Somalia. What makes The War for Muddy Waters an invaluable addition to collections on modern piracy is that Tallis uses a different approach to examine and address dangers that navies and nations face today and in the future. Since pirates and terrorists have access to modern technologies and tend to think outside normal parameters to achieve their goals, it makes sense that those who study maritime security issues and devise strategies to address these issues should do so as well.
Review Copyrighted ©2020 by Cindy Vallar
The Gulf of Mexico
The Gulf of Mexico: A Maritime History
By John S. Sledge
South Carolina Press, 2019, ISBN 978-1-64336-014-0, US $29.99
Since 1550 this body of water, which contains over 600 quadrillion gallons and ranks tenth in size worldwide, has been known as el Golfo de Mexico or the Gulf of Mexico. It began to form when the supercontinent Pangaea broke apart approximately 200,000,000 years ago, but the oval-like shape we recognize formed far more recently (5,000 to 10,000 years). Today, it covers 600,000 square miles and its shores include numerous lesser bodies of water (such as bays and lakes, as well as rivers that feed into it) and land (such as shorelines, deltas, and barrier islands). Elizabeth Custer likened the Gulf to
"almost always a tempest in a teapot" when she accompanied her husband, Captain George Armstrong Custer, to his new assignment in New Orleans. (7)
Others have written about the Gulf of Mexico, but Sledge offers a history that is geared toward the general reader and encompasses far more than the narrow focus of the water itself. He includes information on the people whose livelihoods and existence depend on it, as well as the various boats and ships that have plied the water since the days when Mayans, Seminoles, Calusa, and other Native Americans lived near and relied on the fruits of the Gulf to survive. He discusses European explorers, pirates and smugglers, fishermen, loggers, and many others. Among those of particular note are William Dampier, William Bartram,
Juan Ponce de Leon, René Robert Cavalier, Laurens de Graff, the Laffite Brothers, and Commodore David Porter.
Also incorporated into the narrative are details on the flora and fauna, cultures, conflicts, memories (personal and firsthand), and historical events. Examples of the last topic cover conflicts – Seven Years' War, Pastry War, Mexican War, and American Civil War to name a few – and natural disasters, such as Hurricane Katrina and the Deepwater Horizon oil spill.
The book is divided into eight chapters that present the history of the Gulf in a chronological sequence. These are comprised of Indian Shore, Spanish Sea, Colonial Crossroads, Pirates' Haunts, King Cotton's Pond, Violent Sea, American Sea, and Blowout! Maps, illustrations, and two sections of color plates enhance the reading experience. Notes, a bibliography, and an index provide readers with sources consulted and where to find additional information.
Readers seeking an all-encompassing, entertaining introduction to the Gulf of Mexico will enjoy Sledge's book. No matter how much or how little you know, you will come away from the experience having learned something new about the United States, Mexico, and Cuba, and gaining a new appreciation for a body of water that "
is by turns beautiful, bountiful, frightening, and destructive." (8)
Review Copyrighted ©2020 by Cindy Vallar

Smugglers, Pirates, and Patriots
Smugglers, Pirates, and Patriots: Free Trade in the Age of Revolution
By Tyson Reeder
University of Pennsylvania, 2019, ISBN 978-0-8122-5138-8, US $45.00 / UK £39.00
Also available in ebook formats
The War for Independence in the American colonies during the second half of the eighteenth century issued in a new age, one that has become known as the Age of Revolution. That conflict inspired other nations to seek freedom from tyranny as well, and in the first decades of the following century, republicans in the United States felt that one way to fight against monarchies and their empires was through free trade. This is the focus of this book, which shows the interconnections between smugglers, pirates, and patriots, especially as it relates to the way Brazil gained its independence from Portugal in the nineteenth century.
The book is divided into four parts:
Negotiating Empire, Regulation and Revolution, A Liberty of Trade, and "Connexions of Commerce and Liberation." What soon becomes clear is that those who advocated free trade did so not just to help others achieve independence but to also influence the growth of commerce in ways that were to their best advantage. Americans believed their model was the right one, but not everyone agreed, and this is best shown in the struggle between Brazil and Portugal, especially since during part of the nineteenth century, the Portuguese monarch resided in Brazil and, in the end, the Brazilians chose a monarch over a president.
These struggles focus on both commercial changes and networks, as well as politics. Empires instituted a number of laws and edicts to limit trade, which then resulted in the growth of smuggling contraband. When the monarchy chose to lift some, if not all, of these restrictions, free trade prospered and smuggling died. This plays a crucial role in why history unfolds as it did in Brazil, as Reeder aptly demonstrates. He provides numerous examples of commodities, both illicit and legal, such as
wine, sugar, gold, flour, and slaves. Aside from smugglers, pirates and privateers are also discussed, in particular those who sailed under letters of marque from the revolutionary leader José Gervasio Artigas. Since his government never acquired recognition from other nations, these men plied their trade in the murkiness of legal privateer or illegal pirate.
Scattered throughout the book are maps, graphs, tables, and illustrations to show points Reeder makes in the narrative. The Notes section provides citations for sources consulted or quoted, as well as additional information on particular topics mentioned in the main text. The extensive bibliography lists manuscript collections in Brazil, Portugal, the United Kingdom, and the United States; newspapers and periodicals; primary sources; and published works. There is also an index.
Readers with a special interest in Brazil and its relationships with the early United States, as well as those seeking information on maritime commerce, will find this book particularly interesting. Those seeking a rousing account of maritime piracy and privateering may want to look elsewhere. Reeder does discuss both throughout the narrative, especially in chapter eight, and does mention North African corsairs (91) and the suppression of piracy in the 1820s (211), but his primary focus is on trade, traders, and trade networks and their effects on the shaping of Brazil as it strove toward independence. He does an excellent job of providing readers with a good understanding of the Monroe Doctrine and how it evolved.
Review Copyright ©2020 by Cindy Vallar

The
Whydah
Pirates Speak
Reviewed by Irwin Bryan


The Whydah Pirates Speak Volume Two
By Laura Nelson
Independently published, 2019, ISBN 978-1096132448, $9.95
Also available in e-book format

This book is a collection of articles originally appearing on the Pirates and Privateers website (
www.cindyvallar.com
). All of the material deals with men who were part of pirate Samuel Bellamy's crew, including two men that survived the Whydah's destruction and several others that also wrecked in a captured prize.


As this book is the second volume in a series about the Whydah pirates, you would hope to see all new material. Unfortunately, there's a limited amount of new information presented and much of it deals with the pirate Oliver Levasseur and his career after parting with Bellamy. Although the chapters are new, many cover the same stories that appeared in Laura's first book. Once again, the details of John Julian and John King becoming pirates are given, as is the entire testimony of the pirates' trials.
There are also repetitions of the text within this book. Thomas South was a carpenter forced to join Bellamy's crew. In trying to have him released, South's captain was told the pirates "would shoot him before they would let him go." (33) The same quote is also found in a new chapter just three pages later.
Another example occurs in the chapter on Levasseur when describing his trial in 1730, thirteen years after the Whydah sank. His punishment included having him "make amends in front of the main door of the church of this parish, naked in a shirt, a rope around his neck and holding in his hand a burning torch . . . and there to declare with loud and intelligible voice, that maliciously and recklessly he made for several years the job of piracy of which he repents." This lengthy quote is found on page 111 and again in the next paragraph on page 112.
Shortly after being chosen as pirate captain, Bellamy and crew went to La Blanquilla, a small island north of Venezuela. When they were ready to leave, Nelson says, Bellamy and Williams decided to "head back towards the Leeward Islands and the Windward Passage." (37) This is confusing. Being close to Venezuela means the entire Caribbean Sea is to the north. The Windward Islands are close by to the east; the Leeward Islands are north of the Windward Islands. But the "Windward Passage" is between Cuba and Hispaniola, over 800 miles from the nearest Leeward Island.
As it turned out, they stopped in Spanish Town, on Virgin Gorda, and took shelter from a storm at St. Croix. After this, they did head to the Windward Passage and capture the Whydah, in February 1717.
Some tales offer contradictory versions of the same subject. Bellamy joined Paulsgrave Williams to search for wrecked Spanish treasure. On page 43 it says, "Historians agree that it was probably Williams who had the money to finance the trip." But on page 65 it says Bellamy "managed to persuade . . . Williams . . . to join him."
There are even differences in the stories of the wreck. In the first version, after capturing the Whydah, the pirates head north to America and are caught in a storm off Cape Cod. But another story about Bellamy says they first sailed to Maine, where they performed maintenance and built a fort, before sailing south from Maine and wrecking in the storm.
Supporting the text are footnotes, a bibliography, and an index. The last is useful for searching for people and vessels, but no geographic locations are included.
If you missed Nelson's first volume or are interested in learning about Sam Bellamy, the Whydah, or Barry Clifford's recovery of pirate treasure, you are encouraged to read this book as an introduction to the full tale and the treasure still waiting to be recovered. More information can be found by reading Barry Clifford's Expedition Whydah: The Story of the World's First Excavation of a Pirate Treasure Ship and the Man Who Found Her or A.T. Vanderbilt's Treasure Wreck: The Fortunes and Fate of the Pirate Ship Whydah.


Convicts in the Colonies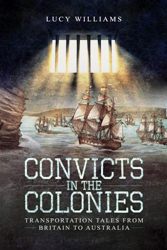 Convicts in the Colonies: Transportation Tales from Britain to Australia
By Lucy Williams
Pen & Sword, 2018, ISBN 978-1-52671-837-2, $39.95 / £19.99

Here is a book that looks deeply into the lives of some of the convicts who were sentenced in court to be transported to Botany Bay, the first colony established in New South Wales, Australia. Through their lives we learn about criminal justice and punishment in Great Britain. We delve into the places where convicts were kept, conditions on the ships that transported them across the oceans, and the dangers they faced along the way. Readers are told about life in the different colonies that were eventually formed and how free convicts lived out their years as members of a developing country.
Our guide is an author who works on a major project to create individual histories for as many as possible of the 168,000 people transported to Australia between 1787 and 1868. In a lengthy introduction she explains her background as "a social historian of women, crime, and deviance," (xii) and that stories of female convicts are used wherever possible. An added caution reminds readers that any implied compassion expressed for these convicts does not mean the victims of their crimes should be forgotten.
The opening chapter takes a close look at the criminal justice system. This includes information about trials, sentencing, and waiting for years before being shipped out of the country. Male criminals, including juveniles, were mostly kept in hulks, old wooden warships that had the masts and cannons removed and were modified to house prisoners in one room below the upper deck. The longer a prisoner was kept on a hulk the more their health deteriorated before the long voyage to Australia. Women were mostly kept in the same gaol they were in before trial and transported with other women on ships just for women convicts.
Next, the dangers faced on the voyage are explored. These include rampant disease and death from the conditions onboard and a diet that didn't include fresh food or vegetables for a prolonged time. Convicts were lost in several shipwrecks and even a mutiny.
The stories of three convict women are told. One involves a lucky escape with several male convicts in an open boat. The second woman became a wealthy businesswoman. The third had twenty-one children and thousands of descendants who helped to populate the country.
There were three different colonies where convicts were shipped: Botany Bay (relocated to Sydney), Van Diemen's Land (now Tasmania), and Western Australia (Freemantle). A chapter is devoted to each colony.
Conclusions are then presented by the author. These include the costs and benefits Australia experienced during the eighty years of transportation and for at least another seventy years when the last convict passed away.
One appendix features the texts of quoted letters showing the original spelling and lack of punctuation. Another appendix lists many resources that can be used to trace transported convicts and their stories.
There is a section for suggested reading and an index as well. The inset has twenty-four, mostly color, images of the places convicts were housed and some of the convicts mentioned in this book.
Anyone with an interest in the development of Australia or the transportation of convicts can learn from this text and enjoy the up-close look at the individuals whose own words are used to describe what they saw and experienced.
Review Copyrighted ©2019 Irwin Bryan

The War of the Spanish Succession 1701-1714
By James Falkner
Pen & Sword, 2018, ISBN 978-1-78159-031-7, UK £25.00 / US $49.95
Also available in ebook formats

One of the most compelling questions on every monarch's mind in the last decade of the seventeenth century was: Who will succeed King Carlos II of Spain? His empire stretched from the Iberian Peninsula to the Americas and included lands in the Low Countries (Netherlands, Belgium, and Luxembourg today), North Africa, and the Philippines. To rule these required a firm hand, yet he had neither offspring nor siblings to ascend the throne.
Although lesser claimants existed, two men from two different countries could make strong cases as to why they should be the next king of Spain. One was Philippe, Duc d'Anjou and grandson of King Louis XIV of France. The other was Archduke Charles of Austria. At the time, no one wanted to go to war and eventually, many ruling monarchs agreed that Philippe would become the next king of Spain. But succession questions where no direct heirs exist were never an easy thing to resolve, especially when the contenders and neighboring countries had their own goals and desires.
Then Louis, who rarely made unwise choices, sent soldiers into the Spanish Netherlands in February 1701. The move was supposedly to protect his grandson, who was now Philip V of Spain, but the Dutch were highly incensed over this move. In early September, England, Holland, and Austria joined together to form the Grand Alliance; soon after Denmark and the German states agreed to assist them. Two additional moves on Louis's part tipped the scale on the side of war. He refused to allow English manufactured goods to be imported to France, and he recognized the Catholic son of the deposed James II as the rightful ruler of England and Scotland. The Grand Alliance declared war in May 1702.
What became known as the War of the Spanish Succession was a conflict that encompassed much of Europe, the West Indies, and even Canada. While most of the war occurred on land, the navies engaged in sea battles and privateering played a significant role. Although peace negotiations began early, nothing was resolved until 1713, 1714, and 1715, years in which the various parties eventually signed treaties. During more than ten years of fighting, numerous elements impacted its outcome: issues of who would command the armies, harmony amongst allies and commanders, conditions of the troops, court rivalries, and distractions at home (such as insurrection in southern France and the bitterly cold winter of 1709). In the end, all parties got what they initially wished and the Spanish people, who never had a voice in the matter, gained a king worthy of their respect and trust.
James Falkner, who specializes in this time period and this conflict, covers all this and more in a volume that presents an unbiased overview of the diplomacy, politics, and military initiatives that took place during the War of the Spanish Succession. He includes numerous maps, illustrations, and a chronological time line to assist readers. There are three appendices. The first two provide the main terms of the 1702 Treaty of Grand Alliance and the Treaties of Utrecht, Baden and Rastadt, and Madrid (1713-1715). The third appendix provides brief biographies of Key Military Figures, their careers, and what became of them. Among those included are James FitzJames, Duke of Berwick; Prince Eugene de Savoy-Carignan; Prince George of Hesse-Darmstadt; John Churchill, 1st Duke of Marlborough; Camille d'Houston, Duc de Tallard, Marshal of France; Louis-Joseph de Bourbon, Duc de Vendôme; Claude-Louise-Hector de Villars, Marshal of France; and François de Neufville, Duc de Villeroi, Marshal of France. The book concludes with end notes, a bibliography, and an index.
Falkner provides a good grounding for readers about how the question of succession becomes an issue, who the principal claimants are, and why their claims are the strongest. Those seeking detailed analysis of the various battles and sieges, however, need to look elsewhere, for The War of the Spanish Succession merely summarizes these actions. Also missing are events that take place outside of Europe and the Mediterranean. Privateers garner only a scant mention, yet the plethora of these men will have a major impact on history once the war ends. Although the text is highly readable, it doesn't always hold the reader's interest and lay readers may become easily confused as to who's who and for which side they fight. Readers with a particular interest in this war and military history during the eighteenth century, however, will delight in this one-volume overview.