Phil Johnson interviews historians, writers, artists, small business owners, musicians, actors, and many others who share their fascination with pirates and pirate lore. An
episode guide
allows ready access to past episodes and previous guests, including Don Maetz, Tiger Lee, Cap'n Slappy and Ol' Chumbucket, Benerson Little, and yours truly.
The latest episodes since last month's updates include
Tim Murphy of Pirates of Padre Tiempo
,
Talk Like a Pirate Day 2016
,
Dane Bennett of Pride of Bedlam
,
Cindy Stavely and Captain Mayhem of St. Augustine Pirate Museum
, and
Xander Kent of Blackbeard Banners
.
Pirate Books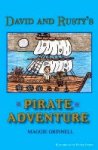 Maggie Grinnell has written
David and Rusty's Pirate Adventure
, for young pirate apprentices. While playing in the house one day, David and his Teddy bear travel through a small door to a real pirate ship. And the captain wants to keep Rusty. The book also includes interesting facts about pirates and Teddy bears, as well as a free poster.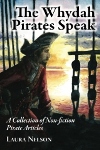 Laura Nelson has collected her articles on Sam Bellamy and the other
Whydah
pirates in
The Whydah Pirates Speak
. The book also includes the trial transcript of those men captured after the pirate ship sank and the Reverend Cotton Mather's
Instructions to the Living, from the Condition of the Dead
, a pirate sermon preached before their execution.