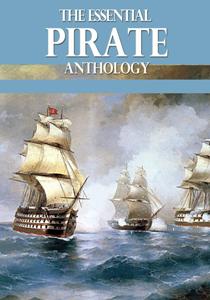 This collection of pirate stories includes eighteen complete novels and non-fiction books. There are 9,043 pages in total -- a lot of great reading.

Don't pass up the chance to read some real classics of pirate literature, such as Howard Pyle's Book of Pirates and Philip Gosse's The Pirates' Who's Who.


Other books, The Ghost Pirates for example, may be considered fantasies with supernatural occurrences, including ghosts. Sailor superstitions are also discussed.
You'll read about a slave ship, privateers, mutiny, and murder. Famous pirates, such as Blackbeard, and ones you've never heard of, like Captain Cornelius Andreson or Captain Joseph Bradish, appear in these stories. Among the famous writers included in this anthology are Daniel Defoe, Frederick Marryat, Ralph D. Paine, and Robert Louis Stevenson.

If you have an e-book reader, be sure to get this great deal while the price is so low ($2.99). It's available at most online stores that sell e-books. And with Covid-19, if you are quarantined or must self-isolate, The Essential Pirate Anthology is a great way to pass the time.

-- Irwin Bryan, contributor