Welcome
(20 November 2021)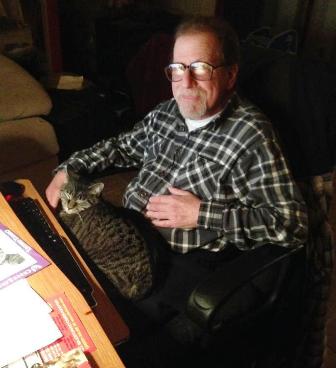 Hi. I'm the Irwin that Cindy mentions in her newsletters. You may have also read some of my book reviews here at
Pirates and Privateers
. I have always been an avid reader and read books on many subjects.
In the 1960s, World War II was trending with a weekly show called
Combat
and the 20-episode
Victory at Sea
was captivating for us little boys. As we grew older, the Vietnam conflict was intensifying right there on the evening news.
For parents worried for their children who might get drafted, they could get them into college with involvement in extracurricular activities, sports, and religious organizations. I was involved in each of those pursuits and went to overnight summer camps for five years. By age eleven, I wanted to attend the Naval Academy and become a naval officer. To increase my chances I was sent to a sailing camp for the next two summers. Anything about ships and the sea has been of interest ever since.
My aspirations were derailed by my color blindness since ships use red and green navigation lights. I joined the Navy upon graduating high school and became a hospital corpsman after volunteering on a rescue squad my senior year.
In the old days, most books people read were borrowed from libraries. I live in the five-county Philadelphia area and have a library card for each county.
Back in the 1990s, I was reading Patrick O'Brian's Jack Aubrey/Steven Maturin Royal Navy series. These nineteen books told the tale of a junior officer who eventually became an admiral. There were storms, shipwrecks, naval and amphibious battles, and a wealth of descriptions of life at sea. To read them in chronological order I traveled to many libraries for the next title.
Since I drove up to an hour to get there, I took time to see what other maritime and naval books they had and wrote down many titles and authors. It didn't take long for me to realize I was writing down the same books another library had. I decided to organize this list and created an Excel spreadsheet. Then I made searching the Internet for these books a hobby and added other volumes as I found them.
Designed as a reading list and book locator, I have read over 800 books in my Tall Ships Database so far. Many of these were published and printed in the 19th century.
My rules for the titles that make the list are simple.
1. The book must be a story – either fiction or non-fiction -- have 100 pages or more, and be for adult reading.

2. There must be a sailing ship with at least two masts in the story. No steamships or ships with any engines, except tugboats, are permitted unless the steamship is not the main subject.

3. The genre cannot be romance, fantasy, or science-fiction.

4. The book must be published in some format, but cannot be a technical manual, picture book, or book about modeling.

From dial-up modems to Cloud computing, I still do the book searches and have compiled over 8,000 titles about the Royal Navy, early American Navy, explorers and much more. Of course, pirate and privateer books are included in my database. In fact, there are over 1,400 titles listed on just these two subjects.
I asked Cindy if I could write about them in this blog, which I call "Sea Yarns Galore: Books from My Tall Ships Database." Rather than talk about any single title, I will write about them in general and list some titles with each post.
Cindy and I hope you will enjoy this addition to
Pirates and Privateers
, and I promise to entertain you along the way.
Here are a few titles to start things off.
History of Pirates: Blood and Thunder on the High Seas
by Nigel Cawthorne
History, 17th-18th centuries
Under the Black Flag: The Romance and the Reality of Life Among the Pirates
by David Cordingly
History, 17th-18th centuries
General History of the Pyrates: From Their First Rise and Settlement in the Island of Providence, to the Present Time
by Captain Charles Johnson
History, 18th century
Dead Men Tell No Tales
by E. W. Hornung
Fiction, Adventure 17th-18th centuries
Wind Commands Me: A Life of Sir Francis Drake
By Ernie Bradford
(review on page 81)
Biography, 16th-17th century
Wolves of the Channel (1681-1856)
*
by William B. Johnson
History, 16th-18th century
Privateers: A Raiding Voyage to the Great South Sea
by Fleming Macleish
Fiction, 17th century
Buccaneer King: The Biography of Sir Henry Morgan, 1635-1688*
b
y Dudley Pope
Biography, 17th century
*If a free download or review of the book is not available, Irwin will just provide the title and author.

Privateers
(20 November 2021)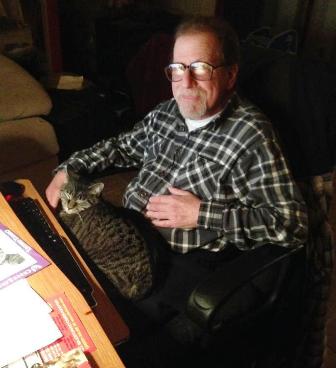 As fans of
Pirates and Privateers
you probably have a better idea of the differences between these two groups of sailors than most people. To be sure we are all on the same page, let us look a little closer.
All legitimate privateer captains were granted commissions, also known as letters of marque, to capture the enemy's ships in a time of war. Sometimes, depending on the time period, these commissions also covered attacks on towns. Enemy governments did not necessarily recognize these authorizations, which led to privateers being labeled pirates instead.
For the sailors there was little difference between both groups regarding the work they had to do. But there were times when privateers seized ships of a neutral country, thus making them pirates too.
Some of the earliest Anglo-Saxon privateers were merchants and nobles from a group of five towns in eastern England. These towns became known as the Cinque Ports and those who sailed from them did so in defense of the realm.
During the 16th century, the first of Queen Elizabeth's Sea Dogs went privateering by heading to the Caribbean after Spanish gold. John Hawkins, Francis Drake, and Martin Frobisher tried to trade with the Spanish, but were forbidden to do so. Instead, the men chose to plunder and launched attacks to seize any form of valuables, including minted coins and church items such as gold candle holders and ceremonial cups.
Drake led an overland attack on Panama and was the first Englishman to see the Pacific Ocean. He was the first man to sail around the world. In the process, he attacked Panama again, this time by sea and captured a Manila galleon laden with the largest treasure ever captured. Sir Francis Drake became England's national hero, while the Spanish king called him El Drago, the Dragon, and wanted him dead. Don't miss a chance to read more about his daring exploits.
Drake was such a heroic figure that many books were written about him for children and adults. As you get older there's a tendency to doubt the truths you read as a youth. It makes discovering those events that really happened even better.
The Sea Dogs and their ships also defended England when the Spanish Armada arrived in the English Channel. They were certainly no strangers to the sounds and smells of a sea battle. (Books on the Armada will be discussed in a later post.)
One tactic of privateering attacks was to travel to a point on land and leave their ships to attack a town. Buccaneers of the 17th century plundered Spanish towns, seeking the precious metals and gems taken from the land and bound for Spain. Hundreds of men took to the sea in all manner of vessels, each heading for a secret rendezvous where oceangoing ships transported them to their destinations.
If you want to understand how difficult attacking a town was, Peter Earle's
Sack of Panama
will acquaint you with the heat, the bugs and snakes, and the hunger and thirst experienced while struggling through a tropical jungle. It was just as difficult coming back with their plunder too.
Henry Morgan advanced his standing among the buccaneers and led invasions in Nicaragua, Honduras, and Panama. If you are not familiar with Morgan, there are a number of books about this military genius. He was so successful that he was knighted and made a member of Jamaica's nobility. His actual life reads much more like fiction.
The books tell lots of stories about Morgan. Some say he was a gentleman. Others that he was a ruthless leader who ordered his men to open fire even though the Spanish used nuns as shields. One thing all agree on is how cunning he was and they provide several examples of this.
Here are books about Drake, Morgan, the Sea Dogs and Buccaneers.*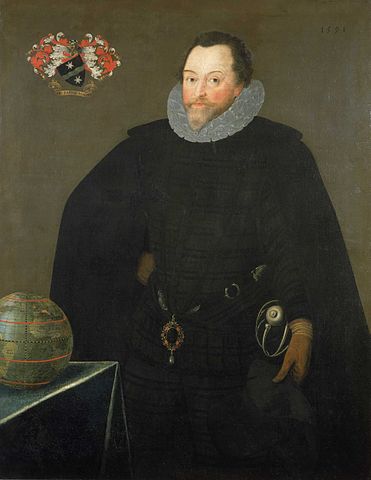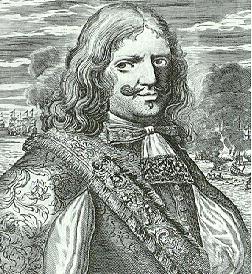 Morgan the Pirate
by Robert Carse
Sack of Panama: Sir Henry Morgan's Adventures on the Spanish Main
by Peter Earle
Brethren of the Coast: British and French Buccaneers in the South Seas

by Peter K. Kemp
Cutlass Empire

by F. Van Wyck Mason
Mad Morgan

by Kerry Newcombe
Empire of Blue Water: Capt. Morgan's Great Pirate Army, the Epic Battle for the Americas,
and the Catastrophe That Ended the Outlaw's Bloody Reign

by Stephen Talty
The Pirate King: The Incredible Life of the Real Captain Morgan

by Graham A. Thomas
Secret Voyage of Sir Francis Drake 1577-1586

by Samuel Bawlf
In the Days of Drake: Being the Adventures of Humphrey Salkeld

by J.S. Fletcher
The Sea Dogs: Privateers, Plunder, and Piracy in the Elizabethan Age

by Neville Williams
*The pirate thumb's up denotes a book that Irwin likes.

So, What's New?
(22 December 2021)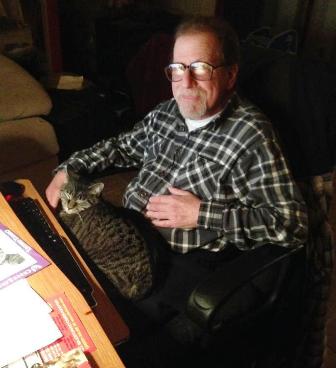 When I ask this rhetorical question, I am referring to when the events of the Age of Sail happened and also when books about these events first began to be written.
After all, authors who write about pirates, for example, must look back hundreds of years for inspiration and do research in order to write their books, whether they are historical novels or nonfiction. Then again, books about the Age of Sail have been written since soon after the events occurred and continue to be written nowadays. And most of these books are included in my database.
Flipping this around, readers may have some familiarity with these topics when choosing a book to read. People don't generally check the copyright date when making their selections. They may have a desire to read about the pirate Blackbeard and be entertained or informed by any book about him.
So, what is new to them may be anything they find. It could be an old hardback with an engraved title or a paperback with a full-color illustration on the front cover.
When I began my database, I was mostly confined to books I found on the shelf at a library or bookstore or in a book's bibliography. I contacted publishers and received catalogs of mail-order books. But I could not do much at home until I had a dial-up modem connection to the internet.
I began by searching the Philadelphia library's catalog using authors' names and subject searches. The computers and modem were so slow loading pages that I read a book at the same time and persevered until things got faster.
When I added titles to my list, I included the author, its one-word subject, which library had it, and, if not fiction, I included the Dewey Decimal number. I also had a column where I tracked which books I had read.
The first search discovery I made was that the online catalog listed all books on the shelves and in storage. Most of the latter were able to be taken out by asking the librarian in person or by phone. Many more books were in storage than on the shelves. The main library in Philadelphia called their storage area the Central Stacks, which I shortened to "centstack." (According to Cindy, who is a retired librarian, "stacks" is the term used to differentiate the storage area of a library from the reading or public area. It basically consists of rows upon rows of bookshelves.)
A number of books that I identified to list or read were first printed in the 1800s. I often wondered if I would be the last person to ever read some of them. Some of these books included a donated set of works by Frederick Marryat, a former captain in the Royal Navy, which were printed in 1840. Those by William Clark Russell, a prolific writer and former merchant sailor, were published towards the end of the nineteenth century.
Once I finished searching Philadelphia's collection, I started on the county library's catalog. I soon learned they had received an endowment to save all fiction stories forever. Again, these were able to be read if requested. They were kept in the storage area referred to as "Old Fiction" by the library, or "O F" in my database.
Before I went to a library, I could print out a list of that library's books that I hadn't read yet. Fiction appeared in alphabetical order and nonfiction in order by Dewey number. Once there, I could go to the exact shelves, grab the books I wanted to read, pick up the "old fiction" books I had requested, and check out in ten minutes.
As computers and internet connections got faster, I shifted my attention to websites of book publishers and historical pages that listed their sources or included a bibliography.
Then the world of books changed. Used books could be purchased at reduced prices on Amazon and eBay. Older books started to be available in digital format as free e-books that could be read on your computer, e-readers like Kindle, and, eventually, smartphones.
At present, there are over 2,000 titles in my database that are available as free e-books or can be purchased to read on a Kindle. Whether newly published or just new to the database, the vast majority should be new to you! C'mon, adventures await!!!
Among the books listed below, Jules Verne's entry tells the melancholy story of an East Indiaman that foundered on the west coast of Africa before Europeans had colonized the coast and even Cape Town's settlement was mostly in the future. Despite the large number of survivors, they were doomed to live their lives in central Africa without ever joining European society again.
I chose to include a work by William Clark Russell even though his books were all published in the last fifteen years of the nineteenth century. But I suggest most readers should not attempt to read them until they are "worth their salt!" That means, like an old sailor, they are familiar with the terminology and components of a ship and her rigging. Russell uses nautical expressions in every sentence. He even described a girl as having a fine top hamper, or nice sails on the upper yards instead of being buxom!
Jack London's
Sea Wolf
is a psychological thriller that may be a challenge to read because of the amount of evil manifested by the ship's captain.
There is also an early biography of Blackbeard, and Howard Pyle writes about some of the earliest buccaneers.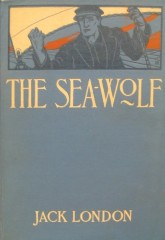 Left to right: One of Édouard Riou's illustrations for Jules Verne's Survivors of the Chancellor
(Source:
Wikimedia Commons
);
William Clark Russell as a midshipman
in the merchant navy of the United Kingdom
(Source:
Wikimedia Commons
);
1904 Cover for Jack London's
Sea Wolf
(Source:
Wikimedia Commons
);
Cover illustration
by Frank E Schoovonor for Ralph D. Paine's Blackbeard Buccaneer
(Source:
Wikimedia Commons
)
So, What's New? Part Two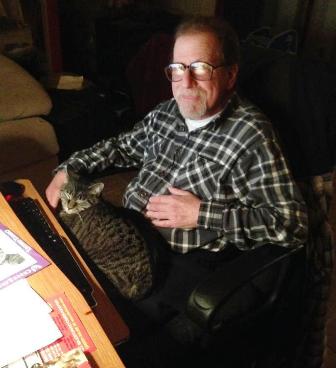 As a young sailor trained in sloops, I was interested in reading about tall ships, but knew very little about them. I only knew some of these were warships, so I read naval stories about them first.
The sloops I sailed were one-masted catboats with a main sail and smaller jib sail. These were both triangular fore-and-aft sails instead of the square-rigged sails on tall ships with three masts. During the Age of Sail, one of the smaller types of ships used by the Royal Navy and Continental Navy were also called "sloops," but these were two-masted vessels with a mix of square and triangular sails. They were armed with six to twelve 9-pound cannons at best. Designed for inshore work, they had a much lighter draft than frigates and larger vessels.
This blog post is mostly on naval action series. When I began reading naval books about the Age of Sail, the books available were predominantly focused on fleet actions with ships of the line, or famous ships and captains involved in ship-to-ship frigate duels. Many writers told stories about junior officers called midshipmen and how they advanced through the ranks to command ships and fleets in a series of books. (Upcoming articles will be about books on pirates, clipper ships, and merchant ships.)
One such author is C.S. Forester and his character,
Horatio Hornblower
. Forester was one of the first writers of naval fiction to publish multiple books about the same person. Several titles told of Hornblower's midshipman days and they are great for readers who are relatively new to wooden ships because he is a novice and he must learn about his ship and duties. Forester takes readers through these lessons since it helps them become familiar with naval terminology such as parts of the masts and rigging, places aboard the ship, and the firing of cannons.
Here are the individual titles, which are in chronological order:
Mr. Midshipman Hornblower
Lieutenant Hornblower
Hornblower and the Hotspur
Hornblower and the Atropos
Beat to Quarters
Ship of the Line
Flying Colours
Captain Horatio Hornblower
Commodore Hornblower
Lord Hornblower
Admiral Hornblower in the West Indies
Hornblower During the Crisis

(Some of the midshipman stories have been published together in a single book. It may be easier to find these collections than the older single titles at the library or online.)
The Hornblower series was so popular it was portrayed on TV and film.
Gregory Peck
first became the physical embodiment of Captain Hornblower for several generations. A newer series on the BBC starred
Ioan Gruffudd
as a younger Hornblower. I felt both actors nailed their portrayals and each story closely followed the ones that Forester wrote.
Frederick Marryat began his career on a ship commanded by
Edward Pellew
, who would become one of the greatest frigate captains of all time. Marryat's
Mr. Midshipman Easy
is about Pellew's exploits and Marryat's role in them. It's an excellent story and not too audacious since everything is true.
Other authors wrote three or more books about the same person, but only Dudley Pope's Lord Ramage series and C. Northcote Parkinson's six Richard Delancey books were completed before the 1990s. (Watch for a future blog on trilogies.)
Several series are still being written and new installments are published every year or two. These include Alexander Kent's Richard Bolitho titles, Julian Stockwin's Kydd books, Dewey Lambdin's Alan Lewrie titles, and Richard Woodman's Nathaniel Drinkwater series.
In terms of what each series is like, I think of the leading characters like this:
Hornblower is the lover.
Bolitho is the fighter.
Drinkwater is the pro.
Lewrie is the joker.
Ramage is the stiff board.
Delancey is the thinker.

These books are all based on Royal Navy battles and other actual events of the Napoleonic Wars. All of these series include at least one book about the key Battle of Trafalgar. With those novels and others, I actually read about the exciting battle through the eyes of characters serving aboard twelve different ships.
In more recent times, new authors have written about lesser-known events, aboard smaller vessels, or in other time periods. Most have been aboard a fictitious ship and fighting imagined enemies. Others have chosen heroes who spend most of their stories on land or are involved in espionage rather than naval combat.
For these reasons, if you want to read about the Napoleonic period, it's the older books that may be more likely to detail the fleet actions of those days. The newer authors I mention may be looking for their own niche, but it's not at the expense of naval traditions or life on board ship. The action and adventures are just as exciting too.
Some authors who wrote series or other books on this era have also chosen to write new books that either are aboard older ships like galleons, or occur in ships that aren't warships. Richard Woodman has done both. His Kit Faulkner books take place during the seventeenth century and other titles are about the East India Company and aboard clipper ships.
Joan Druett
began writing about women at sea with titles like
Hen Frigates: Wives of Merchant Captains under Sail
,
Petticoat Whalers: Whaling Wives at Sea
,
She Captains: Heroines and Hellions at Sea
,
She Was a Sister Sailor: The Whaling Journals of Mary Brewster
, and
Captain's Daughter
.
Although she has written a number of
other books
, her most recent ones include
Island of the Lost: Shipwrecked at the Edge of the World
, which tells the plight of a small crew cast ashore and surrounded by the cold waters of the Tasman Sea, and
In the Wake of Madness: The Murderous Voyage of the Whaleship Sharon
, a bad-luck voyage from start to finish that continues to be unlucky even after the murders.
The newer authors I wrote about still have great books out, most of which are also in e-book formats. The author and first book in each of their series are listed below.
My next blog, "The Gems," will feature some of the best reads I discovered through my research.
I hope you all have a happy and safe holiday and a Happy New Year!
Gems Among the Yarns (10 February 2022)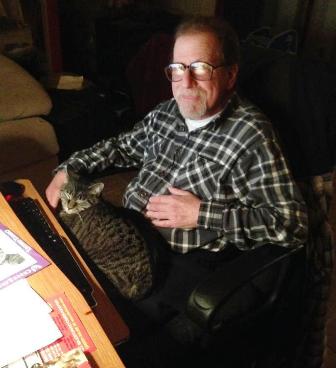 In this post I share some of the books I liked the most. I scrolled through the 900 titles in my spreadsheet that I've read; 180 are great in my opinion. To whittle down this list I selected just twenty-five fiction and twenty-five nonfiction books that I consider the best of the best. This is the first of several blogs about these Gems that will come every few months. I think there may be a book here for everyone and I wish you all good reading ahead!
The War for All the Oceans: From Nelson at the Nile to Napoleon at Waterloo
By Roy and Lesley Adkins
This is an excellent work by husband-and-wife historians that deals with the Royal Navy in action around the world. Fleet actions and duels between single ships are described in detail with quotes from the participants that paint vivid pictures of the action.

The often-ignored theater of war in the East is also covered, where Wellington gains some valuable experience. The private naval force known as the Bombay Marine get involved with pirates, the French are fooled by a daring ruse that saves some East Indiamen, and more adventures are told that you may or may not believe!

In 1812, America's declaration of war against Britain caused the Royal Navy to rearrange their forces around the world. Some familiar names had new orders to join the forces forming off New England.

The American navy's six new frigates, built since the Naval Act of 1794 authorized them, were better built and armed as well as or better than most Royal Navy frigates. This enabled our all-volunteer navy sailors to defeat several British frigates. The famed USS Constitution, known as "Old Ironsides," defeated two frigates and several other warships by herself. The Essex frigate captured HMS Alert and also rounded Cape Horn to attack the British whaling fleet in the Pacific. She was illegally captured in the neutral port of Valparaiso by the Royal Navy frigate HMS Phoebe and sloop HMS Cherub in 1814. Action between equally matched smaller vessels also resulted in several American victories.

Before this war ended, soldiers from the United Kingdom would land in Maryland and make their way to our new capital where they burned down the vacant White House. The troops would also fight a pitched battle in New Orleans at the war's end. Battles at these places and more tell a great story of a past worldwide war at sea, especially after Trafalgar was fought.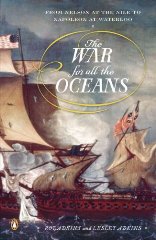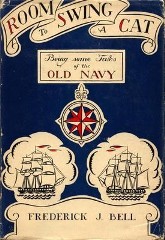 Room to Swing a Cat: Some Tales of the Old Navy
By Frederick Bell
This book has chapters on naval traditions, discipline, and punishments. The "cat" in the title refers to the cat-o'-nine-tails, a rope whip with nine knotted cords, used to flog sailors for offences like drunkenness and fighting. It also looks at America's naval war with the Barbary pirates and follows the heroes of that war into the War of 1812.


Ned Myers, or, A Life Before the Mast
By James Fenimore Cooper
Cooper's experience as a merchant sailor and midshipman in the US Navy gave him the background, knowledge, and experiences to be a great writer of sea stories and the author of his critically acclaimed History of the Navy of the United States of America. It's ironic that Cooper is known chiefly for his Leatherstocking tales.

Ned Myers was a real person who served "before the mast," tending sails and adjusting yards around the clock. He actually met Cooper and told him his story, which was fictionalized to include dialogue and released as Myers's own book. This created some confusion among Cooper's biographers, bibliographers, and readers.


King of Pirates: Being an Account of the Famous Enterprises of Captain Avery, the Mock King of Madagascar; with His Rambles and Piracies
By Daniel Defoe
Defoe, the Robinson Crusoe author, was also known for his stories about pirates. Defoe sometimes borrowed what others wrote or accomplished, and attributed these experiences to his heroes.

Despite these "preexisting conditions," most of what Defoe writes about Avery has been independently verified by other biographers, even though "Avery" or "Every" is still undecided. Defoe spelled his name with an "A," but many books and references use "Every."

One thing that is agreed upon: Avery scored big when he attacked a vessel belonging to a Muslim emperor who had some of his own family members and girls from a harem aboard.

There is no question that Avery's attack on the Ganj-i-Sawai treasure ship was one of the most brutal attacks on any ship's passengers and crew ever. It's hard to say what may have sparked the brutality -- the wounds, rapes, and terror they all suffered.

Soon after this attack, Avery sailed from the Caribbean to Ireland and retired from piracy. He is credited as the most successful pirate to ever retire with his stolen wealth.

I read every book I could find by Defoe after reading The Storm about a terrible three-day gale -- a book often considered to have sparked the birth of investigative journalism and was a hug undertaking for him. Robinson Crusoe too! I found King of Pirates to be an interesting story and liked seeing the values of the different captures that were made. I should mention that the book is written in eighteenth-century English, which may be a bit of a challenge for some.


Adam Penfeather, Buccaneer (#1)
Black Bartlemy's Treasure (#2)
Martin Conisby's Vengeance (#3)
By Jeffrey Farnol
These three books tell an Arabian Nights type of pirate story. There are the hardships of being a galley slave. A change of fate births a desire for revenge. A mysterious island has a hidden treasure. And love goes awry as a result. Most of this tale is told in the second and third titles. The first book establishes some truths that come into play in the later story. Together, this is a wonderful trilogy I recommend to anyone looking for an epic tale with plenty of swordplay and other action, and lady readers should know it's a bit of a romance too.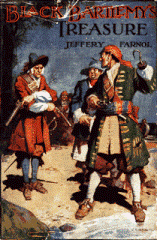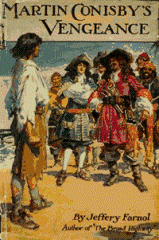 The Frozen Pirate
By William Clark Russell
This is one of my all-time favorite books. It's also one of Russell's titles with the least technical jargon.

The incredibly foreboding scenery of the frozen Antarctic and stormy wintry seas below Cape Horn form a grim backdrop to the unfolding tale. The shipwreck and Paul Rodney's day in the boat are exciting. The iceberg exploration and the vessel he finds are amazing and a great way to start this tale.

Once he boards the vessel, the descriptions of all that he finds there are so vivid and wondrous in the extreme that as the list grows, plans to possess these "stores" start forming. He gets some unexpected help from a frozen pirate. If you can accept that occurrence and keep reading, you will enjoy a great story.

This is a feel-good story where you really hope the protagonist, Paul, has his way, and you wish you are the protagonist too.


I hope these recommendations these recommendations will entice you to read some or all of these books. Upon completion, I trust you will have the same opinion as me and enjoy these titles as much as I did.

In the next newsletter, we'll go sailing across the oceans aboard clipper ships and windjammers. And I guarantee it won't be all fair winds along the way!