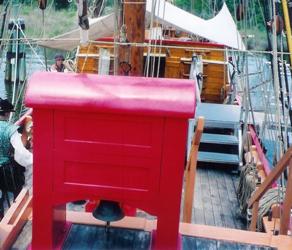 (Standing on the quarterdeck looking toward the bow)

The bittacle (red object) houses the ships' compass and other navigational aids. This is one area where the navigator stood. The ship's bell hangs beneath the bittacle.
Directly beneath the quarterdeck is the sterncastle, which was divided into two compartments, one in front of the other. The first compartment (the narrower of the two) is where the helmsman steered the ship. The rectangular opening in the front wall permitted him to see the sails, but not the ocean in front of him. Lookouts and the navigator provided him with any necessary data he needed to keep a safe course. The opening could be shuttered in foul weather. Entry into the sterncastle was through the hatch (door) to the right.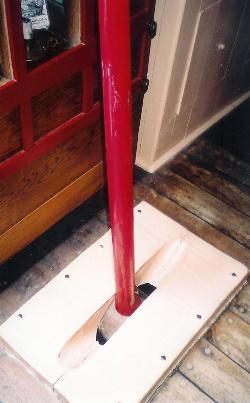 Rather than using a ship's wheel to steer the
Elizabeth II
, helmsmen of this period used a whipstaff, a long pole in the steerage cabin. The whipstaff was connected to the tiller, which was connected to the rudder. Both of thesewere located on the deck below.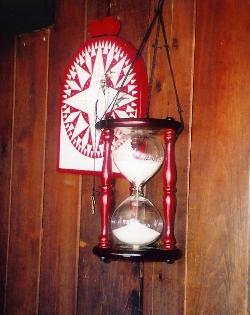 The sandglass was used to tell time aboard a ship, while the traverse board was used to keep track of a ship's location during each watch. A seaman placed pegs in the appropriate holes to record her direction and speed. The compass provided directional information while the chip-log, a weighted board attached to a line, was used to determine her speed. At the end of the watch either the master or navigator recorded the information on the traverse board in the ship's log, then removed the pegs so the next watch could collect the data all over again.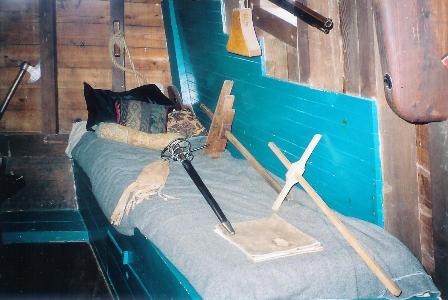 The only private cabin aboard the
Elizabeth II
is the master or captain's cabin. The wooden objects on the right of his berth are cross staffs, tools that allowed the navigator to compute the ship's latitude.
Although sparse, the furnishings of the master's cabin were posh and spacious compared to those of everyone else aboard. This table served many purposes. Not only could he dine at it, but he could study charts and ecord daily happenings in the ship's log using quill pens.