THE AFRIKANER
Arianna Dagnino
Guernica Editions, 2019
Devastated at the senseless death of her lover, South African paleontologist Zoe Du Plessis flees Johannesburg for her childhood home on the Cape. She had risked her heart only to discover that the warnings of her female ancestors weren't absurd chimeras of previous firstborn daughters. To come to terms with both reality and her grief, she embarks on a journey of inner reflection that is intertwined with acceptance of the past, standing up for what she believes, and taking chances in spite of her own biasness in an ever-changing world in the aftermath of racial segregation.
This rite of passage is hers alone to make, but each step intersects with others in unforeseen ways. Andrè, her younger brother, wants to replace the white director of the family winery with a black man. Koma, an old Bushman and shaman, emerges from the vast nothingness of the desert to renew their acquaintance. Whether the deep sadness in his eyes is his own or a mirror of hers, a "thief of stories" warns that their destinies are intertwined. From the grave, her aunt and great aunt share a dark secret of the distant past that impacted their lives, while Dario Oldani, her co-worker and lover, compels her to go beyond the comforts of her research lab to continue his hunt for the birthplace of humans in the Kalahari. But navigating the unknown doesn't come without risk.
The Afrikaner
is a story of self-reflection, of coming to terms with the past, present, and the future. Dagnino's poignant, compelling, you-are-there tale draws us so deep into Zoe's world that we experience each and every emotion. Her vivid depictions of time and place transport us to the turbulence of South Africa, before, during, and after apartheid until we share both Zoe's discomfort and her love for the land of her birth. It is a haunting portrayal of devastating grief and rational resurgence; once read, neither Zoe nor her experiences are easily forgotten.
BLINDSIDED BY THE TALIBAN
Carmen Gentile
Skyhorse, 2018
In September 2010, a freelance journalist accompanies soldiers on patrol in eastern Afghanistan's Kunar Province. He's scared – after all, this is Taliban territory – but showing that fear will just aggravate the tense situation. He's well aware of the dangers, since he's been embedded before, yet listeners of CBS Radio and readers of
USA Today
need to know what's happening in a war zone, the dangers soldiers face, and the conditions they endure. His greatest fear? Surviving a bomb blast and losing his legs. On this particular day, however, it's not a bomb he faces, but a man holding a rocket launcher aimed directly at him. The projectile slams into his face. He should be dead; instead, he sustains a ruptured eyeball and a shattered orbital socket.
This is Carmen Gentile's firsthand account of his life, the attack, and the aftermath of that attack, as well as the psychological trauma it caused. In the preface, he mentions that his saving grace was the birth of his daughter. Although he shares many personal snapshots of his life, he remains relatively silent about her and her mother. The book is rather a gritty, no-holds-barred examination laced with candid honesty, dark humor, and explicit language. Be forewarned: Some readers will hate this book; others will admire it as a stunning, vivid, at times shocking, and insightful journey into how Gentile comes to terms with what happened and refinds purpose in his life.

THE LAST DAYS OF THE ROMANOVS
Helen Rappaport
St. Martin's, 2008
On 17 July 1918, in Ekaterinburg, Bolsheviks brutally murdered Tsar Nicholas II, his wife Alexandra, and their children: Olga, Tatiana, Maria, Anastasia, and Alexey. While this book focuses primarily on the events and players during the time the family lived at the "House of Special Purpose," Rappoport explores the responses of various leaders – Woodrow Wilson, George V, Kaiser Wilhelm, and Vladimir Lenin. She captures the time, place, politics, and events through the use of Russian and English primary sources, many rarely consulted in previous works. Although there are no footnotes, this is an absorbing account from personal perspectives that puts the reader in the midst of it all, from the boredom of inactivity to the horror of what happened in the cellar of the Ipatiev House that night.

REVOLUTIONARY MOTHERS
Carol Berkin
Knopf, 2005
Americans tend to think of the War for Independence as a revolution, but in reality it was a civil war. Many men participants are well known, but not so the women. Berkin rectifies this oversight by examining first the role women played in that period's society, then showing how they protested English policies, what challenges they faced, why some became camp followers, what effect the generals' wives had on the soldiers, what loyalist women endured, how the war impacted Indian and African-American women, and who fought for and against independence. This well-paced, even, and insightful examination of eighteenth-century women is a worthy resource for learning about ordinary women of the past in their own time period rather than today's.

THE WHITE CASCADE
Gary Krist
Henry Holt, 2007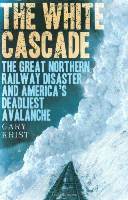 In 1910, the Great Northern Railway crossed the Cascade Mountains in Washington State. Two trains loaded with passengers and mail headed west toward Seattle. A late winter storm began soon after, and no matter what James H. O'Neill and his men did to keep the tracks clear, the snow kept falling. Temperatures warmed then dropped repeatedly, creating dangerous conditions on the mountain above. Halted by snow drifts and slides, the trains halted at Wellington and sat on tracks above a precipice for almost a week. Some passengers, tired with waiting, trekked back to the previous town, but women and children, as well as invalid passengers and railroad workers, remained. Early on the morning of March 1st, an avalanche toppled both trains into a ravine.
This riveting account details the events before, during, and after the avalanche killed 100 men, women, and children through the use of primary resources, including passengers' letters and diaries, railroad archives, and court documents. Krist demonstrates how technology outpaced safety standards, just as they did two years later when the Titanic sank. He brings alive a time long past and captures the awesomeness and essence of railroads and nature.
(Originally reviewed for
Historical Novels Review
, February 2007)

WHO'S SAYING WHAT IN JAMESTOWN, THOMAS SAVAGE?
Jean Fritz
Putnam, 2007
At thirteen, Thomas Savage becomes a translator between the Jamestown colonists and the Indians. He lives with Powhatan, the chief, and Pocahontas teaches him her language and her people's ways. Each presents challenges, but the hardest of Thomas's job is remaining neutral. When 300 new colonists arrive, there isn't enough room or food for them. A fire injures Captain John Smith, and false accusations force the Indians to break the peace. How will the English survive the Starving Time? Will there be war or a new truce? Can Thomas stay neutral amidst the hostilities of the settlers and the Indians? Will he achieve his dream of being a gentleman landowner with a family of his own?
Many years ago, Jean Fritz introduced children to people behind the American Revolution -- men like George Washington and Samuel Adams. Her books asked a question that made these legendary men real and included facts rarely found in traditional biographies. She continues this trend with this book, but the lack of primary documentation on Thomas required her to fill in the gaps with probable, but not provable, information. She does a commendable job bringing Thomas to life and demonstrating what it was like to live in Jamestown 400 years ago. She shows both sides of the story, rather than just the English point of view. The colorful illustrations allow young readers to visualize the historical events that shaped the early days of America.