Raglan Castle was probably built around 1432 for William ap Thomas, known as Y marchog glas o Went (the blue knight of Gwent). It was damaged during the Civil War in 1646.

The Great Gate (above) served as the castle's main entrance, stands between two hexagonal towers. The one on the right is the Closet Tower, which housed prisoners in the basement, and the steward's quarters and treasury on the upper floors.

The picture below may be situated in what was one of the living apartments for the lord's family and guests, possibly in the Fountain Court. The window embrasure clearly shows the seats on three sides.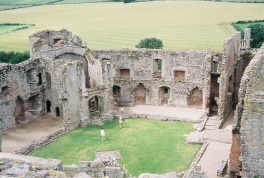 The Fountain Court was so named because of the marble water fountain, called the White Horse, in the center of the courtyard. This court was built in the 1460s. The Grand Stair led to the two wings of living apartments.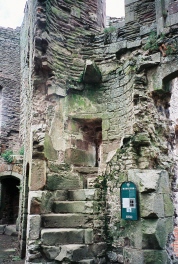 This staircase leads to the castle's library, which William Herbert, the first Earl of Pembroke and ap Thomas's son, established. It housed manuscripts of Welsh bards and the druidic religion in Welsh. Cromwell destroyed the library, but the Horae Pembrochinanae (Pembroke Hours) survived. It is an illuminated manuscript of the Hours of the Blessed Virgin Mary, which was written around 1440 for William Herbert. Today it's in the Philadelphia Museum of Art.