Cindy Vallar

Author, Editor, & Pirate Chronicler
P. O. Box 425, Keller, TX 76244-0425
---
Appearances & Book Signings

2019 2017 2013 2011

2010 2009 2008 2007 2006 2005 2004


Who Were the Real Pirates & Privateers and Book Signing
Houston Bay Area RWA
16 July 2019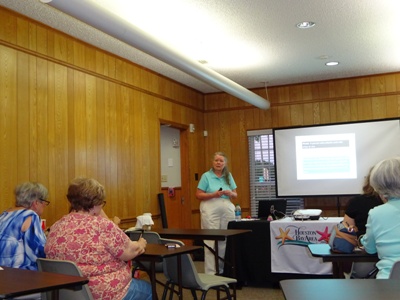 Jean Laffite, Enigma & Legend and Book Signing
Cradle of Texas Chapter of the Daughters of the Republic of Texas
16 November 2017





Pirates, Privateers, and Smugglers Workshop and Book Signing
Historical Novel Society 5th North American Conference
St. Petersburg, Florida
21-23 June 2013


Photo courtesy of Rick Seymour, Conference Photographer




At the book signing with Norma Jennings (right), author of Daughter of the Caribbean,
and Rick Spilman (left), author of Hell Around the Horn







American Privateers: The Wars of Independence
Captain Molly Corbin Chapter of the Daughters of the American Revolution
Southlake, Texas
12 November 2011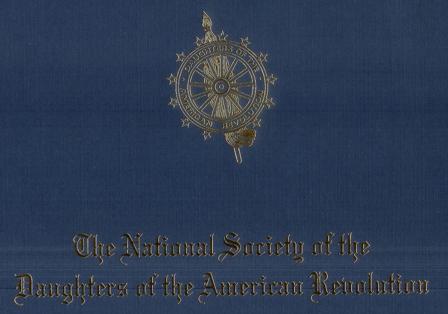 Presentation of certificate of appreciation (left) and donation on Gustavas Fox of the Union Navy: A Biography
in my name to The Daughters of the American Revolution's national library in Washington, DC.




Cindy, clad in dress attire of pyrate surgeon,
and Tom, surgeon's mate


Pirate ship cupcake -- scrumptious!



Dominique Youx, Intrepid Warrior
The Laffite Society
Galveston, Texas
11 October 2011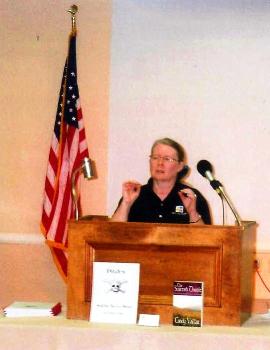 Researching and Writing Historical Fiction Presentation
Denton Writers League

Denton, Texas

10 September 2011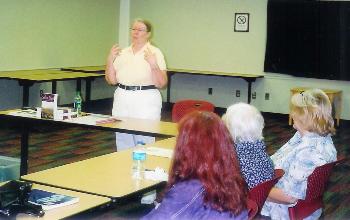 Workshops at EPICon 2011
Williamsburg, Virginia
10 March 2011

| | |
| --- | --- |
| Researching and Writing Historical Fiction | To Be and Not to Be and Other Editing Quandaries |




Privateers of the American Revolution
82nd Birthday Luncheon -- Coral Gables Chapter
Daughters of the American Revolution
Coral Gables, Florida
20 November 2010



The Saint and the Sinners: Cotton Mather and the Pirates
Major James MacGregor Chapter
Colonial Dames of the Seventeenth Century
University Park, Texas
13 October 2010

| | |
| --- | --- |
| | While I talked about Cotton Mather and his visits to pirates and the preaching of their execution sermons, Tom read excerpts from Mather's published works. |



Privateers of the American Revolution
Cross Timbers Chapter of the Daughters of the American Revolution
Flower Mound, Texas
16 October 2010





Writing and Researching Historical Fiction Workshop
Texas Writers Guild
Richardson, Texas
20 September 2010





Bringing Pirates to Life Workshop
Denton Writers' League
Denton, Texas
11 September 2010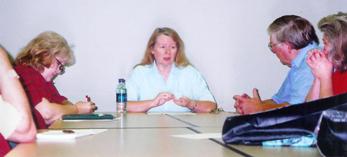 British Royal Navy Workshop
Denton Writers' League
Denton, Texas
14 August 2010





Meet Local Author Cindy Vallar
Haltom City Public Library, Texas
23 June 2010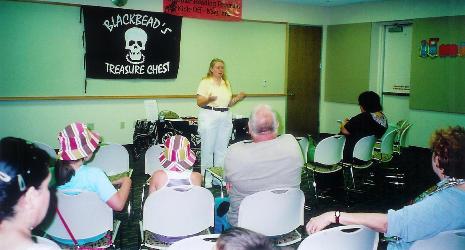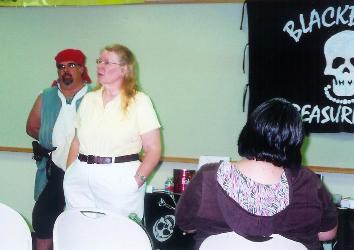 Maryland Writers Association Conference Workshop
Hunt Valley, Maryland
24 May 2010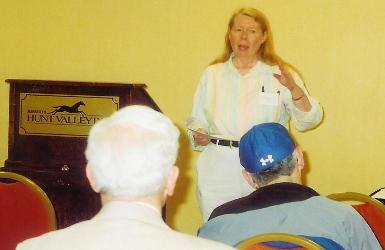 Scottish Tartan Festival
Minden, Louisiana
10 April 2010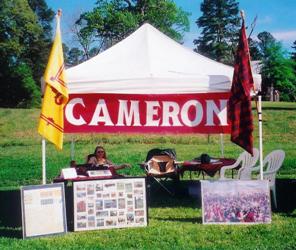 A Night of Romance
Haltom City Public Library
Haltom City, Texas
24 February 2010





Writer's Guild of Texas Workshop
Richardson, Texas
21 September 2009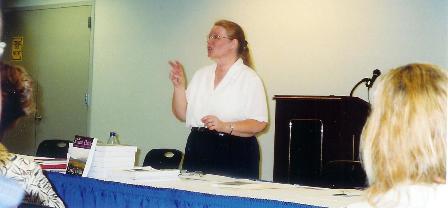 Denton Writers League Workshop
Denton, Texas
14 February 2009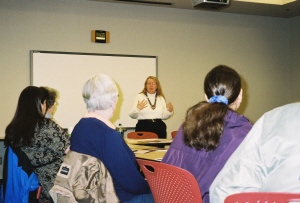 Louisiana Highland Games Book Signing
Jackson, Louisiana
15 December 2008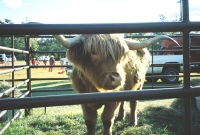 Denton Writers League Workshop
Denton, Texas
8 November 2008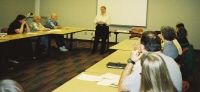 The Many Faces of Piracy Symposium
California University of Pennsylvania
California, Pennsylvania
18-19 September 2008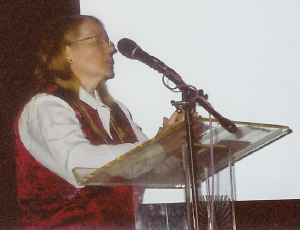 Cindy speaks about Pirate Dress, Pirate Surgeons, and Modern Piracy.



Members of the Historical Maritime Combat Association demonstrate techniques pirates used.







Pirates!
Denton Public Library - South Branch
Denton, Texas
14 August 2007


Two young pirates unfurl a Jolly Roger, while the Pirate Lady surveys her crew.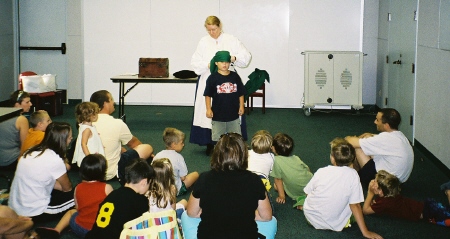 One lucky young lad dons a green bandana to start dressing like a scurvy dog!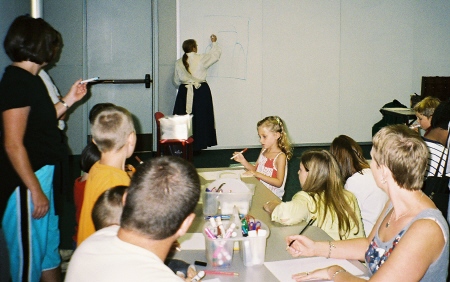 Activity time begins with drawing their own pirates.




Pirates Workshop
Arlington Public Library
Arlington, Texas
17 July 2007


Tom and I pose with Librarian Amber Roy



Pirates Galore! with H. J. Ralles
Barnes & Noble, Denton, Texas
30 June 2007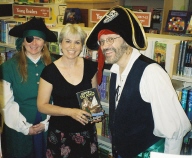 Tom and I pose with H. J. Ralles before our event.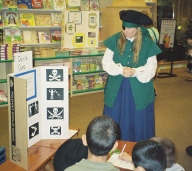 Who's Jolly Roger do I see?



Posing with the winners of the best designed pirate flag.



The Historical Novel Society Conference
Desmond Hotel, Albany, New York
8-10 June 2007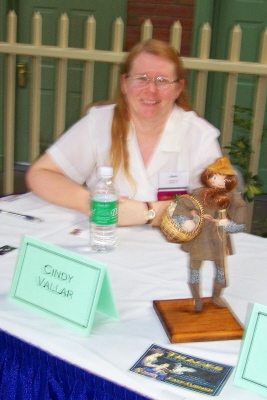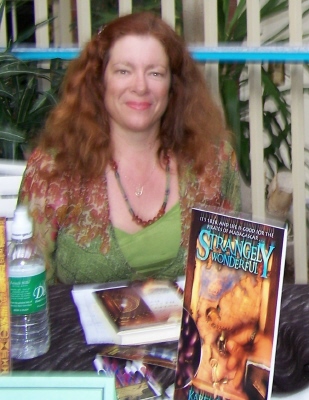 Karen Mercury (right) sent these shots of Tom and me at the booksigning
held poolside Saturday afternoon.
Read Karen's musing on the conference Part I and Part II.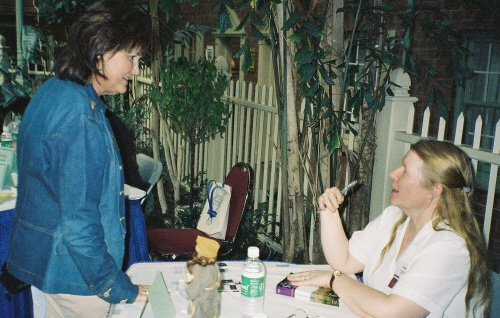 Chatting with a fellow Texan and lover of historical fiction.

Bright and early Sunday morning, Jim Nelson and I present "Bringing Pirates to Life."
Jim talked about the history of piracy from 1630-1730,
while I discussed what it was like to be a pirate.





Books 'n Authors 'n All That Jazz
Book Signing and "How to be a Pirate!" Workshop
Weatherford College
Weatherford, Texas
28 April 2007

| | | |
| --- | --- | --- |
| | | |
"Pyrate Surgeons" and "Barbary Corsairs" Presentations
PyrateCon 2007
Holiday Inn Downtown Superdome
New Orleans, Louisiana
20-22 April 2007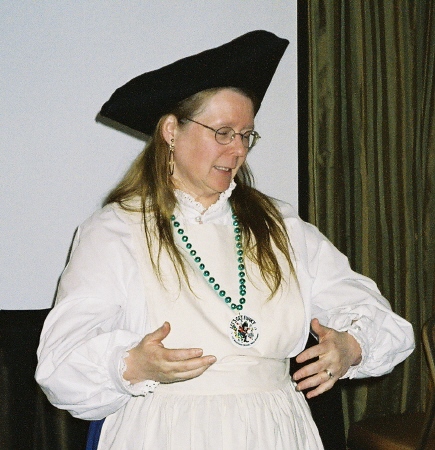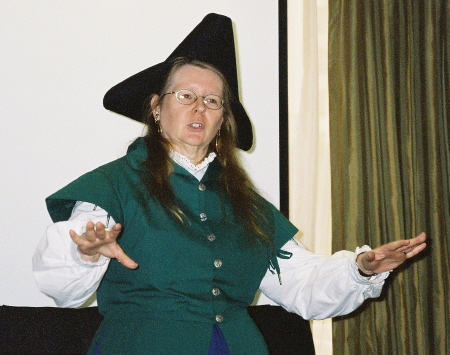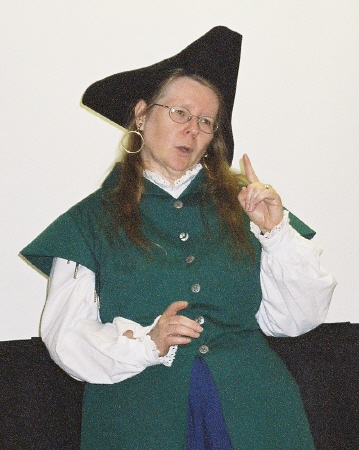 Costume made by
White Pavilion Clothiers
Pirate Lady and Friends at PyrateCon

Cindy with Steve "The Black Fox" Kimball, publisher of The Pyrates Way magazine


Cindy with George Choundas,
author of The Pirate Primer


John "Ol' Chumbucket" Baur and Mark "Cap'n Slappy" Summers of
Talk Like a Pirate Day fame surround Cindy between talks


Cindy with Tori "Mad Sally" Baur



Career Day at Medina Valley Middle School
Castroville, Texas
9 March 2007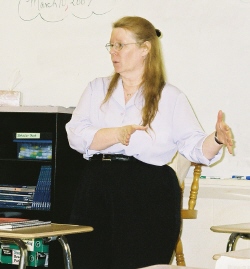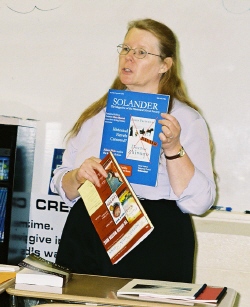 Red River Branch of Clan Cameron Annual Meeting
Dallas, Texas
25 February 2007





Celtic Heritage Festival and Clan Cameron Roundup
Bedford, Texas
14 October 2006

| | |
| --- | --- |
| | |
| | As the honored clan, the Camerons led the Parade of Clans. To my left is Cerise Blair, President of the Southwestern Region. To my right is Tom Cameron, the Commissioner of Clan Cameron North America. I spoke about the writing of The Scottish Thistle and the places I visited that appear in my novel. The Drambeauties gave a special performance for the Camerons in our clan tent. |



Pirates and Privateers
Barnes & Noble
Denton, Texas
7 Ocober 2006

| | |
| --- | --- |
| | During the Educators' Reception, I spoke with H. J. Ralles, author of The Keeper Series. The next book in the series involves pirates and will be released in 2007. We hope to do a piratical presentation next summer to celebrate. |
| | |
| A Pirate Adventure explores a treasure chest filled with replica artifacts connected with pirates. This hands-on exploration allowed these intrepid buccaneers to handle pieces of eight, sight prey through a spyglass, learn how and why pirates wrapped the butts of their pistols with ribbons, and investigate other interesting items from the pirate world. Afterward, these pirate queens made their own Jolly Rogers. | |



Piracy Workshop
Red River Romance Writers
Wichita Falls, TX
8 July 2006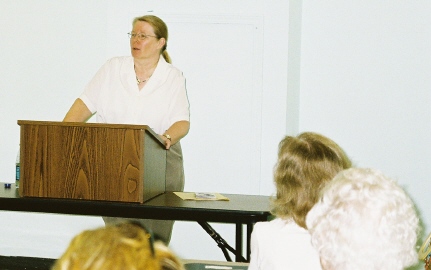 North Texas Book Festival
Denton, TX
22 April 2006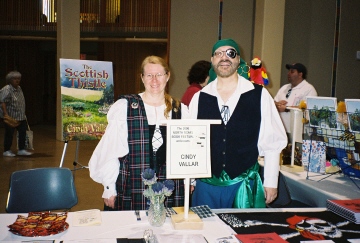 Piracy Workshop
Denton Writer's League
Denton, TX
13 August, 2005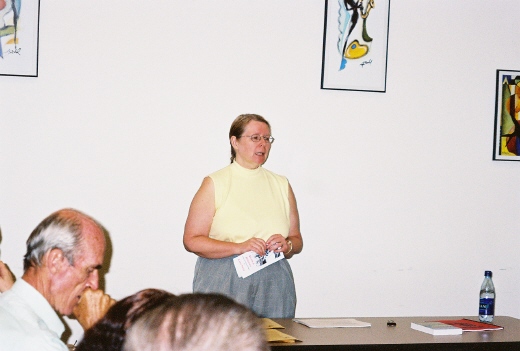 Clan Cameron Rally and Frederick Celtic Festival
Frederick, MD
13-14 May 2005

The Banquet at the Frederick Masonic Lodge

Call to dinner

The Cameron Men & Me
(with Apologies to the Ladies)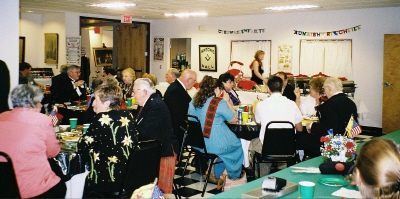 At the Festival in Urbana, Maryland


Pipe and Drum Band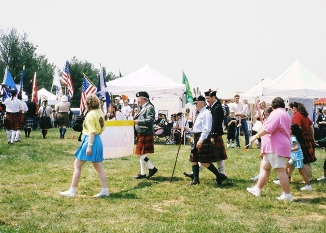 Clam Cameron - the Honored Clan - in parade of clans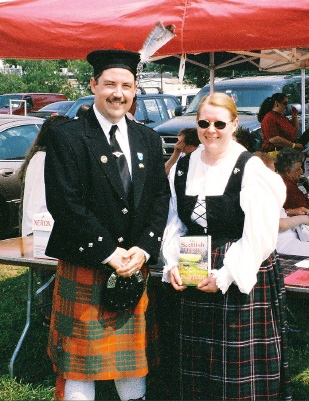 Thomas A. Cameron, Commissioner, Clan Cameron North America
Cindy Vallar, Friend of Clan Cameron







All Pikes Peak Reads Piracy Panel
Pike's Peak Library
Colorado Springs, Colorado
14 October 2004


Cindy Vallar - Historical Overview of Piracy
Lane Brunner - Treasure from the SS Central America
Captain Michael MacLeod - Reenactors in Festivals and Films
Jamaica Rose Barton - No Quarter Given
Jacqueline Church Simonds - Women Pirates



Ship of Gold!

Time to vote on a new captain!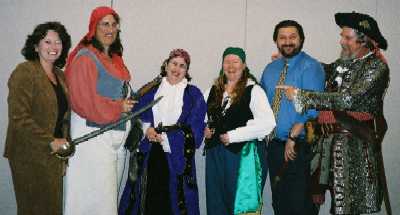 The Ship's Company
Dee Vazquez, Community Relations Officer, Pikes Peak Library
Jamaica Rose Barton, Editor of No Quarter Given
Jacqueline Church Simonds, author of Captain Mary, Buccaneer
Cindy Vallar, Editor of Pirates and Privateers
Lane Brunner, Ph.D, American Numismatic Association
Captain Michael MacLeod, Reenactor and Co-Editor of NQG



West Texas Book and Author Festival
Abilene, Texas
25 September 2004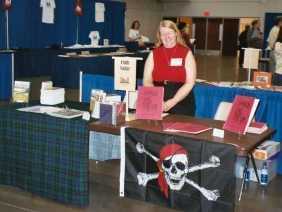 Book Exchange
Hammond, Louisiana
8 May 2004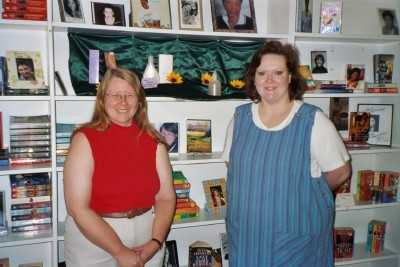 Standing in front of owner Charley Hardin's Wall of Authors
North Texas Book Festival
Denton, Texas
17 April 2004

The Laffite Society
Galveston, Texas
16 March 2004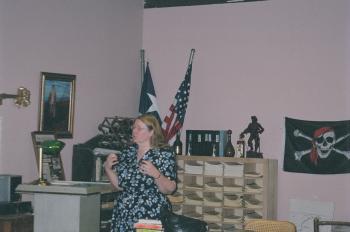 Book Reading
Scottish Clans of North Texas
Fort Worth, Texas
1 February 2004