ALLIE'S MOON
Alexis Harrington
St. Martin, 2000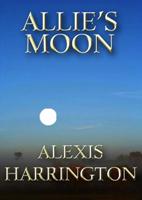 From age eight, Allie Ford has borne the guilt of causing her mother's suicide and depriving her younger sister of a mother's love. Three years have passed since her father's death in 1877, and the Oregon farm is in desperate need of repairs. Unable to do the work herself, she hires Jefferson Hicks, the former sheriff and town drunk. Jeff "died" soon after shooting a young boy, and he's just biding his time until death claims him. The he meets Allie, and his desire to live blossoms. Although the past imprisons both Jeff and Allie, their love offers them a chance to heal, but others have no intention of letting that happen.
Although set in the American West, there is little history in this story. That said, though, it is a good depiction of a small town where everyone knows everyone else's business, and where the slightest scandal results in ostracism and ridicule. It also shows the psychological torment caused when innocent people make mistakes.
An enduring read for historical or western romance fans in search of healing love and who don't mind if the history is more social than historical in nature.
BEAUCHAMP BESEIGED
Elaine Knighton
Harlequin Historicals, 2003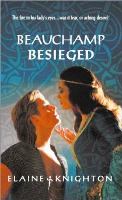 In 1200 Ceridwen ap Morgan's father arranges for her to wed her enemy, an English knight. She'd rather not, but there is no other way for the Welsh to survive. Sir Raymond de Beauchamp doesn't want to wed, either, but does want the land offered as her dowry. Even for their marriage in name only to work, Raymond and Ceridwen must first confront their different cultures and the past. Unless they learn to love each other and live in harmony, neither will survive the onslaught of Raymon's evil brother and overlord.
The author quickly transports the reader back in time and weaves an intricate story of the conflict between the Welsh and the English with a struggle that pits brother against brother. A satisfying tale of full-developed characters that remain true to their assigned roles in history.
(Originally reviewed for
Historical Novels Review
, February 2004)
BEYOND ALL DREAMS
(Editor's Choice title)
Elizabeth Camden
Bethany House, 2015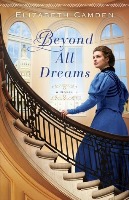 An inaccuracy in the historical record compels librarian Anna O'Brien to question the navy's investigation into the loss of her father's ship. That jeopardizes not only her job, but those of the other female librarians, since no one made their temporary hiring at the Library of Congress permanent. Determined to learn the truth, she seeks help from a handsome, yet arrogant, congressman.
After a failed attempt to prove congressional corruption, Luke Callahan needs another crusade to pursue and the quiet, sharp-witted librarian intrigues him enough to help her. But the deeper they delve, the more dangerous the truth becomes – not only for themselves, but also the nation.
This inspirational romance opens in late 1897, when relations between the United States, Spain, and Cuba are tenuous. From the Capitol to the Library of Congress, Anna's passion for her work shines through, transporting the reader into her world. Washington, DC, societal constraints, and ingenious inventions (think typewriter or flashlight) spring to life before the reader's eyes. Camden tackles alcoholism and abuse with realism, while demonstrating how having faith, stepping outside of comfort zones, and trusting in others can overcome adversity to realize dreams. Highly recommended.
(Originally reviewed for
Historical Novels Review
, May 2015)

BLUE MOON PROMISE
Colleen Coble
Thomas Nelson, 2012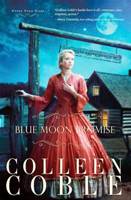 After a man breaks into their house and she loses her job, Lucy Marsh weds a man she's never met. It's the only way to protect her siblings, Eileen and Jed, now that her father is dead and her stepmother left them to fend for themselves. On a wintry day in 1877 and with great trepidation, they board a train for Texas.
Nate Stanton never expected his father to arrange a marriage by proxy for him, but his Christian upbringing and conscience prevent him from putting the trio back on the train. Getting to know each other presents comical and heart-stopping situations, least of which is the realization that Lucy's uncle is Nate's sworn enemy. When a stranger threatens Jed and a smarmy, handsome detective wheedles his way into the good graces of Nate's father and Lucy's cousin, they join together to discover the truth.
Lucy, Nate, and his father are strong-willed people who prefer to maintain control to fix problems, rather than putting their trust in God. The obstacles and situations that arise emphasize this central theme. Several spoonfuls of an elaborate mystery add ample spice to make this a heartwarming Western romance.


CHRISTMAS AT CARNTON
Tamera Alexander
Thomas Nelson, 2017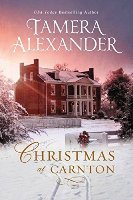 As Christmas 1863 approaches, recently-widowed Aletta Prescott loses her job and home. With one child and another on the way, possible employment for an upcoming auction seems heaven sent, but the position has been filled. Although the carpenter's job remains vacant, Carton's mistress is reluctant to hire a woman with such skills.
Jake Winston's wound has healed, but not his eyesight -- a requirement for a Confederate sharpshooter. Rather than return to active duty, he's sent to Carnton to assist "a bunch of petticoats." He feels it would be better to just give money to Confederate troops, rather than waste time baking, sewing, and auctioning off the items. Aletta wonders why a man with no visible wounds isn't fighting. Hiding his affliction, he's amused when pride initially keeps her from asking for his help. After the walls between them crumble, unexpected news leaves one feeling guilty and the other yearning for the impossible.
Set in Tennessee, this novella introduces a new series at a historic plantation. Alexander intertwines love, war's cruelties, disabilities, and perseverance in a way that captivates readers. Her well-developed characters and attention to historical detail sweep readers back to the American Civil War. Often novels of this period concern the battles and soldiers who fought them. Whiles this narrative touches on these, Alexander focuses on those left behind and the adversities they endured.
Christmas at Carnton
is a tale of emotional highs and lows that allow readers to experience the joy, sorrow, and hopes of women in a southern town surrounded by war, as well as witnessing the daily struggles of men who must come to grip with life-altering wounds.