THE BLUE AND THE GREY
M. J. Trow
CrŤme de la Crime, 2014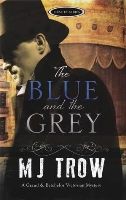 After witnessing Lincolnís assassination on April 14, 1865, Matthew Grand pursues John Wilkes Booth into the alley behind Fordís Theatre, only to be thwarted by a mysterious Englishman. Undeterred, Grand continues to investigate until crossing paths with the head of the National Detective Police, who suspects that Grand may be one of the conspirators. The only way for him to prove his innocence is to go to London and track down the Englishman.
The same evening the president is slain, James Batchelor meets a prostitute whose body he later stumbles upon in a nearby alley. Arrested as a suspect, heís eventually released by Inspector Tanner of Scotland Yard who believes itís advantageous having a journalist beholden to him. Tired of writing society-page stories, Batchelor sees the murder as his ticket to fame. Instead, his editor at the
Telegraph
fires him. Then two more women are garroted, a wealthy stranger is murdered on a ship bound for London, and Batchelor is hired to discover what Grand knows and why heís in England. Grand refuses to discuss the night at Fordís Theatre, but asks Batchelor to help him with his investigations. They soon realize thereís a connection between the Englishman in Washington, the murder on the ship, and the killer in London.
The murders of this intricately woven whodunit keep the reader guessing, but the plethora of characters make it difficult to keep track of whoís who. This first book in a new Victorian mystery series vividly recreates the sense of loss and shock that permeated Washington after the assassination, while providing a vibrant glimpse into the seamier side of 19th-century London.
(Originally reviewed for
Historical Novels Review
, May 2015)


THE DARK ENQUIRY
(Editors' Choice title)
Deanna Raybourn
MIRA, 2011
After her eldest brother, Viscount Bellmont, secretly visits her husband, Lady Julia Brisbane ponders why since the two donít particularly like each other. Her curiosity piqued, she follows Nicholas to the Spirit Club but then loses him. Determined to get to the bottom of things, she attends a sťance given by Madame Sťraphine. Since Nicholas is as skeptical as she is about spiritualism, Julia canít see how the medium fits into his latest private enquiry investigation.
After the sťance ends but before Julia departs, Nicholas reveals his presence and the reason for being at the Spirit Club. They search Madameís room, but before they find her brotherís letters, the mediumís return forces them into hiding. From this vantage point, they watch her die from poisoning. Although they make a hasty retreat before the police arrive, they continue the hunt for Bellmontís letters, which can topple the present government should they fall into the wrong hands. In doing so, the Brisbanes soon find themselves the target of the murderer and others who search for the letters.
International intrigue, arson, locked mausoleums, and secret identities abound in this spellbinding historical mystery, the fifth in the series. Raybournís characters are multifaceted, and she expertly weaves their back stories into this tale so readers unfamiliar with previous books are easily drawn into the current investigation. The intricate plot unravels with twists and turns that challenge us but keep us guessing until the end. Raybourn expertly spins a tale that transports us back to 1889 London, allowing us to observe Juliaís scientific experiments firsthand, to meet the members of her quirky family, or to enter the mysterious world of the gypsy. This riveting mystery will soon make readers fans who will eagerly await Lady Julia and Nicholas Brisbaneís next adventure.


A DEADLY EXCHANGE
by Sheryl Stafford
iUniverse, 2001
Matthew Spence never thought to remarry after he returned from Vietnam. His memories of capture and torture as a prisoner of war in Hanoi haunt him. Then he met Alexandra, who taught him how to trust and stop being afraid.
Alex is thirteen years younger than her forty-eight-year-old husband, but she loves him deeply. He taught her to follow her own path and to think rather than feel her way through a situation.
They've reached a stage in their lives when they want to relax and enjoy life. They board their boat and sail around the Bahamas. What they don't realize is that hidden belowdecks is a shipment of cocaine, mistakenly stowed on their boat. When the drug dealers show up, Alex is injured and kidnapped while Matt is ashore. He must confront painful memories and find the courage to rescue Alex before it's too late.
Don't bother picking up this book unless you can devote the time to read it in one sitting. Ms. Stafford snares you with the first harrowing chase and doesn't release you until you close the back cover. The life experiences of the author and her husband make
A Deadly Exchange
seem real. Both have sailed around the Bahamas numerous times, and Commander Stafford was a pilot broken by the Viet Cong after his plane was shot down during the war. As you read this book you will find yourself aboard the Spencers' sailboat instead of being safe in your own home. Your heart will beat rapidly from fear and terror as Alex and Matt confront the head of the cartel and his men, none of whom have any redeeming qualities.