Pirates and Privateers



The History of Maritime Piracy

Cindy Vallar, Editor & Reviewer
P.O. Box 425, Keller, TX 76244-0425












Books for Adults ~ Fantasy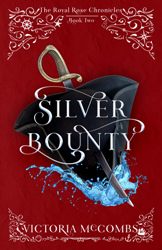 Silver Bounty
by Victoria McCombs
Enclave, 2023, e-book ISBN 978-8-88605-029-5, US $7.99
Also available in other formats


Dressed in his old uniform, Arn Mangelo masquerades as a naval officer captured by pirates. It is a dangerous plan; the king is out to destroy all pirates – especially turncoats like himself – and a rift has developed between himself and the man posing as his captor. Not to mention the fact that some of the crew blame Arn for the slaughter of half their comrades. Or that a debt is coming due and the form of that retribution may be more dear than he can afford. The primary reason he participates in this risky venture (to trick other imprisoned officers into revealing the king's whereabouts) is to save the love of his life, Emme.

Time is not her friend. They both know this. Emme is bound by an oath and she is sick – both will kill her if they do not acquire the healing tonic and she fails to deliver on her promise. She loves Arn, but is he willing to forego the sea and live on land for her? This is but one question she confronts during their voyage, for she also deals with loss and the grief that accompanies it. Another is whether she dare trust the man Arn brings back to the ship (an acquaintance whom no one trusts but who claims to have access to the king). And then there's the old fortune teller who predicts that Emme will be a catalyst – one that brings death to many – whether she lives or dies.

Stabbed by the Nightlock Thief and believed to be dead, Emric discovers the opposite is true. Instead, he's in limbo on a cursed island that refuses to release those relegated to spend eternity there. The island is not a solitary prison; another is imprisoned here too, but she is heartless and single-minded. She possesses one chance to seek help, but refuses to use it. Emric, however, has no such qualms. When his companion is otherwise occupied, he summons the mermaid whom he loves. Coral agrees to help, but in doing so, each prisoner loses something precious because the island is reticent to release its prisoners. Is Emric willing to make such a sacrifice?

Silver Bounty is the second book in The Royal Rose Chronicles. Although readers new to the series need not have read the first to follow this story, they may be less invested in the characters. All readers will need to decipher some sentences to figure out how they should read (examples: "blood with be spilled" instead of "blood will be spilled" (25) or "into my pocked" rather than "into my pocket" (248).) There are enough that some readers may become annoyed.

Love and betrayal are key themes here, as is the fact that all actions, regardless of how large or small, have consequences. And those outcomes are rarely what the characters or the readers expect – earmarks of a dexterous weaver of tales. Clues abound for the many twists and surprises that occur. But at no time does the author betray the reader; each revelation makes sense and heightens the stakes because McCombs lays the necessary groundwork.

She also does well eliciting readers' emotions and in portraying Emme's illness. Beware, though, this is a tale that incorporates violence, including what the pirates (and others) seek from the king. There are villains to loathe and heroes to like and others who fall somewhere in between. All story threads are satisfactorily resolved, yet there are compelling kernels in the conclusion that entice readers to venture into book three.




Little Pegleg the Pirate: Treasure Islands
By D. Alan Hewitt
CreateSpace, 2013, ISBN 978-1478395591, $12.95
Also available in e-book format


Eight friends with disabilities and strong faith in God accept a challenge from a man (angel) to go on a special Odyssey aboard a wooden schooner. Five boys and two girls are eleven and twelve years old; the other lad is six. Their disabilities draw them together and they've become good friends who look out for each other, but sometimes they wonder if life will ever be normal for them.

As each child steps aboard the ship, they acquire pirate personas, special abilities that compensate for their disabilities, and special gifts each must learn to use. Samuel becomes Little Pegleg, the captain, and his prosthesis becomes a wooden leg. Jerome Christopher transforms into a non-stuttering, suave pirate. Mortimer changes into Mortie with a "Swiss Army knife" pegarm instead of his prosthesis. Harvey and his wheelchair become Harley whose biker-chair has cannons and flames that allow him to fly short distances. Paul, who already wears an eye-patch, is now Paulie with a spyglass that allows him to see far and wide. Alexis, who's deaf and mute, and Abigail, who wears a hearing aid, transform into smartly attired, female pirates Allie and Gabs and communicate with sign language. Ernest, whose right hand is deformed, changes into Ernie and his hand becomes a hook.

Their mission is to sail from island to island, spreading God's word and living in His light, while searching for pieces of a treasure map. When they acquire a piece of this jigsaw puzzle, their next destination appears along with a special clue as to what they might encounter there. Along the way they meet unbelievers, bullies, pirate hunters, sharks (both human and aquatic), con men, cannibals, autocrats, technology zombies, wolves in sheep's clothing, and a mad scientist/wizard. They also make new friends, including Nathan Hale, George Washington, and Jonah. The friends have their own fears and misgivings that they must overcome and, sometimes, it takes a "what if" experience to realize where they go wrong.

For the most part, I like this adventure, and Hewitt definitely saturates the tale with a lot of allegorical situations in the book's 322 pages. The religious component is very strong and may not appeal to all readers. Readers may also find some material and subjects covered, as well as the language, objectionable and definitely not appropriate for children; Hewitt is upfront about this before the book begins. As the story progresses the lighter adventure becomes darker and darker, and the gun incident involving one of the children, as well as the aftermath of the shooting, strike me as being out-of-character for the young pirates and their friendships. It also caught me unaware, like a sudden slap in the face. While the story has a happy ending, getting there leaves me feeling uneasy about allowing children, and possibly younger and immature teens, to read this book.

Aside from some formatting and spelling errors, as well as the occasional missing word, I also wonder about the target audience. Adults often prefer to read about adults, more so than young children on an adventure, but adults are Hewitt's primary target audience. The book's length is definitely geared toward that audience and the children often sound more like adults than six, eleven, or twelve year olds, especially when discussing concepts few that age will comprehend. The one aspect of this book that I particularly identify with is that these eight characters have physical disabilities and they find ways to overcome these challenges. Too often such characters are omitted from stories, even when the tales can be truly inspiring to read.

Hewitt wrote this pirate tale as a fun read that shouldn't be taken too seriously. His intent "is to show people as being spiritually disabled and not able to live victoriously in God's presence without His enabling us to [missing word] through Jesus Christ and the Holy Spirit." (5) He also admits the book is "an outrageous and politically incorrect fantasy adventure from a spiritual perspective." (5) I agree that he achieves these goals.

Review Copyright ©2016 Cindy Vallar

Spirit Deep

By Thomas J. Waite

CreateSpace, 2010, ISBN #978-1449566647, $13.69

Set in 1586 and 2008, although the first several chapters take place several years before that, Spirit Deep is a tale of treasure hunting and deadly consequences. The past unfolds from entries in a captain's log about the capture of a Spanish treasure galleon and the events that resulted in the sinking of that vessel, her crew, and her treasure. The tale begins with Sam Johnson, a famous treasure hunter, and his wife, Taylor, enjoying a few days of rest and relaxation off the Florida coast. While diving, Sam discovers the wreck of a mysterious galleon. The ship should be in a state of disintegration, the treasure embedded in concretions, and the crew's remains absent. But this galleon is in pristine condition, except for a hole in her hull, and skeletons remain where the men died. As for the treasure, it's as spectacular as the day it came aboard. While these discrepancies with science puzzle Sam, he's totally absorbed in another find – proof that Sir Francis Drake stepped aboard this particular ship. Sam's fascination blinds him to the danger lurking outside the ship, which proves deadly for Taylor.

Grief at the loss of his beloved wife consumes Sam and, if not for their son, Sam would cease to live. Never again does he set foot underwater, opting instead to retire. In the intervening years between Taylor's death and the present, Sam simply tells Bret that his mother drowned in a diving accident. One day, though, he comes across a newspaper article contradicting that story. This revelation, as well as Sam's rereading of the captain's log found aboard the galleon, the reappearance of a high school buddy, and the disappearance of a less reputable and competing treasure hunter, force Sam to confront his fears to dive again on the galleon wreck. This time, danger lurks not only in the depths below, but also on his ship.

Waite weaves the paranormal with reality to create a suspenseful tale filled with intrigue and fascinating discoveries. In spite of the implausibility of the wreck's condition, the premise works, and Waite deftly spins all the separate threads into a believable story readers of science fiction should enjoy.


A Tall Ship, a Star, and Plunder

Edited by Robert Krog

Dark Oak Press, 2014, ISBN 978-1-937035-65-4, $14.95

Also available in eBook and hard cover formats

reviewed by Irwin Bryan

This anthology, edited by Robert Krog, has twenty-four tales going back in time to the Vikings and forward to "Future Space." Encountered along the way are a dragon, ghosts, princes and princesses, a Kraken, and all kinds of pirates.

One story features a Flying Dutchman kind of ghost ship, but seeing this one does not portend a shipwreck. The other ghost story is more topical since it features Blackbeard and the crew of the

Queen Anne's Revenge

.

In "Fireflies on the Water" by Michael Krog, we meet a sometime pirate, who drowns his sorrows and becomes an alcoholic. The effect on his spouse and the way she combats his affliction draws to an exciting and dramatic climax.

Another story deals with a sailor whose last horrific experience at sea has him staring into the "Bottom of the Mug" by S. P. Dorning. This tale has definite nightmare potential so beware!

As a former avid reader of science fiction, I always enjoy any stories involving time travel. Laura Nelson's "Rosa and the Pirate," the one with this element, is also the most piratical tale, in my opinion. Actual pirates on wooden ships attacking and plundering any vessel they can chase down. Altogether a great story I'm sure most will love.

Science-fiction stories about airships, space ships, time travel, and even some "deep" sci-fi was difficult to read, yet entertaining at the same time. It's refreshing to read a bunch of stories that didn't all start and finish on a wooden ship, although I was disappointed that only a handful of stories included any plunder-taking or pirates acting like pirates. If, in fact, the editor's mission was to find stories by new authors that were in some way "piratical," I say he did a great job.

The Stories

Yo Ho by Melinda LaFevers
Rumble the Dragon by Cindy Vallar
The Princess and the Sea by Sydney Blackburn
Ghost of a Chance by Paula Gail Benson
The Making of a Privateer by Melinda LaFevers
Not I by Jerri Hardesty
Fireflies on the Water by Michael Krog
The Celeste Affair by D. Alan Lewis
The Tale of Tizur the Red by Tom Sheehan
Bottom of the Mug by S. P. Dorning
The Captain's Woman, the Dagger, and the Serpent by Robert Krog
The Gods Must Clearly Smile by A. Christopher Drown
Corey of Steel by Jerri Hardesty
The Jamaican Dragon by D. G. Driver
Rosa and the Pirate by Laura Nelson
The Ghost of Queen Anne's Revenge by M. R. Williamson
Of Wing and Song by Kirk Hardesty
One Way by Herika R. Raymer
Puffystuff the Pirate by Jerri Hardesty
Theft of the Royal Jewels by Kathryn Sullivan
Eighty-Six Pitrell Becomes Dread Admiral by Paul Calhoun
Rasputin's Whimsey by T. A. Riddell
Pirates of Happenstance by H. C. Playa
Blood is Thicker than Pirate's Gold by Kent Swarts


Review Copyright ©2014 Irwin Bryan

Combat with Pirates

By Harold J. Hovel

Outskirts Press, 2013, ISBN 978-1-4787-2012-6, US $21.95

When Captain François L'Olonnais captures the

Grace

, he hasn't a clue as to what fate has in store for him. True to his sadistic nature, he murders all but young Spanish twins when he seizes the ship's rich cargo of treasure, Africans, and indentured servants – all destined for the slave market after the pirates perversely use them – and a menagerie of wild and domestic animals. One prisoner, who joins the pirates, suggests the creatures will bring a tidy profit, so the buccaneers take the animals with them to Tortuga.

Although the captives appear resigned to their situation, there are those among them who are intelligent and skilled fighters. They bide their time until the right moment presents itself. A small dog named Napoleon emerges as their commander and, with the help and talents of the others, as well as assistance from a man forced to join the pirates, the animals and people unite to free themselves and flee Tortuga. But stealing a ship isn't enough for any of them. They want to vanquish the pirates and make the high seas a safe place for those who sail them. The rescued provide assistance and vital information, while others join Napoleon and his crusaders aboard the Independent Fleet with the express purpose to stamp out evil. Along the way, they confront not only some of the most notorious buccaneers of the 17th century, but also the Inquisition, slavers, and whalers as they patrol the Caribbean and coastal waters of Africa. United in a thirst for revenge, the buccaneers will stop at nothing to bring down the little admiral and his colleagues.

Combat with Pirates

is not your typical pirate novel. It is historical fantasy rife with an array of pirates, including Pierre Le Picard, Rock Braziliano, John Coxon, and Edward Low. Starting off with one of the most infamous of the buccaneers proves puzzling, since Exquemelin, in his contemporary account

The Buccaneers of America

, explains the fitting end to L'Olonnais's life. Hovel, however, provides an equally fitting and inventive version of his demise.

At nearly 600 pages, the story is a tad long and could have been broken into several books. While the action scenes are high-paced and full of tension, the rest of the narrative doesn't always pull the reader into the adventure. It's more like someone is telling the reader about the event rather than allowing him/her to experience it. Every once in awhile modern terms and sensibilities creep in, but as long as the reader remembers this is fantasy, it's easy to overlook the intrusions. It can be difficult at times to keep track of who's who, but there is a Cast of Characters at the beginning of the book to help distinguish among them. Maps are also included to help orient the reader to where the action takes place.

As the author writes in the book's preface:

It might seem strange to think of a force of warriors consisting of dogs, cats, pigs, bears, chimpanzees and other apes, rabbits, rats, whales, sharks, eagles, and dolphins, not to mention men, women, Indians, whites, and Africans. If one lets his or her imagination take over, you can see the real possibilities it opens up.


He's right. The unique talents of each animal and person open up a wide range of possibilities, and Hovel expertly demonstrates this. While this may seem like a book written for younger audiences, nothing can be further from the truth.

Combat with Pirates

is strictly for adults; Hovel pulls no punches in showing readers the true nature of many of the worst torturers and murderers who prowled the seas and walked on land, and even some of the heroes die. In spite of this, hope remains a key component of the tale. If you're a fan of fantasy, pirate stories, and tales of "caped crusaders" who combine brawn and brains, and you don't mind gore and violence,

Combat with Pirates

may be just the book you seek.

Click to contact me

Background image compliments of Anke's Graphics