As students of history, we like facts: birth year, birthplace, specific events, et cetera. The past is rarely so accommodating, especially for those of humble beginnings. Our searches of historical annals reveal early lives are steeped in mystery or conflict and raise more questions than they answer. This is particularly true the further back in time a person lives and when those records are destroyed, either accidentally or to eradicate the past. In the case of Zheng Zhilong and his descendants, it is the latter reason for the paucity because of destruction wrought by authorities of the Qing dynasty. Still, some traces of his youth exist.
The first dilemma we face concerns his name. Zheng Zhilong is how we refer to him today, Zheng being his surname and Zhilong his given name. (The name has also been spelled Cheng Chi-lung in the past.) He is also referred to as Yi-Guan, which means "First Son," a word that the Portuguese wrote as Iquan. Japanese records list him as Tei Shiryû or Tei Shiryū. Those written by Europeans refer to him as Nicholas Iquan, Nicolas Icoan, Nicholas Gaspard or Jaspar, and Chinchillón.

His formal name was Zheng Zhilong, but no record provides the name he used as a child or young adult. When he reached the age of twenty, he participated in a rite of passage to mark his entry into adulthood. In Imperial China it was rude to call an adult by his given name unless the speaker was of higher rank or an elder. Instead, he would be addressed by a courtesy (or style) name, which was deemed a sign of respect. According to Shao Tingcai (Shao T'ing-ts'ai), a historian and philosopher who lived during the seventeenth century, Zheng Zhilong's courtesy name was Fei Huang (Flying Yellow), which came "from the Chinese proverb
feihuang tengda
, "to make rapid advances in one's career." (Antony,
Pirates
, 113). Or his courtesy name might have been Feihong (Flying Rainbow), a name still associated with Zheng Zhilong in 1640.
Within the pages of
Taiwan Wai zhi
(also spelled
Taiwan waiji
and written in the late 1660s), Jiang Risheng included the exact date and time of Zheng Zhilong's birth. He was born between the hours of seven and nine on the morning of 16 April 1604. While many events included in this book have been verified in other Chinese and European documents, the writing is often a mix of fact and fiction, much like what Captain Johnson did in his
General History of the Pyrates
in 1724. While 1604 might be Zheng Zhilong's true birth year, a more probable time span would be 1590-1610, and this might be narrowed down further to 1592-1595.
His father was Zheng Shaozu (or Ziangyu or Shibiao). He worked as a clerk at a grain storehouse in the Quanzhou prefecture (district). Ji Liuqi, who was born in 1622 and wrote about the Ming dynasty, believed that Zheng men had worked as yamen (government) clerks for several generations.
Zheng Zhilong's mother was Theyma (also known as Lady Huang). She had two brothers, one of whom was Huang Cheng, a Macau trader who would play a significant role in Zheng Zhilong's later teenage years.
He had three younger brothers (Bao the Panther, Feng the Phoenix, and Hu the Tiger) and three younger half-brothers (Peng the Roc, Hú the Swan, and Guan the Stork). It's also possible that he had some sisters as well.
Although Zheng Zhilong learned to read and write before his seventh birthday, he was never keen on his studies. He was "good-looking, a skillful poet, a musician of taste, a dancer of merit, and withal of pleasing manners." (Day, 27) He also liked to box and practice martial arts. He possessed charisma, charm, courage, and guile. Instead of attending lessons, he often prowled the streets, getting into mischief or fighting, much to his father's chagrin. The pair had a contentious relationship and, according to one account, the elder Zheng harried his son through the streets with a stick. Zheng Zhilong's only option was to board a ship and sail to Macau around 1610.
The voyage took a week, but Zheng Zhilong was not alone. Two of his brothers, Bao and Hu, accompanied him. At the time, Macau was one of the few places where the Portuguese were permitted to trade with China.
Macau was an exotic place, a piece of Portugal on the Chinese coast, with plazas and priests and tolling bells. An immense cathedral dominated the hill in the middle of town, and Japanese artisans were engraving its stone façade, carving out ships, lions, figures in long robes, winged people playing horns. In one panel a woman floats above a many-headed serpent next to a caption that reads, in Chinese, "Holy Mother stomps the dragon head." (Andrade, Lost, 22)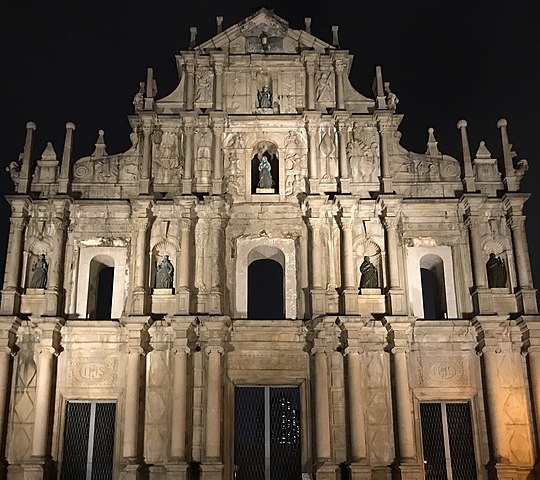 Ruins of Saint Paul's Cathedral, built by the Jesuits from 1602 to 1640
(Source:
Wikimedia Commons
, by No1lovesu)
The port was also the home of his maternal uncle, Huang Cheng. He owned a trading company and put his nephews to work. He deemed education important, but felt success and wealth were of greater value than academic achievements. Zheng Zhilong apparently agreed because he found his skills more useful here than they had been back home and he excelled at whatever he set his hand to.
During his time in Macau, he also met a Jesuit priest, who befriended Zheng Zhilong and taught him Portuguese. At some point between 1615 and 1620, Zheng Zhilong was baptized in the Catholic faith and became Nicholas Iquan or Nicholas Iquan Gaspard (or Jaspar). Whether he remained a devoted Christian was debatable. Later in his life, some Portuguese wrote, "[he] was so impious, or so ignorant, that he equally burnt incense to Jesus Christ and to his idols." (Andrade,
Lost
, 22) It was also possible that he still attended mass until he died. Certainly, he remained in contact with Jesuits in his later years. He wrote poems that he sent to Father Francesco Sambiasi, and while living in Beijing, he paid to have a house and chapel built for the priests living in the city. He also provided funds to them, arranged for servants to work for them, and purchased needed goods for their use. During his final years, when he needed help, they gave him "
decem circiter aureos
," a gift that "touched the old man greatly and moved him to tears."
1
(Vermote, 282)
Zheng Zhilong did many tasks for his uncle, and when his uncle felt it was time to test his knowledge and skills, his uncle put him in charge of an illicit cargo of "white sugar, calambak wood and musk." (Clements, 18) Zheng Zhilong succeeded in delivering the goods to the Japanese islands of Ryukyu. Eventually Huang Cheng trusted Zheng Zhilong with another important cargo, this one bound to the port of Hirado, Japan. Here, he would come in contact not only with the Japanese but also men and ships from China, the Dutch Republic, England, Portugal, and Spain. It was also where he met pirates.
Map depicting Bay of Hirado, Japan in 1621
(Source:
Wikimedia Commons
)
The moves to Macau and Hirado opened a wider world for Zheng Zhilong, one in which his charisma, charm, courage, and guile would prove especially beneficial. When winds of change blew across China, he looked to the future, instead of dwelling in the past. The path was rarely smooth and required life skills not taught by academic tutors. His journey of a thousand miles permitted him to lay the foundation upon a legacy that his son and grandson would build.
To be continued . . .
Notes:
1. Although the Latin words translate to ten gold coins in gold, it is more likely that the Jesuits gave Zheng Zhilong ten silver taels. At the time, one of these coins would be enough to purchase more than 166 pounds of flour.
Resources:
Andrade, Tonio. Lost Colony: The Untold Story of China's First Great Victory over the West. Princeton University, 2011.
Andrade, Tonio, and Hang Xing. "The East Asian Maritime Realm in Global History, 1500-1700," Sea Rovers, Silver, and Samaurai, 1500-1700 edited by Tonio Andrade and Hang Xing. University of Hawai'i, 2019, 1-27.
Antony, Robert J. Like Froth Floating on the Sea: The World of Pirates and Seafarers in Late Imperial South China. Institute of East Asian Studies, University of California, 2003.
Antony, Robert J. Pirates in the Age of Sail. W. W. Norton & Co., 2007.

Carter, James. "China's Great Pirate, Zheng Zhilong, Takes on the Dutch," The China Project (20 October 2021).
Chinese Names – Rules, Meanings, Taboos, and Classic Examples. Chinese Fetching.
Clements, Jonathan. Coxinga and the Fall of the Ming Dynasty. Sutton, 2005.

Day, A. Grove. Pirates of the Pacific. Meredith Press, 1968.

Eminent Chinese of the Ch'ing Period (1644-1912) edited by Arthur W. Hummel. United States Government Printing Office, 1944, II: 638-639.

Hang Xing. Conflict and Commerce in Maritime Est Asia: The Zheng Family and the Shaping of the Modern World, c. 1620-1720. Cambridge University, 2017.
Ho, Daphon David. "The Burning Shore: Fujian and the Coastal Depopulation, 1661-1683," Sea Rovers, Silver, and Samaurai: Maritime East Asia in Global History, 1550-1700 edited by Tonio Andrade and Hang Xing. University of Hawai'i, 2019, 260-289.

Lu Cheng-heng. "Between Bureaucrats and Bandits: The Rise of Zheng Zhilong and His Organization, the Zheng Ministry (Z Bu)," Sea Rovers, Silver, and Samaurai: Maritime East Asia in Global History, 1550-1700 edited by Tonio Andrade and Hang Xing. University of Hawai'i, 2019, 132-155.

Vermote, Frederick. "The Role of Urban Real Estate in Jesuit Finances and Networks between Europe and China, 1612-1778." PhD diss., The University of British Columbia, Vancouver, 2013.

Wills, Jr., John E. "Yiguan's Origins: Clues from Chinese, Japanese, Dutch, Spanish, Portuguese, and Latin Sources," Sea Rovers, Silver, and Samaurai: Maritime East Asia in Global History, 1550-1700 edited by Tonio Andrade and Hang Xing. University of Hawai'i, 2019, 114-131.

Copyright ©2023 Cindy Vallar