Pirates and Privateers



The History of Maritime Piracy

Cindy Vallar, Editor & Reviewer
P.O. Box 425, Keller, TX 76244-0425












Books for Adults ~ Historical Fiction: Pirates & Privateers

Remarkable Rascal Black Tarantula Demon Pirate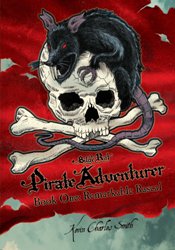 Remarkable Rascal
By Kevin Charles Smith
Journey Publications, 2013, ISBN 978-0-9798171-8-2, US $14.95







Clinging to the top of a ship's mast with sharks circling below doesn't bode well for William "Echo" Eden. Faced with such grim prospects for his future, he opts to examine choices made and the consequences that ensued. His journey into the past begins with his first memory, the death of his parents in 1695, which left him and his younger brother totally unprepared for the cruel world that lay beyond their door. Taken in by their great uncle, a retired deacon who works at a basilica, they do the majority of the cleaning, which includes ridding the basilica of its detested rat infestation, because of their uncle's failing eyesight. They also have to answer a daily riddle (their uncle's way of educating them). Echo excels in acquiring knowledge and a host of skills, but one particular talent is an innate ability to mimic voices and sounds. Toby fails to master anything, which makes him the perfect target of a bully named Scarf Rockingham.

At night, the brothers frequently venture into the streets where Echo acquires additional knowledge that later serves him in good stead. His inventiveness eventually leads the brothers to become so adept as ratters that they gain employment at Slugger O'Toole's Sport Emporium. Their search for rats for the fights there takes them farther and farther afield until they find themselves at London's docks where the ships at anchor provide an ample supply of contestants. They also meet a ship's disabled cook, who enthralls them with tales of his younger days at sea.

One night, Toby disappears, their uncle is killed, and Echo must flee England aboard the

Amafata

, where his only friend is the ship's cook. As they sail to the Caribbean, Echo's encounters bring him face-to-face with the reality of sea life, the brutality of punishment, spinning yarns, ghosts, sea hazards, ingenious games, Voudou, pirates, slavery, superstitions, witches, first love, and duels. His many talents and knowledge elicit the friendship of some and the enmity of others.

Remarkable Rascal

, the first entry in the Bilge Rat, Pirate Adventurer series, is a rollicking tale of adventure, romance, and life in the late 17th and early 18th centuries for a lad in his teens. Although cited as a book for young adults, the violence and gruesomeness make me question whether all readers of this age group are mature enough to handle some of the covered topics. Throughout the narrative some words are italicized, although the purpose for being so is never given. Some can be found in the glossary, others cannot.

Well-researched, this novel deftly captures the essence of this period. The author, a gifted storyteller, uses a first-person perspective to suck readers deeper and deeper into a whirlpool that, at times, is as violent as a maelstrom or as serene as a halcyon day. Rather than recount every detail of Echo's young life, he weaves together a series of vignettes that introduce the main character and provide the framework that allows Echo to accomplish all that transpires both in London and the Caribbean. Along the way readers meet a host of unique and memorable characters – some scary, others who bring smiles, all easy to picture.

Review Copyright ©2018 Cindy Vallar

Black Tarantula

By Kevin Charles Smith

Journey Publications, 2015, ISBN 978-0-9798171-7-5, $14.95

William "Echo" Eden continues his tale in this second title in the Bilge Rat, Pirate Adventurer series. In need of a new first mate, the

Amafata's

captain offers that position to Echo. He graciously accepts, but must first testify at the trial of his predecessor, Mr. Bass. Sentenced to hang, Bass escapes before the deed is done. Echo hopes that he has seen the last of yet another enemy in his short life and prepares the ship for the next stop in their travels, Barbados. Before they set sail, news of the Black Tarantula's latest plundering and destruction reaches the island and Captain Adams, the nephew of the three witches who befriended Echo in the previous book, mounts an expedition to end the vicious pirate's murderous rampage. Echo longs to accompany Adams, but his duties to

Amafata

prevent him from joining.

On the way to Barbados an outbreak of typhus forces them to put in at an uninhabited island to replenish their water supply. When the captain and shore party fail to return, Echo discovers the island isn't as deserted as they thought and his mates are slowly being slaughtered as sacrificial lambs. Relying on inventiveness and knowledge, he soon extricates some captives; shortly after they are back aboard their ship, they encounter an even deadlier foe – pirates!

After the captain is fatally wounded, Echo takes command and deems it prudent to surrender. Neither he nor his mates wish to be pirates, but Captain Rambling Dirk Shivvers makes it clear that those he selects to replace his dead men have no choice. Echo and the others acquiesce, although they agree to just play pirate until they can escape the clutches of this band of misfits and miscreants. To this end, Echo finds ways to outsmart those pirates who would do him harm while ingratiating himself with Shivvers, who is stealing from his own crew. Echo tucks this fact away until a time when it will prove beneficial, but as the days pass, Shivvers becomes increasingly jealous of Echo. To protect himself and his mates, Echo resurrects the ghost of the Black Monk and uses some of his herbal medicines to concoct a special brew that eventually results in him being elected captain of the pirates.

As Echo ponders whether to accept this "honor," news of the Black Tarantula's depredations reaches him. The latest attack destroys Saint Domingue and his girlfriend, who evades the pirates, becomes the object of the evil pirate's obsession. To thwart this nemesis and save his love, Echo and his pirates must become masters at deception, battle, and many other tactics if they hope to survive a confrontation with the most fiendish pirate in the Caribbean.

Early in this tale Echo mentions that he's still haunted by the loss of his younger brother, but there is little of evidence to show this or the effect it has on him. As in the previous title,

Remarkable Rascal

, his enemies come in all shapes and sizes and they provide ample adventures for him to pursue, including kidnapping, torture, and madmen. Descriptive and unique characters populate

The Black Tarantula

: Powder Monkey, Long Tall Willie, Creeping Jeremy, Charlie Crowfeet, Muttering Moses Hart, Fighting John English, Sharkface Topper, and Tiger Eyes. Smith is equally adept at demonstrating how Echo likes to think outside the box, such as his use of Angry George's hobby to acquire needed information. The depth and breadth of Smith's research is also evident, and he has a storyteller's giftedness to deftly weave pirate lore and history into a believable and compelling tale.

Black Tarantula

is not for the faint of heart. It is entertaining, but also violent and gruesome. By story's end, fans will look forward to the next book in the saga,

Demon Pirate

.

With Captain Adams in the hands of the Black Tarantula, William "Echo" Eden sets aside his plan to rescue a kidnapped French woman to save his friend. To venture into the deadly lair of this merciless pirate requires an unorthodox scheme. A plague offers the perfect cover story – even if it springs from Echo's cunning imagination – and he and four of his men venture into the pirate's lair perched high on a bluff overlooking a cove on Tortuga. With consummate acting skills and the perfect cure – Devil's Trumpet – Echo and his "medical team" incapacitate the pirates long enough to rescue Adams and abscond with two chests.

Echo shares the one treasure of gems with his men; the other he keeps for himself. The counterfeit coins within may be of use in retrieving the kidnapped French woman from Captain LeMerde. Upon Echo's return to Jamaica, circumstances permit him to implement his plan using his newfound "wealth," and Aimee Turbout shows unexpected gratefulness at being rescued. The captured LeMerde stands trial and is sentenced to hang, but escapes. After meting out his twisted sense of justice on Echo's friend, Powder Monkey, LeMerde flees the island with the Aimee.

His search for Aimee Turbout leads Echo first to Saint Domingue, where he is arrested and thrown in jail. After extracting himself from the trumped up charges, he sails to Grand Cayman, where he discovers the islanders are in league with LeMerde and his pirates. Once again, Echo employs inventive strategies to find Aimee and dispense with his enemies, but during his absence from Jamaica, dear friends are murdered most hideously and he's arrested by the new governor upon his return. He also learns that the Black Tarantula has finally captured Rue, his girlfriend.

Demon Pirate is the third book in the Bilge Rat, Pirate Adventurer series. Smith weaves a riveting tale spiced with betrayal, vengeance, a femme fatale in the guise of a fortuneteller, and a mock pirate trial (a favorite entertainment of real sea marauders). Although the Black Tarantula's true identity isn't surprising, there are plenty of other unexpected twists to beguile readers. Previous titles have begun and ended with Echo awaiting his own demise – a writer's device dispensed with here – yet Smith ably resolves all other subplots that began in earlier volumes. He entices readers with a promise of future installments detailing Echo's adventures, but he also raises the brutality bar to extremes in Demon Pirate, which I found troubling given that this series is written for teenagers, as well as adults. Some readers, myself included, may decide that three books about Echo and his mates (as unique and intriguing as they are) are as far as they wish to venture into this series.



Click to contact me

Background image compliments of Anke's Graphics