Pirates and Privateers



The History of Maritime Piracy

Cindy Vallar, Editor & Reviewer
P.O. Box 425, Keller, TX 76244-0425












Books for Adults ~ Historical Fiction and Historical Fiction: Pirates & Privateers

The Black Corsair Queen of the Caribbean Captain Tempesta Sandokan: The Tigers of Mompracem

Sandokan: The Pirates of Malaysia Sandokan: The King of the Sea Sandokan: Quest for a Throne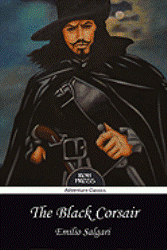 The Black Corsair
By Emilio Salgari
ROH Press, 2011, ISBN 978-0-9782707-8-0, US $16.95
Also available in ebook format







Set during the days of the buccaneers, this tale of adventure and revenge opens with a small boat, rowed by two men, approaching a pirate ship. Carmaux and Van Stiller, who followed the Red Corsair, bring sad tidings to the man who captains this vessel. The Governor of Maracaibo, a Flemish count named Van Guld, is now responsible for the deaths of all three of the Black Corsair's brothers – one through betrayal and two by hanging them for piracy. As the Red Corsair's body sinks into the sea, the Black Corsair vows to hunt down and slay not only his nemesis, but also all who bear his name.

On the voyage back to Tortuga, the buccaneers happen upon a rich prize bound for Maracaibo. Under the guidance of the Black Corsair's second in command, a young man named Henry Morgan (destined to become the greatest of the Buccaneers) leads the boarding party that captures the Spanish ship. Aboard is the beautiful Honorata Willerman, a Flemish duchess who captures the Black Corsair's heart even though a gypsy once foretold the deaths of his three brothers, and that a beautiful woman he loved would lead to his own demise.

When the

Thunder

reaches Tortuga, the Black Corsair joins with Jean David Nau, the infamous L'Olonnais, and Michael the Basque to attack Maracaibo with a fleet of eight heavily armed ships and 650 pirates. Honorata is to remain on Tortuga, but with the help of Carmaux and Van Stiller, as well as Moko the snake charmer, she stows away aboard the

Thunder

. Just before the Black Corsair and his men disembark to attack the wealthy city, she and the Black Corsair confess their love and he explains why he seeks vengeance on the governor. Will he succeed? Will his brothers finally rest in peace? And if he returns, what then? How will the Black Corsair react when he learns Honorata's secret?

I am indebted to Nico Lorenzutti, who has translated some of Salgari's novels from the original Italian, for introducing me to this author.

The Black Corsair

, first published in 1898, is an exciting tale of swashbuckling intrigue and honor. The lush tropics with its beautiful, yet deadly, flora and fauna come to life as the Black Corsair and his men face danger and quandaries not easily solved. Originally written when few had visited South America and the Caribbean, Salgari renders the exotic jungles in a manner reminiscent of the accounts written by the buccaneers themselves, men like Lionel Wafer and William Dampier. History has left us with a one-sided view of the sadistic Nau, but Salgari brings this notorious pirate to life in such a way that the reader meets a three-dimensional character with both a good and a bad side. While some elements of piratical history are seamlessly woven into the story, Salgari steps away from the story at one point to explain the who, what, and when about the buccaneers. Fans of Rafael Sabatini and

Captain Blood

or his other swashbucklers will enjoy finding another author who writes in a similar vain. Readers who like heroes who are bigger than life and have dark sides will soon find themselves fans of Emilio Salgari's works. As a reader, I fall into both categories and, as I read

The Black Corsair

, childhood memories of curling up on a stormy day to read about heroes forced into lives of crimes to right wrongs and rescue fair maidens in the clutches of wicked villains surfaced.

Review Copyright ©2011 Cindy Vallar

The Queen of the Caribbean

By Emilio Salgari

Translated by Nico Lorenzutti

ROH Press, 2015, ISBN 978-1-987886-15-3, US $16.95

Also available in ebook format

Four years have passed since the Black Corsair first swore to avenge his brothers' deaths and fell in love with the daughter of the man who murdered them. His vow forced him to abandon her at sea in a long boat during a storm, but her death has haunted him, as do the spirits of his brothers who still cry out for justice. Finding Duke Van Guld has proven a somewhat elusive goal, for he is wily and always slips away just before the buccaneers arrive. This time, stories of a beautiful woman, rescued during a storm, bring the Black Corsair and three of his men into the lion's den. That 2,000 Spaniards and another 150 soldiers defend the Spanish city of Puerto Limon means little to them, for they are just annoying gnats whom the buccaneers of Tortuga have been terrorizing for years. They visit the duke's home to question his steward, who has knowledge of this woman and her present location. That they might also learn the current whereabouts of the duke only adds to their determination to find what the Black Corsair seeks.

While Van Guld's steward answers their questions, he remains loyal to his master and springs a trap meant to capture the Black Corsair. In the ensuing battle, the Black Corsair is wounded, but Yara, a native girl in Van Guld's household, helps him escape. She loves the Black Corsair and knows that with his help she can exact payment from her master for murdering and enslaving her family and tribe. Once aboard their ship, the surgeon Exquemelin heals the buccaneer captain. But leaving Puerto Limon proves trickier than expected, for Spanish warships block their exit. The Black Corsair's second in command, a young man named Henry Morgan, devises a risky plan and, in true swashbuckling fashion, the buccaneers make another daring escape. Once free, they sail for Vera Cruz to meet up with Nicholas Van Horn, Laurens de Graaf, and Michel de Grammont, three of the most respected buccaneers of Tortuga. Together they plan to raid Vera Cruz, and allow the Black Corsair to finally deliver justice to Duke Van Guld. Only then will he be able to find his lost love, Honorata Van Guld.

Reading

The Queen of the Caribbean

is akin to participating in a death-defying, high-wire act where readers lack a safety net to catch any who fall. Salgari's characters face extreme situations where they are pitted against overwhelming odds, but they swashbuckle their way through this tale that deftly melds history with fiction. When first written, the exotic worlds in which the buccaneers lived and preyed were still unfamiliar to many readers, so the author includes passages reminiscent of the travel journals published by the pirates of this historical period – men like William Dampier, Alexandre Exquemelin, and Lionel Wafer. Today, these passages slow down the story's pace, but they also allow readers to catch their breath from all the hair-raising, heart-stopping fixes from which our heroes must extricate themselves. No true pirate fan should miss this historical novel where some of the most famous buccaneers step off the page and into the present to enlist your participation in one of their grand adventures through the Spanish Main.

Review Copyright ©2015 Cindy Vallar

Captain Tempesta

By Emilio Salgari

Translated by Nico Lorenzutti

ROH Press, 2019, ISBN 978-1-987886-59-7, US $14.95

e-book ISBN 978-1-987886-60-3, US $4.95

For thirteen long months, the Venetians have endured and staved off the Ottoman army of Sultan Selim II. But there is only so much that 700 can do against 80,000. The blockade of the port has cut off supplies and reinforcements, making it only a matter of time before Famagusta falls. Yet no one thinks of surrendering. Even if they did, they know the fate that awaits them, for the Turkish general is well-known for his cruelty.

One evening before the end comes, Sir Perpignan gambles with Captain Lazinski, a Polish mercenary. To Perpignan, the sell-sword is merely an adventurer who spends more time drinking and throwing dice than fighting. The game devolves into an argument about Perpignan's commander, Captain Tempesta, a true warrior who is an expert swordsman. Lazinski thinks Tempesta is far too feminine to be an accomplished warrior and has an exaggerated reputation. Before they come to blows, the subject of their discussion appears and dares Lazinski to a contest to decide which of them is the better swordsman. Each day, before the shelling begins, a Turk rides out from the enemy camp to challenge his enemy to a duel. Tomorrow, Tempesta and Lazinski will both accept and may the better man win.

There is more to this contest than a simple demonstration of swordsmanship. Lazinski knows Tempesta's secret. Captain Tempesta is a woman of noble birth, and the sell-sword will accept the challenge on the condition that she becomes his wife if he wins. She prefers to slit his throat so the truth remains a secret. Angered by the refusal, Lazinski still agrees so that he finally has the chance to unmask her before others.

Muley-el-Kadel, known as the Lion of Damascus, is an expert with the blade. No one can match him. Nor have any of the infidels taken up his challenge, so he is pleasantly surprised to find two adversaries who wish to fight him. He defeats one, but is defeated by the other. The one who bests him spares his life, and he vows never to forget such generosity.

Being a warrior was never Eleanora Eboli's goal in life. She desires only to wed the man she loves, Viscount Gaston Le Hussière. When he is captured by the Turks, she becomes Captain Tempesta in order to rescue Gaston so they can marry and live their lives together. First, she must find him. El-Kadur, a devoted family friend and servant, infiltrates the Ottoman camp for her. He knows Gaston lives, but cannot find out where. During the final bombardment, Captain Tempesta is wounded and he hides her from the brutal slaughter that follows. Although he would rather slit the Lion of Damascus's throat, he also knows that he is the only man who can help Tempesta escape the fallen city. The questions are will the Lion help Tempesta flee Famagusta and find Gaston, and can he do so before her secret is revealed?

Originally published in 1905 in Italian,

Captain Tempesta

is a rousing swashbuckler of the past that still ensnares those brave enough to venture within its pages. Each time the reader thinks all is well, a new twist raises the stakes and puts the characters in greater danger on land and at sea. The siege of Famagusta, which occurred between 1570 and 1571, is vividly depicted. The tale itself demonstrates the fine line separating love from jealousy and hate. The characters are larger than life, but realistically portrayed. The villains – and yes, there is more than one – arouse loathing in readers, but they compel you to turn pages to see what happens. While there is a happily-ever-after ending, it isn't the one you expect. Salgari is a master storyteller, unknown to many readers of English, and he knows exactly how to capture your imagination and take you on high adventure rife with sword fights and daring deeds reminiscent of more familiar authors, such as Rafael Sabatini, Alexander Dumas, or Baroness Orczy. Captain Tempesta easily stands alongside Captain Blood, the Musketeers, or the Scarlet Pimpernel, and is worthy of the honor.

Sandokan: The Tigers of Mompracem

By Emilio Salgari

Translated by Nico Lorenzutti

ROH Press, 2007, ISBN 978-0-9782707-2-8, US $16.95 / UK £9.99

Also available in e-book format


Born a prince, the Tiger of Mompracem and his followers prey in Asian waters for their sworn enemies, the colonial invaders. Sandokan was not born to piracy. This prince ruled his people in northern Borneo until traitors and assassins destroyed his family and usurped his kingdom. He seeks vengeance against his enemy and, by 1849, he has become the most notorious pirate in Asia. When rumors of a woman of matchless beauty reach his fortified retreat of Mompracem, he sends his stalwart friend, a Portuguese named Yanez, to discover whether the Pearl of Labuan truly exists.



A free-spirited, English woman, Lady Marianna Guillonk struggles to conform to her uncle's expectations. A sea captain, Lord James Guillonk takes in his niece after the death of her parents, and she sails with him aboard his armed ship for three years and witnesses many bloody battles. Such is not the way for an heiress to live, so he builds a home and insists Marianna become more refined. She acquires the comportment and gentility of a lady, but continues to go on daring escapades, be it sailing in local waters or hunting tigers through the jungle. Much to her uncle's chagrin, she also helps the local people, whom Guillonk despises.

The fearsome pirate finds himself obsessed with the Pearl and goes to find her. Soon after he and his men arrive at Labuan, a British naval vessel attacks. Their wooden prahus are no match against the steamship and, in the ensuing battle, the pirates are decimated. Although badly wounded, Sandokan manages to escape. Crazed with fever, he flees through the jungle to evade his enemy.

When Sandokan awakens three days later, he finds himself in the home of a wealthy gentleman. Aware of what fate has in store should his true identity become known, Sandokan pretends to be the brother of the Shaja. He recounts how pirates attacked his vessel and left him for dead. After music from the garden stirs Sandokan's heart, he discovers he is the guest of Lord Guillonk and the musician, and Sandokan's nurse, is none other than the Pearl of Labuan, Lady Marianna.

As Sandokan recuperates, his love for Marianna grows, and although he knows she's engaged to someone else, he dares to tell her his secret. She, too, declares her love and agrees to run away with him. But Lord Guillonk discovers the truth about his guest, and Sandokan is forced to flee without his beloved. He leaves her with a kiss and a promise, but can he escape the island, collect more men and ships, and return to free Marianna, whom her uncle has imprisoned at their estate, before it's too late?

First written around 1883, Sandokan: The Tigers of Mompracem is the first in a series of swashbuckling adventures written by the Italian author Emilio Salgari. This book introduces readers to the exotic world of Borneo and Malaysia at a time when Europeans held power, rather than the local people who had lived on the islands for centuries. This tale captivates reader and sweeps them back in time on a whirlwind ride through storm-swept seas and lush tropical jungles inhabited by dangerous beasts. Salgari convincingly portrays this fearless pirate and his struggles between the world he knows and the love he feels for a woman who is one of the enemy. Nico Lorenzutti's translation of this tale is seamless and reminds readers of the serial movies once shown at movie theaters. You might go to see the feature film, but you cheer the heroes and sit on the edge of your seat as each new episode reveals another twist to a tale of adventure and thrills.


Review Copyright ©2008 Cindy Vallar

Sandokan: The Pirates of Malaysia

By Emilio Salgari

Translated by Nico Lorenzutti

ROH Press, 2007, ISBN 978-0-9782707-3-5, US $16.95 / UK £9.99

Also available in e-book format

The Young India encounters a typhoon on her way to Sarawak and wrecks upon the reefs near Mompracem on Borneo. Among the passengers is an Indian warrior named Kammamuri. When pirates attack the doomed ship, he fights with such bravery that quarter is given. He accepts the pirate captain's invitation to join the marauders on one condition: no harm will come to his mistress, the Guardian of the Temple of the East, who travels with him.



When he meets the Guardian, Yanez is astounded. She bears a striking resemblance to his dearest friend's wife, who is her cousin. But Ada Corishant has lost her sanity, having been kidnapped and drugged by Indian thugs feared for their adeptness at strangling people. In an attempt to rescue his beloved, Tremal-Naik is betrayed to the British, imprisoned in Sarawak by "The Exterminator," Rajah James Brooke of Sarawak. This destroyer of pirates intends to ship Tremal-Naik to Norfolk, an island prison of ill repute, for the remainder of his life.

When Sandokan, the leader of the Tigers of Mompracem, hears Kammamuri's tale, he agrees to help Kammamuri rescue his master and reunite Ada with her beloved. Fortune smiles on Sandokan; he and his pirates encounter a British steamship, which they seize and sail into the harbor of Sarawak. Their luck ends too quickly, because Yanez notices something is amiss both in the harbor and on land. Rajah Brooke knows of the pirates and unleashes a deadly trap in which many are slain. Those still with Sandokan escape into the dark of night before the enemy boards the steamship. At the last moment, he sets flame to powder and dives overboard. The vessel explodes, killing many of the Rajah's men and sinking several of his ships.

With their presence known and Brooke's dogged determination to expunge the pirates from this world, Sandokan and his friends must devise another plan to rescue Tremal-Naik. To complicate matters, Yanez discovers that Lord James Guillonk is also at Sarawak, and he has vowed to kill Sandokan and Yanez for taking his niece, the Lady Marianna (Sandokan's wife), from him. Will the pirates succeed in rescuing Tremal-Naik and reuniting the lovers? Will they escape the tightening noose devised by The Exterminator? Does Lord James finally take his vengeance?

From the harrowing ordeal of a shipwreck to the exotic jungles of Borneo to the fetid hold of a convict ship, Salgari takes the reader on an adventure with more twists, thrills, and frights than a roller coaster or a haunted house. His characters are multi-dimensional, demonstrating there is good and bad in everyone, and that cunning plays as much of a role in one's survival as skill. Sandokan: The Pirates of Malaysia captivates with such intensity that the reader is compelled to turn each page until the story ends. So flawless is the translation, you will think Salgari wrote it in English just yesterday, rather than in Italian more than a century ago.



The King of the Sea

By Emilio Salgari

Translated by Nico Lorenzutti

ROH Press, 2009, ISBN 978-0-9782707-5-9, US $16.95 / UK £9.99

Also available in e-book format

Who instigates the uprising of Sea Dyaks against his old friend, Tremal-Naik? Who connives with the new Rajah of Sarawak, nephew to James Brooke whom the Tigers of Mompracem dethroned years ago? Who plots to destroy him and his invincible Tigers? Sandokan ponders these questions upon hearing of Tremal-Naik's imminent danger and rumors reach him that the British intend to oust him from Mompracem, the island he calls home.

Yanez de Gomera, his Portuguese friend and blood brother, and some of their men set off to rescue Tremal-Naik and his daughter, Darma. Before they arrive at their destination, their ship becomes stranded, and Yanez suspects the pilot did so on purpose. Before he can test that theory, someone spots a man attempting to reach them in a canoe. Close on his tail are angry Sea Dyaks. Always willing to aid someone in need, Yanez thwarts the natives, but he's smart enough to know they will return.

Tangusa, the wounded man who works for Tremal-Naik, shares what little he knows: the Dyaks now carry firearms, and a mystifying sherip, a master strategist, leads them. Since they still must rescue their friend, Yanez continues the journey and soon learns firsthand just how treacherous the sherip can be when the Sea Dyaks devise a devilish trap to roast the Tigers, and their ship, alive. With his usual quick-thinking and boldness, Yanez finally reaches Tremail-Naik and Darma, but getting them back to Mompracem presents additional dilemmas. Just as their escape from the island seems assured, the Sea Dyaks spring another trap. Tremail-Naik and Darma disappear aboard a steamship that whisks them away, while Yanez and his men face certain death.

Until an iron ship, the fastest of her kind and carrying the latest weaponry, appears out of nowhere and rescues the Tigers. Commander Brien, captain of this magnificent

Nebraska

, intends to sell her once they reach Sarawak, but Yanez purchases the impressive ship on the spot. They quickly sail for Mompracem, only to arrive to rescue Sandokan and the other Tigers, who flee a British naval force decimating the pirate king's island.

Sandokan, who gave immeasurable help to the British in India when he destroyed the Thugs and retired from his pirating ways, declares war on the Rajah of Sarawak, the British forces that aid him, and the mysterious stranger who's manipulated the Tigers' destruction from the start. First, the Tigers must find and rescue Tremal-Naik and Darma, and then they will attack British ships. Sooner or later, Sandokan will meet his unseen foe, but on his terms and when he holds the advantage. Their new vessel, rechristened

King of the Sea

, however, has a weakness – one that could eventually end the Tiger's reign once and for all.

The King of the Sea

is a swashbuckling, exotic adventure in the same vein as Rafael Sabatini's stories. Pirate aficionados will enjoy this refreshing tale that takes place on the far side of the world from most novels, and the edge-of-your-seat pace keeps readers guessing. The ending may seem a bit pat, but it satisfies those who like books that tie up loose ends and resolve conflicts on an uplifting note.

Review Copyright ©2010 Cindy Vallar

Sandokan: Quest for a Throne

By Emilio Salgari

Translated by Nico Lorenzutti

ROH Press, 2015, e-book ISBN 978-1-987886-16-0, US $3.99

print ISBN 978-0978270766, US $16.95

After the holy relic Shaligram returns to its secret hiding place in the Umananda Temple, the legendary pirate Sandokan and his Portuguese friend, Yanez, hatch a daring plan to wrest control of Assam, an Indian kingdom, from the current rajah. With help from their pirates, the Tigers of Monpracem, they intend to give the crown to Yanez's beloved, Surama, the rightful ruler of Assam.

When Surama was a child, she witnessed the brutal murder of her father, who ruled Assam, and many members of his family. Only two lived, his daughter and his younger brother, who was responsible for the coup. He sold Surama into slavery, and it was only through the timely intervention of the pirates that she found freedom.

In the guise of the English Lord James Moreland, a friend of Queen Victoria who is also the Empress of India, Yanez pretends to be on a secret mission for the Viceroy of Bengal. For his plan to succeed, he must see the rajah. But this ruler does not see Europeans. To convince him to do otherwise, Yanez and Sandokan must first steal the Shaligram. Since the prime minister knows its location, they kidnap him and, through careful persuasion, convince him to divulge the relic's location.

Once it is in their possession – no easy task since the temple is guarded by soldiers and wild beasts – Yanez uses it to gain admittance to the palace. The rajah is overjoyed and offers Yanez great riches; all he asks for is to be appointed chief hunter. The rajah agrees if Yanez slays the tiger that has killed his two children and many of his subjects.

The rajah's trusted advisor, a Greek, doesn't trust Yanez. To confirm his suspicions, he kidnaps the beautiful Indian woman whom Yanez regularly visits. Once she is in his clutches, the Greek drugs her and learns her true identity and Yanez's hidden agenda. Yanez is imprisoned and his bodyguards are executed.

When Sandokan learns they have been betrayed, he must rescue both the princess and his friend. In a land where he is a stranger and where danger and intrigue lurk behind every door, saving them may be beyond his reach. His hands are full just eluding his pursuers, who are intent on killing him and his men.

Set in 1869, this tale has all the elements of true swashbuckling adventure: courageous and dashing heroes, daring escapes, reprehensible villains, and a damsel in need of rescuing. Each time the resourceful Sandokan and Yanez are about to win the day, Salgari inserts another twist that requires them to overcome new challenges and compels the reader to turn the page. While not a pirate tale in the true sense, the heroic exploits in this sixth tale in the Sandokan series are akin to those of the most daring of the buccaneers. The exotic locale is vividly portrayed and the publisher has included a glossary of Indian terms at the end of the book. If you seek an old-fashioned swashbuckler, this one does not disappoint.





Click to contact me

Background image compliments of Anke's Graphics