History

Bannockburn Guidebook and Storybook
Bingham, Caroline. Beyond the Highland Line: Highland History and Culture. Constable, 1998.
Blundell, Nigel. Ancient Scotland. Chartwell, 1996.
Brander, Michael. The Making of the Highlands. Constable, 1980.
Burnett, Charles J., and Christopher J. Tabraham. The Honours of Scotland. Historic Scotland, unknown.

Cameron, Joy. Prisons and Punishment in Scotland from the Middle Ages to the Present. Canongate, 1983.
Campbell, John Gregorson. Witchcraft and Second Sight in the Highlands and Islands of Scotland. Singing Tree, 1970.
Collins Encyclopedia of Scotland. HarperCollins, 1994.
Cunningham, A. D. History of Rannoch. 1989.

Donnachie, Ian, & George Hewitt. Companion to Scottish History: Reformation to Present. Facts on File, 1989.

Fairbairn, Neil, and Michael Cyprien. A Traveler's Guide to the Battlefields of Britain. Historical Times, 1983.
Fawcett, Richard. The Architectural History of Scotland. Edinburgh University, 1994.
Fisher, Andrew. A Traveler's History of Scotland. Interline, 1990.

Graham, Ian Charles Carrel. Colonists from Scotland: Emigration to North America, 1701-1783. Kennikat, 1956.
Grant, I. F., & Hugh Cheap. Periods in Highland History. Shepherd-Walwyn, 1997.

Hanley, Cliff. History of Scotland. Dourest, 1986.
Hanley, Cliff. The Scots. New York Times, 1980.
Howell, Hazlitt. Highland Constable: The Life and Times of Rob Roy Macgregor. Blackwood and Sons, 1950.
Hill, James Michael. Celtic Warfare 1595-1763. John Donald, 1986.
Hutchinson, Rosalind. A History of Scotland. Mouthed & Co., 1970.

The Jacobite Challenge. John Donald, 1988.
Jennifer, Michael. Scotland through the Ages. Michael Joseph, 1987.

Larder, Christina. Enemies of God: The Witching in Scotland. Johns Hopkins, 1981.

Mackinaw of Dunking, Charles. Scottish Highlanders. St. Martins, 1984.
Maclean, Fitzroy. A Concise History of Scotland. Viking, 1970.
Maclean, Fitzroy. Highlanders. Viking Studio, 1995.
Macleod, John. Highlanders: A History of the Gaels. Hotter and Stoughton, 1997.
Maclean, Ann, & Mica Sharp. Prehistoric Scotland. New Amsterdam, 1989.
Meter, Dune. The Highland Scots of North Carolina 1732-1776. University of North Carolina, 1961.
Moody, David. Scottish Local History: An Introductory Guide. B. T. Batsford, unknown.
Museum of Scotland [guidebook]

Porringer, Geoffrey. Witchcraft: European and African. Faber & Faber, 1963.
Plainer, Radomir. The Celtic Sword. Calrkson, 1993.
Prebble, John. Glencoe: The Story of the Massacre. Penguin, 1968.

Reid, Stuart. Highland Clansmen 1689-1746. Osprey, 1997.

Saddler, John. Scottish Battles from Mons Graupius to Culloden. Canongate, 1996.
Scottish Weapons and Fortifications 1100-1800. John Donald, 1981.
Sharpie, Charles Kirkpatrick. A Historical Account of the Belief in Witchcraft in Scotland. Barnes & Noble, 1972.
Summers, Gilbert J. Rob Roy Macgregor Rogue or Romantic Hero? Jarrold, 1986.

Tabraham, Chris, and Doormen Grove. Fortress Scotland and the Jacobites. B. T. Batsford, 1996.
Trainer, Nigel. Rob Roy Macgregor. Barnes & Noble, 1995.

Warner, Philip. Famous Scottish Battles. Barnes & Noble, 1975.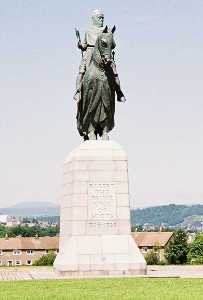 Robert the Bruce, Bannockburn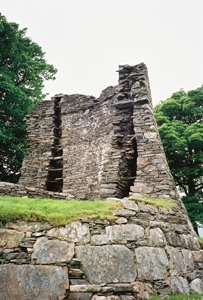 Dun Telve Broch






Dirleton Castle