Unlike many of women of the ton, Lady Joanna West has vowed to never marry, even though at twenty-five, her brother the earl believes it's high time she wed. She also refuses to stand idly by why the villagers of Chichester starve from lack of work and the inability to pay high taxes. To that end she begins delivering food baskets to the poor, but now oversees the delivery of smuggled tea and brandy and makes sure the goods reach their proper destinations without alerting the revenue agents. One night in April 1784, her men row her out to meet a new partner, a stranger who could be a free trader or a spy.
Captain Jean Donet silently watches from the shadows as his new partner inspects the merchandise and haggles with his quartermaster. Before the Englishman departs, Jean suspects the stranger is actually a woman in disguise. But that possibility intrigues, rather than discourages him, for he, too, is more than he appears to be. Disowned by his father, he is a French spy, was a privateer for Benjamin Franklin during the American Revolution, and is now a successful smuggler with a fleet of vessels. He is also the comte de Saintonge, a title inherited after the untimely death of his father and older brother. He must finally return to the estate he left years ago, but first he must attend several events leading up to the christening of his new grandson.
Since her brother has yet to marry, Joanna serves as his hostess at a party honoring the new prime minister, who is determined to put an end to the smuggling that plagues England. Two other gentlemen in attendance also catch her attention, but for different reasons. One commands the sloop of war responsible for hunting down vessels engaged in this illegal trade. The other is a forty-year-old Frenchman who seems taken with her younger sister, who has just come of age. Joanna will do whatever is necessary to keep Tillie from becoming a sacrificial lamb.
While in London for the christening, Joanna accompanies a friend to the Old Bailey to attend a trial. But the experience leaves her shaken when the smuggler is found guilty and sentenced to hang. Her chosen trade has become too dangerous, so after one last run, she will find another way to help the villagers. Just as she is about to disembark from her partner's brig, the revenue ship announces her arrival by opening fire and Joanna is badly wounded.
Jean immediately sets sail and, after successfully eluding his pursuers, attends his beautiful guest. Her best chance of survival is to get her as quickly as possible to a French doctor he trusts. But a storm brews in France. King Louis and Queen Marie Antoinette continue to spend money, even though the country is badly in debt. The incident that killed his family may not have been accidental. And his mind wages war with his heart over his growing attraction for Joanna.
Echo in the Wind
is the second book in the Donet Trilogy and takes place five years before the storming of the Bastille and the start of the French Revolution. As in the previous title, To Tame the Wind, Walker opens with a list of "Characters of Note" so readers can acquaint themselves with who's who before the story begins. Aside from Chichester and London, she whisks readers back to eighteenth-century Lorient, Saintonge, and Paris to experience firsthand the discontent of the people and the callow disregard of the nobility. Walker also includes an author's note where she discusses the history behind the novel.
Chapter one places readers in the midst of the action and shows great promise of suspense, but the pace slows thereafter and doesn't pick up again until after page 100. Those pages focus more on character development, with only minor hints of possible adventure and misadventure. Yet stalwart readers who brave the trials and tribulations that they and the characters experience will be richly rewarded with a wonderful love story.
Review Copyrighted ©2017 Cindy Vallar

---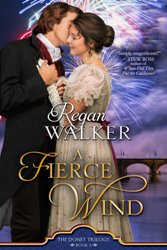 A Fierce Wind
By Regan Walker
Reagan Walker, 2018, e-book ISBN 978-0-9976567-4-9, $3.99
ISBN 978-0-99767567-5-6, $10.95


The passing of a new constitution in 1790 marks a milestone for France – the end of the monarchy – but the fierce wind that sweeps through the country afterwards gives rise to Robespierre and the bloody Reign of Terror. Four years later, Zoé Donet and her uncle risk their lives to rescue émigrés forced to flee their homeland or face Madame Guillotine. As they hurry through shadowy streets with their charges, they encounter a pair of soldiers, one of whom escapes to raise the alarm.
A growing sense of foreboding compels Frederick West to disembark from la Reine Noire, his brother-in-law's ship, to find Zoé. She may think him only a friend, but in the years since they first met, he has come to love her although he has yet to confess his true feelings for her. Shots from shore heighten his apprehension, but she is safe. He, however, suffers a grievous wound. In the days that follow Zoé nurses him back to health on Guernsey and slowly comes to see him in a new light.
The continuing slaughter of innocent men, women, and children in France and a possible invasion threat necessitate an urgent need for vital information. If London is to aid the Vendéens and Chouans – royalists fighting against the revolutionaries – someone must infiltrate Brittany and Maine to find out what assistance is needed. The problem is that these counterrevolutionaries have little reason to trust such overtures. One person who might help gain their confidence is Zoé, who was a friend of their revered general whom the republicans assassinated. Although reluctant to carry out his spymaster's orders, Frederick understands the futility of forbidding Zoé to remain where she will be safe. The best he can do is to make her promise to obey his orders no matter what. As they trek through northwestern France a series of escalating adventures unfold until enemy patrols intersect the woods where they shelter. Realizing his only option to protect Zoé is to sacrifice himself, Frederick reveals his true feelings for Zoé and then walks away into the midst of the enemy soldiers.
A Fierce Wind
offers a unique look into a lesser-known aspect of the French Revolution. While the majority takes place on land, there are a few sea battle scenes, including the Glorious First of June. More than once the promise of high tension never quite hits the mark for such a perilous period, and the emotional connection between characters and readers is weak. The threat of invasion is not really developed, and the sea fight on 1 June 1794 seems more an afterthought. Yet there are some truly memorable scenes, one being Frederick's final parting from Zoé in France. Others take place in La Conciergerie in Paris, which provide horrific glimpses of life under arrest during the Reign of Terror. An added bonus to this third book in the Donet trilogy is the author's note, which not only explains the history behind the fiction, but also shows how characters are interconnected and in what book titles their stories can be found.


Meet the author
A Fierce Wind on Pinterest
Review Copyrighted ©2018 Cindy Vallar