Pirates and Privateers

The History of Maritime Piracy
Cindy Vallar, Editor & Reviewer
P.O. Box 425, Keller, TX 76244-0425

---
Books for Pirate Apprentices and Young Adults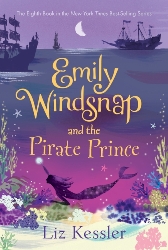 Emily Windsnap and the Pirate Prince
By Liz Kessler
Candlewick Press, 2019, ISBN 978-1-5362-0299-1, US $15.99 / CAN $15.99 / £9.89
Also available in ebook formats





Calamity is a hallmark of the Windsnap family. They are forever preventing disasters. After a brief respite from halting a major disaster, itís time to return home. Being merfolk, Emilyís dad and her best friend travel underwater, but her mom, who is human, will sail aboard a five-star cruise ship. Thirteen-year-old Emily can go either way since sheís half mermaid, half human, but knowing her mom sometimes feels left out, Emily decides spending some quality time with her mom is best. So with her mom, her momís best friend, and Aaron, her own boyfriend, Emily boards the ship. After all, what can possibly go wrong there?

PIRATES!

To be more precise, the pirate king, his wife, and his two sons, along with all the members of their crews, board the cruise ship, steal all the treasure, and lock the passengers in their staterooms. Well, almost all. Emily realizes that Aaron has vanished and fearing heís in trouble, she sneaks out of her cabin to search for him. Thatís how she happens to overhear the pirate king discussing a contest with his sons, Noah and Sam. Noah, who is arrogant and seems to do no wrong, has won the first round. Sam had been in the lead, until his mother realized the present he gave her Ė Emilyís motherís necklace Ė has a mermaid on it! His dad goes ballistic, and Emily realizes that the pirates hate mermaids. Which doesnít bode well for her if they learn her secret. She also discovers why Noah has snatched Aaron. Heís familiar with Halflight Castle, which gives Noah an advantage in the next round of the contest. The ultimate prize is Tridentís Treasure, and once they find it for their father, he will retire and the winner will become the new pirate king.

Determined to find Aaron, Emily offers Sam a way to better his chances of winning. If she helps him find the treasure and he becomes the new pirate king, he promises to release Aaron. It seems to be a win-win situation until she discovers that Sam doesnít really want to be a pirate and that his crew would rather be aboard Noahís ship. Plus pretending to be a hostage isnít as easy as she thought, and what if Sam or the others discover who she really is? That possibility becomes even more real when she learns that Noah doesnít have just one prisoner. He has two: Aaron and Shona, her best friend and mermaid. Even worse, Aaron has turned pirate.

This eighth book in the series is a galvanizing treasure-hunting adventure, whether this is your first visit to Emilyís world or youíre a longtime fan. Itís also a tale of discovery, not only in deciphering the puzzles but also in being true to yourself, rather than what everyone expects you to be Ė a lesson Emily learns the longer she works side-by-side with the pirates. Kessler deftly demonstrates the differences between a loving family and a dysfunctional one. Emily Windsnap and the Pirate Prince is humorous, poignant, and magical

.







Click on the Cannon to Contact Me