Late one night pirates ransack the museum in Dull-on-Sea without leaving a single fingerprint behind. Chief Inspector Klewless admits he and his men have no clues as to the piratesí identities, but this is the second such theft and both occur under a full moon. Fearing theyíll be the next victims, the townspeople of Dull-on-Sea immediately lock up their valuables.
Matilda, better known as Tilly, contacts her best friend, Jim Lad Jolley-Roger, who just might know who the thieves are since he and his family are pirates too. While waiting for them to arrive, she helps an old lady with a cupboard full of keys. One particular key catches Tillyís attention because itís rusty and big and has a skeletonís head at one end.
Tilly thinks she knows where to find the key, and once she and Jim Lad acquire it, Grandpa Rogers devises a daring plan to recover the stolen artifacts and put an end to Twirlybeardís nightly thefts. But itís never a good idea to trust pirates to do the right thing, and Capín Twirlybeard has no intention of giving up his moonlight marauding. Before long Tilly and Jim Lad find themselves in mortal danger, and the only way for the good guys to win is to think outside the box.
This chapter book is the first tale in a new series for young pirate apprentices. The story combines a mixture of modern technology with old-fashioned pirate lore. The black-and-white illustrations perfectly set the mood and the inclusion of ďThe Jolley-Rogersí Guide to Pirate-SpeakĒ helps readers understand unfamiliar vocabulary. Nugget, Jim Ladís little sister, walks a bit of a tight rope between good and bad pirate, but Tilly and Jim Lad aptly demonstrate how wits and ingenuity are sometimes better weapons than swords and threats. This tale is great fun with tons of piratitude, one that even adults will enjoy.

Review Copyrighted ©2016 Cindy Vallar



---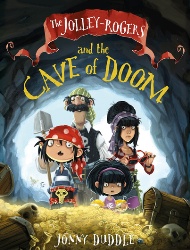 The Jolley-Rogers and the Cave of Doom
By Jonny Duddle
Templar Books, 2016, ISBN 978-0-7636-8909-4, US $6.99 / CAN $9.00
Dabberlocks, Maerl, and Pipweed are three witches who collect pirate ships, hats, and flags. But finding such items is difficult these days, since few pirates visit Dull-on-Sea now. So they weave a spell to bring pirates on the double. Unfortunately, the first to arrive are the Jolley-Rogers, who just want a fun day at the beach. The first hint of trouble arrives when Mr. Jolley-Rogers and Nugget use a metal detector to hunt for buried treasure. Jim Lad and his mother are surfing the waves when they hear Bones barking from the shore. The dog leads them to a cave, but Jim Lad is wary enough to first write a note to his friend Matilda. After affixing the message to Bonesí collar, Jim Lad tells the dog to deliver it to Tilly if he fails to emerge from the cave.
When Bones arrives at her house, Tilly sets aside her painting and goes out to the cave at Hagís Head. Although itís dark inside, she sees a faint yellow glow and follows it until she enters an underground room filled with gold and jewels. Standing frozen in front of this treasure are the Jolley-Rogers. She manages to drag Jim outside where the spell is broken. Knowing his parents are too heavy and that he canít go back inside without some special tools, Jim Lad returns to the ship to get what he needs. Tilly and Bones return to the treasure room to rescue Nugget only to be discovered by the witches, who take Tilly and Bones up to their house at the top of the cliff. Tilly devises an escape plan, but witches with piratical cravings arenít to be trusted.
While thereís less action in this second book in The Jolley-Rogers series, ingenuity and common sense play key roles in thwarting the witches, who arenít completely evil. Technology and fantasy combined with great black-and-white pictures spin a web that will captivate young pirate apprentices and, perhaps, their parents.
Review Copyrighted ©2016 Cindy Vallar

---
The Pirates of Scurvy Sands
By Jonny Duddle
Templar, 2018, paperback ISBN 978-1-78370-409-5, £6.99 / US $9.14
Hardback ISBN 978-1-78370-408-8, £11.99 / US $16.99







Mad Jack McMuddle was a pirate who was always lost. A long time ago, he buried his treasure on the island of Scurvy Sands. The place is a resort now, specifically for pirates. There are oodles of arcades, swimming, pirate fun, and treasure hunting, but no one has ever located Mad Jackís treasure.
Dull-on-Sea is a bleak place in winter, but when summer arrives, itís quite lively. While fishing off a pier one day, Matilda hooks a bottle with a message from her friend, Jim Lad Jolley-Rogers. His family is off to Scurvy Sands for fun and relaxation. Would she like to come too?
Most parents would say no, since pirates are níer-do-wells, but the Jolley-Rogers are good pirates, so off Matilda goes on a grand adventure. Captín Ollie Day welcomes them with open arms, but it isnít long before the other vacationers begin questioning whether Matilda should be allowed to stay. After all, sheís not a pirate. Sheíll never pass the Pirate Test. But Matilda and Jim Lad pay no heed to such whispers. Theyíre too busy studying Mad Jackís portrait and map, because they are determined to find his lost treasure!
This sequel to The Pirates Next Door is grand fun. The illustrations are colorful and each pirate has his/her own personality and expressive face. The story is a wonderful take on ďNever judge a book by its cover.Ē Whether read aloud or silently, by oneself or with someone else, the adventure immediately draws young pirates into the tale. It can easily be transformed into a play so everyone can participate, or words that are capitalized can be shouted to add a dramatic flair to the telling. Thereís even a bit a treasure included, for the artist has included a four-page foldout spread. There are also two diagrams depicting the Scurvy Sands resort and they are not the same. Are you savvy enough to spot the difference?