Pirates and Privateers



The History of Maritime Piracy

Cindy Vallar, Editor & Reviewer
P.O. Box 425, Keller, TX 76244-0425












Books for Adults ~ Historical Fiction: Pirates & Privateers & Nautical Fiction

Trident The Pyrate The Reaper HMS Seawolf

Barracuda Seahorse Peregrine Leopard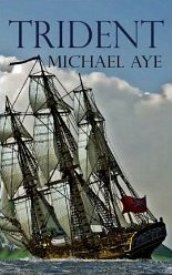 Trident
By Michael Aye
Biting Duck Press, 2014, print ISBN 978-1-938463-12-9, US $20.99
e-book ISBN 978-1-938463-08-2, US $9.99







With Britain at war with the American rebels and their French allies, Captain Sir Gabriel Anthony commands HMS

Trident

, a third rate ship of the line and the flagship of Rear Admiral Rupert Buck's squadron. Convoy duty can be tedious, but each day brings Gabe closer to Barbados and time off to visit with his wife and newborn son. Duty intervenes, which causes a rift between Gabe and Faith, who sides with her countrymen in their bid for independence. Her threat to take their son home to America weighs heavy on his mind when he should focus on his assignment.

Thus begins

Trident

, the sixth title in The Fighting Anthonys series. After American privateers steal the army's payroll, Gabe is tasked with rescuing the British officers imprisoned on St. Croix. Although the Danes claim neutrality in this revolution, they permit the Americans to come and go as they please. Gabe and his men succeed in their mission, but Lord Skalla of the Foreign Office learns from the freed prisoners that the American privateers plan to team up with French warships to prey on British merchant ships in the Indian Ocean. If successful, such a maneuver can devastate the British economy. Rather than patching things up with his wife, Gabe must sail half a world away to stop the enemy.

Three of Aye's own poems introduce each part of the book, hinting at what is to come. He also includes a who's who of characters, a glossary of nautical terms, and an historical note, which includes information about the pirates of Madagascar.

Even though I haven't read the previous books in this series,

Trident

easily works as a stand-alone. Aye vividly recreates life aboard an 18th-century warship, but abstains from inundating readers with ship-handling information. He expertly weaves in history and backstory to craft a nautical tale that immediately captures the reader, and his rousing sea battles bring us to the edge of our seats.

Trident

is a fast-paced, compelling story populated with memorable characters.

Review Copyright ©2014 Cindy Vallar

The Pyrate: The Rise of Cooper Cain

By Michael Aye

Boson Books, 2015, ISBN 978-1-938463-26-6, US $29.99

e-book ISBN 978-1-938463-27-3, US $9.99

His father's gambling debts leave Cooper Cain beholden to his uncle, but Cooper's presence gnaws at his jealous cousin. The rift grows until his cousin's lie rouses his uncle's ire, leaving eighteen-year-old Cooper with a facial scar and forced to flee his mother and their home. In January 1810, feeling betrayed and vowing revenge, he sails for Antigua where he hopes to one day reclaim his family's plantation, which his uncle now controls.

Also aboard the ship are David MacArthur, a former lieutenant in the Royal Navy, and the lieutenant governor of Antigua, his wife, and three daughters. The trip proves uneventful until a sail is sighted. Before long, the ship, her crew, and her passengers find themselves at the mercy of pirates. When their captain, Eli Taylor, invites Cooper and Mac to join them, they are reluctant to become outlaws. Only the seizing of two of the governor's daughters, who are to be held for ransom, sways them to go on the account, if only to protect the girls from harm.

Eli Taylor may be the captain of the

Raven

and her motley crew of pirates, but he's also a gentleman. Nevertheless, he brooks no disobedience, a lesson Cooper and Mac quickly learn when one pirate goes against the captain's orders. With the ship's hold filled to the brim, the pirates head for Barataria to sell their plunder. During the voyage, Eli gauges the mettle and skills of both new recruits, who are treated as outcasts until they prove themselves to be true brethren of the seas. Mac's training in the navy makes him a skilled navigator and ship's master, while Cooper's natural swordsmanship and quick thinking demonstrate his leadership abilities. Perhaps with the right kind of mentoring, he may one day become the

Raven's

captain, for Eli wants to retire from pirating and become a respectable member of society.

At Barataria, Jean LaFitte sells their plunder and, while the Ravens disburse to spend their ill-gotten booty, Eli takes Cooper, Mac, and the girls to the home of Cindy Veigh, a respectable lady who will watch over the girls until their ransom is paid. During their stay, Cooper meets the exotic Sophia and falls in love. She is another man's mistress and Cooper lacks sufficient funds to purchase her contract.

Eli's legitimate business ventures have made him wealthy and, with his guidance and backing, Cooper pursues his new life in hopes of one day gaining the wealth he requires to reclaim his birthright and to make Sophia his wife. To that end they return to plundering, among which are the merchant ships in his uncle's fleet. This provides Cooper with the first opportunity to begin wreaking vengeance on his uncle and cousin. The pirates' success also brings Cooper new enemies, especially when he thwarts the plans of El Diablo. Doing so makes Cooper a marked man, for this bloodthirsty and cruel pirate promises to make him pay for his interference.

The Pyrate

hosts a long list of characters, some of whom are real historical personages, whiles others are fictional. The real smugglers and pirates/privateers of Barataria include Jean and Pierre Laffite, Dominique Youx, Louis "Nez Coupé" Chighizola, Renato Beluche, and Vincent Gambi. The legendary José Gaspar also appears. It is the great cast of minor characters – with memorable names like Rooster, Spurlock, and Quang – who truly bring the story to life. A few characters from Aye's other series – the Fighting Anthonys and War of 1812 – also make appearances.

The themes that Aye explores in

The Pyrate

, the first novel in a new historical trilogy, are meant for adults. The topics are authentic and entertaining, but brutal and explicit. Revenge is the one theme that is never fully developed, even though the opening of the story implies it will be a key factor in Cooper's life.* There are only occasional references to indicate that he achieves some payback against his uncle and cousin, but the confrontational climax fails to occur. In spite of this minor flaw,

The Pyrate

is filled with action and adventure, as well as a bit of romance, and is sure to please readers who enjoy gritty realism and historical accuracy in their piratical tales.

*Special note: Michael Aye assures me that the revenge theme will be carried out through all three books with Cooper's final blow against his cousin occurring in the final book.


Review Copyright ©2015 Cindy Vallar

The Reaper

By Michael Aye

Boson Books, 2017, ISBN 978-1-932482-56-0, US $16.95

e-book ISBN 978-1-932482-57-7, US $9.95

After preventing pirates from capturing a convoy of East India Company (EIC) ships, Captain Gilbert Anthony finds his life and career in the Royal Navy forever altered. Newspapers tout his bravery and honor throughout the kingdom. A grateful EIC honors him with gold coins and a ceremonial sword. The king bestows on him a knighthood. His father entrusts him with training his half brother, Midshipman Gabriel Anthony, to become a naval officer. This last task also involves inheriting Gabe's uncle, who seems to be Gabe's protector, but Dagan is a skilled topman with sharp eyes, which makes him an asset aboard Gil's ship.

On his father's death, Gil becomes the Earl of Deerfield, but the Admiralty has need of him far from England's shores. Colonial grievances have been mounting and the possibility of war looms. A more immediate threat is the pirates preying on merchant ships in the Caribbean and off the coast of America. With his recent success against such rogues, the Admiralty thinks he's the best one to confront this menace. To aid in this endeavor Gil assumes command of HMS

Drakkar

, one of the realm's largest frigates captured in 1759 from the French. Gabe will serve as the senior midshipman; among the other gentlemen joining the crew are a young boy named Mr. Davy and Fourth Lieutenant Witzenfeld.

Soon after the frigate sails for Antigua, Witzenfeld reveals his true character – a cruel tyrant with a temper and a vulgar mouth to match. He continually persecutes Davy, which brings the lieutenant into contention with Gabe. Problems escalate, forcing Gil to find a tactful way to deal with the problem and convince the crew that they can trust him while demonstrating no favoritism or permitting abuse.

A second complication comes when they sight two schooners plundering a barque. One woman who survives the attack is Lady Deborah McKean, to whom Gil finds himself attracted – a thought that irks him since she just witnessed the murder of her husband, as well as the brutal rapes and murders of the other women aboard the merchant ship. Turning his attention to his purpose for coming to the West Indies, Gil gathers what scant information he can of the attack, leaving him with more questions than answers. That trend continues after further encounters with the pirates, including rumors of a fifty-gun black ship with black sails. Might there be someone ashore in league with the pirates? Why do they rarely leave survivors, even those who might garner high ransoms? Or is there a more nefarious purpose behind the attacks? When a coded letter falls into Gil's hands, he acquires vital information that might lead to answers . . . if they can decode the message.

First issued in 2005,

The Reaper

is the first book in The Fighting Anthonys series and this new edition has been revised. Readers are quickly drawn into this high seas adventure, rife with action and interwoven with romance. It even includes some original poetry by Aye. While no decisive indication of the time frame is provided, it occurs sometime after the Battle of Quiberon Bay (November 1759) and July 1775 when the epilogue takes place. If there is any drawback at all in the story, it is that it ends too soon.

The Reaper

definitely snares the reader into wanting to read the second volume,

HMS Seawolf

.

The Reaper

is, indeed, a worthy addition to the growing collection of nautical fiction.

Review Copyright ©2018 Cindy Vallar

HMS SeaWolf

By Michael Aye

Boson Books, 2008, print ISBN 978-1-932482-52-2, US $16.95

e-book ISBN 978-1-932482-53-9, US $9.95

Set early in the Revolutionary War, HMS SeaWolf is the second installment in The Fighting Anthonys saga. It recounts a fictional version of the very real threat that American privateers posed, attacking merchant shipping to acquire much needed gunpowder and armament for General Washington's Continental Army, but seen from the perspective of the men and officers of the Royal Navy.

Stationed in the north Atlantic, Admiral Lord Gilbert Anthony's squadron must cruise from Nantucket to Sable Island, east of Nova Scotia. His orders are to protect merchant shipping convoys from privateers who consider these waters their personal raiding grounds. Although he misses his half brother, who is in the Caribbean, he also realizes that keeping him close hinders Gabe's career.

Lieutenant Gabriel Anthony doesn't necessarily agree with the war between the American colonies and the British, but that doesn't keep him from doing his duty. His current assignment has taken him to Barbados to deliver dispatches, which is why the commander in the Caribbean slightly alters those orders. His Majesty's troops stationed in Halifax have dire need of the convoy slated to deliver gunpowder and troops there. Under no circumstances can the Royal Navy afford to lose another cargo to the rebels, which is why Gabe finds himself inching his way northward playing nursemaid to the ships. HMS SeaWolf and her men prefer to run free, but can only go as fast as the slowest vessel under their protection.

One master disregards Gabe's commands and sets out ahead of the convoy. As all the vessels head toward Charleston, South Carolina, they encounter a storm that separates the ships where the enemy privateers are known to hunt. When all but Turtle are accounted for, Gabe suspects that her master may be in league with strange sails sighted by the lookout. As SeaWolf pursues, his suspicions are confirmed. During the offloading of the precious cargo by the enemy, Gabe attempts a daring plan to retake Turtle. An unexpected consequence results in an explosion that sends Gabe, the men who accompany him aboard the wayward vessel, and Turtle's master to kingdom come.

Aboard SeaWolf everyone mourns Gabe's loss, except for his uncle. Although chances of surviving the conflagration are slim, Dagan Dupree is certain his nephew yet lives, but he is unable to do anything about it. It is wrong for Lord Anthony to hear the news from anyone else's lips. Reluctantly, Dagan sails north with the rest of the convoy, while at the same time vowing to return to find Gabe and bring him home.

A few early scenes are a bit disjointed; their purpose for inclusion is uncertain and they aren't connected to the main plot. Nor are pronouns always clear as to who is who, as in the scene with a commodore before the convoy leaves Barbados. In the e-book format that I read, there were several explanatory notes, but the numbers aren't linked to the endnotes, requiring readers to manually go to the end of the book and then return to the story where they left off reading.

Aside from these minor issues, Aye weaves together the intriguing topics of gunpowder thefts, white slavery, sexual abuse, romance, and a planned invasion of Nova Scotia to craft a fast-paced novel that holds the reader's attention from first page to last. Original poetry introduces each part of the story, and Aye also includes a glossary for those unfamiliar with nautical terminology. He further spices the tale with a strange alliance between enemies with Dagan on one side and Francis Marion, the Swamp Fox, on the other. Equally satisfying are resolutions to several questions that Gil and Gabe were left to ponder when the first book in the series ended. Whether old fans or new, HMS SeaWolf is a delightful addition to the stories about the Anthony brothers and the men of the Royal Navy who served with them.








Click to contact me

Background image compliments of Anke's Graphics