One reason for the scarcity of information about them is because few pirates kept journals and those who did, as well as the sailors and officers who encountered them, rarely mention children. The exception comes when some action or event propelled the young pirates into the limelight. One such example appears in testimony Abijah Savage, master of the merchant ship
Bonetta
, gave after pirates attacked his ship in 1716. The young passenger who signed aboard the pirate ship "declared he would kill himself if he was restrained, and even threatened his mother." (Clifford, 132)
Another reason for this lack of information is the authorities who captured pirates, rarely included the names of any boys found on board their ships. Oftentimes, these lads never even stood trial, even though their shipmates did. Yet occasionally, tidbits of information have survived the ages to provide us with information about these young pirates.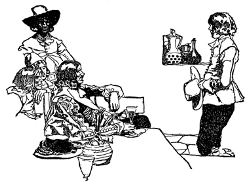 "I've come to join you!"

Some, like the boy sailing on the
Bonetta
, joined willingly, but far more were forced to join the pirates.
George Cusack
, for example, seized four boys from one of the ships he captured. Unlike on the
Bonetta
, some were actually members of the crews, serving as cabin boys or apprentices to other crewmen, such as the carpenter or a musician, on the merchant ships from which they were plucked. Being of an impressionable age and living among the adult pirates, they may have more readily adapted to this wayward life than forced men and, in time, adopted the pirates' values while learning the trade of plundering and seamanship.
Among the pirates who had boys to assist them in some manner were
Charles Swan
and
John Quelch
.
William Dampier
, who sailed with Swan, mentioned the son of their guide, a mulatto woman. When they no longer needed her services, "we gave the Woman some Cloaths for her, and her Children, and put her and two of them ashore; but one of them, a very pretty Boy, about seven or eight Years old Captain
Swan
kept. The Woman cried, and begg'd hard to have him; but Captain
Swan
would not, but promised to make much of him, and was as good as his Word. He proved afterwards a very fine Boy for Wit, Courage, and Dexterity . . . ." (Dampier,
174-175) Swan even made certain the boy received a share of any plunder that was taken.
The lad who with sailed with Quelch wasn't so lucky. When the pirate was captured in 1704, the boy was sold into slavery for £20. Nor was he the only young pirate to suffer this fate.
John Julian
, Samuel Bellamy's Miskito pilot, was one of only two men who survived the sinking of the
Whydah
off Cape Cod in 1717.
2
He, too, became a slave.
Bartholomew Sharp
wasn't as lucky with the Spaniard on his ship. At some point in his voyages, Sharp forced sixteen-year-old Calderone to join the pirates. When their pirateering ended, they returned to England, where Calderone jumped ship. In London, he told his story to the Spanish ambassador, who immediately demanded that the English arrest Sharp. At his trial, Calderone testified against him, but he was found not guilty because the buccaneer possessed a Spanish
waggoner
, a collection of maps detailing valuable navigational information the English did not have but wanted.
Western pirates with wives and children either abandoned them or were separated from them for long periods of times. Asian pirates, on the other hand, kept their families close to them. Fanny Loviot, author of
A Lady's Captivity among Chinese Pirates in the Chinese Sea
, wrote:
The pirates of the Chinese seas make their junks their homes, and carry their wives and children with them on every expedition. The women assist in working the ships, and are chiefly employed in lading and unlading the merchandise. As for the children, they carry them upon their backs in a kind of bag, till they are able to run alone. (84)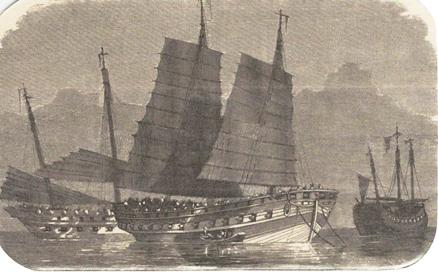 Chinese war junks
These pirates also captured children, as happened in 1801 to a Tanka fisherman's son. This was how Zhāng Băozăi joined them when he was fifteen. He was handsome and soon caught the attention Zhèng Yī, who initiated the lad into a life of piracy through a physical relationship – a common practice among Chinese pirates. Eventually, Zhāng Băozăi became this man's adopted son and received a promotion to captain. After Zhèng Yī's death, Zhāng Băozăi married his widow,
Zhèng Shì, and once she and her followers abandoned their piracy, he joined the imperial navy and hunted pirates.3
While these examples pertain to young pirates of the past, they can also be found among modern pirates.
Gilbert Victor
was the first Seychellois whom Somali pirates captured and held hostage for six months. Some of his captors were "little more than boy soldiers." (Boyle, 79) Mohamud Ahmed is a fifteen-year-old Somali, who only went to school for one year. Convicted of maritime piracy, he currently serves a twelve-year sentence in the Seychelles.
On Easter Monday in 2010, MV
Taipan
notified the
European Union's Operation Atalanta
that it was under attack. The crew then retreated to their safe room before ten Somali pirates boarded the vessel. Elite forces from the
Tromp
, a Dutch frigate, repelled onto the merchant vessel and captured the pirates, who were taken to Germany to stand trial. Among the ten captives was sixteen-year-old Abdiwalli. In a 2011 interview with
Der Spiegel
, he said he started:
fending for himself at the age of 10. At 13, he worked as a night watchman in the harbor, where he was paid $1. He learned to drive a fishing boat. They would spend weeks at sea and when they returned, his wages were barely enough for the next week. One day, a man offered him $500 for a better job.

It wasn't until he was on board the dhow that they told him that a ship was to be hijacked . . . Hunger and poverty . . . had motivated him to commit this crime and he never asked himself whether he wanted to be a part of it – it had all seemed self-evident to him. (Conrade, 17)

Although Abdiwalli remains in Germany awaiting trial, he was released from juvenile detention in April 2012. Nor is he the only young pirate in prison. In a 2012 report from The Roméo Dallaire Child Soldiers Initiative, fifty-one men, aged eighteen and younger, await trial. Ms. Radhika Coomaraswamy, former UN Special Representative of the Secretary-General on Children and Armed Conflict, emphasized that while adults in charge of pirate attacks coordinate from land bases, those who "do the dangerous stuff are the young children, between the ages of 15, 16 and 17." (Conrade, 17)
Why do children make good recruits? The reasons today aren't that different from those in the past. Young pirates are:
vulnerable and easily manipulated,
fearless and do not understand the long-term consequences of their actions,
cheap,
plentiful in many developing countries,
small in size, which may be advantageous, and
easily indoctrinated. (Whitman, 5)
Like their historical counterparts, today's child pirates are sometimes forced or may volunteer. For some, they have no parents or family to look after them. For others, turning to piracy is the only way to support their families. Although centuries have passed, those with mothers must experience what
Mrs. King did after she and her nine-year-old son set sail from Jamaica in 1716. When he went with the pirates, it was the last time she saw him. Next month, Laura Nelson will recount this young pirate's tale in her article, "John King, the Boy Pirate." Then I'll introduce you to some of the other children who sailed with long-ago pirates and buccaneers.
Notes:
1. Today, we consider anyone younger than eighteen to be a child. "Teenager" is a modern concept, one that didn't exist before the twentieth century. In the past, anyone below the age of fourteen was considered a child, but once a boy reached the age of fourteen, he became a man in the eyes of adults. For the purposes of this article, however, I use the modern concept.

2. The Miskito tribe inhabits the coastal regions of present-day Nicaragua, Honduras, and Belize in Central America.

3. Zhāng Băozăi is also known as Chang Pao. Zhèng Yī is Cheng I, while

Zhèng Shì is sometimes called Cheng I Sao or Ching Shih. Here, I use the more appropriate pinyin spellings.



For more information, I recommend the following resources:
Boyle, John. Blood Ransom: Stories from the Front Line in the War Against Somali Piracy. Bloomsbury, 2015.
Burg, B. R. Sodomy and the Pirate Tradition: English Sea Rovers in the Seventeenth-century Caribbean. New York University, 1995.

Clifford, Barry, and Kenneth J. Kinkor. Real Pirates: The Untold Story of the Whydah from Slave Ship to Pirate Ship. National Geographic, 2007.
Conrade, Carl. Children in Marine Piracy: Our Work in 2013. The Roméo Dallaire Child Soldiers Initiative, Dalhousie University, 2014.

Dampier, William. Memoirs of a Buccaneer: Dampier's New Voyage Round the World, 1697. Dover, 2007.

Lakotta, Beate. "Ich wollte nur überleben," Der Spiegel (4 April 2011). [translation]
Lakotta, Beate. "Freilassung im Piratenprozess: 'Erst mal ein Eis essen'" Spiegel Online 13 April 2012. [translation]
Little, Benerson. The Buccaneer's Realm: Pirate Life on the Spanish Main, 1674-1688. Potomac Books, 2007.
Loviot, Fanny. A Lady's Captivity among Chinese Pirates. National Maritime Museum, 2008. [online version at Project Gutenberg, audio version online at YouTube]

Murray, Dian. "Cheng I Sao in Fact and Fiction" Bandits at Sea: A Pirates Reader edited by C. R. Pennell. New York University, 2001, 253-282.
Murray, Dian. "The Practice of Homosexuality among the Pirates of Late Eighteenth- and Early Nineteenth-century China" in Bandits at Sea: A Pirates Reader edited by C. R. Pennell. New York University, 2001, 244-252.
Murray, Dian H. Pirates of the South China Coast, 1790-1810. Stanford, 1987.

Rediker, Marcus. "The Seaman as Pirate: Plunder and Social Banditry at Sea," in Bandits at Sea: A Pirates Reader edited by C. R. Pennell. New York University, 2001, 139-168.

The Voyages and Adventures of Capt. Barth. Sharp and Others, in the South Sea edited by Philip Ayres. Printed by B. W., 1684.

Whitman, Shelly, Hugh Williamson, and L. Fanning. Children and Youth in Marine Piracy: Causes, Consequences and the Way Forward. The Roméo Dallaire Child Soldiers Initiative, Dalhousie University, 2012.